Would You Use This Special Cat Sweatshirt Here in Minnesota?
My wife and I share our home with four lovely felines, but I'm not sure we'll be buying this anytime soon.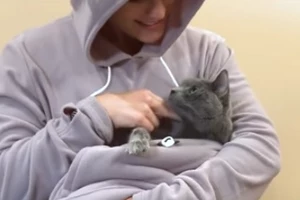 Now, that's not to say we don't have a lot of cat accessories– we do. We have cat scratchers (the cats use this to scratch on, rather than our furniture), cat climbers, numerous cat beds and, of course, tons of cat toys too.
But we DON'T have one of these Kitty Roo things. (At least not yet, anyway.) And, although it appears to be all warm and cuddly, I'm not quite sure I could bring myself to wear one. Especially since it says it's the "snuggle pouch that keeps kitty cozy."
Hey, I love our cats. And, sure, it's kind of nice when they curl up on your lap. But do they really need a sweatshirt with a special pouch in it, that makes you look like mother kangaroo? The commercial says it allows you keep you hands free while keeping your cat on your lap. (The built-in 'paw gloves' and 'cat ear hoodie' make it a deal-killer for me.)
What do you think… if you have cats, would you wear one of these Kitty Roo things? Check it out…
Best of Quick Country 96.5