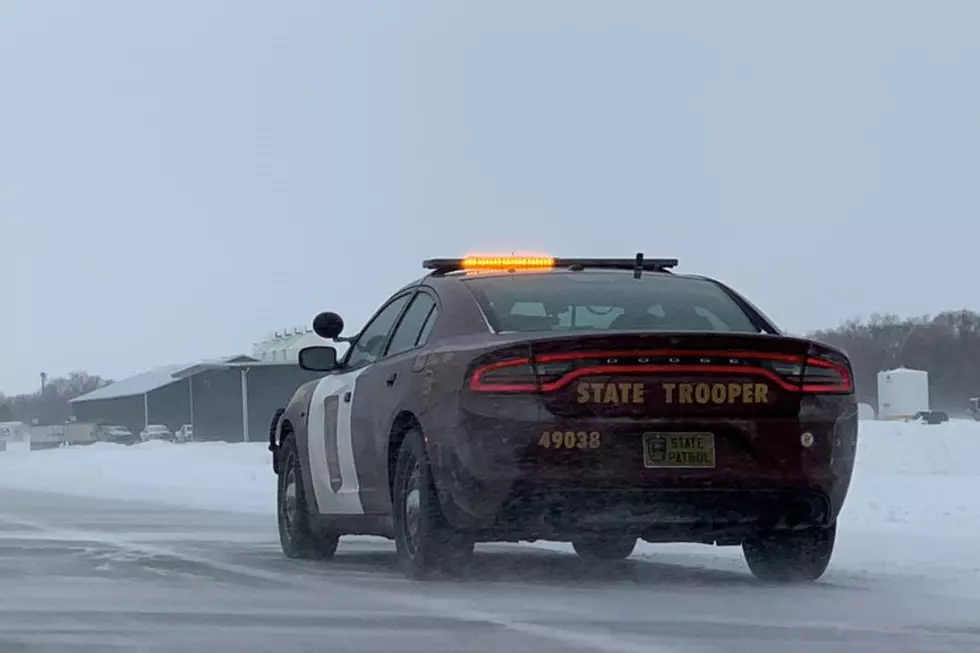 1 Fatality and 22 Injury Crashes Reported Across MN This Morning
Minnesota State Patrol photo
Rochester, MN (KROC-AM News) - The snow that has fallen across southern Minnesota today has contributed to hundreds of traffic crashes and at least one death.
The State Patrol says, between 5 AM and noon, it has received 234 reports of traffic crashes statewide. One crash involved a fatality and 22 others led to injuries. There were also 44 reports of vehicle spin-outs and three jackknifed semi-trucks.
The fatal crash occurred on the west side of the Twin Cities in Maple Grove. The State Patrol says a 52-year-old man from Isle was killed when the pickup he was driving left a four-lane highway and rolled in the ditch shortly after 7 AM.
One injury crash was reported in this region this morning but it is unclear if it was weather-related. The State Patrol says 45-year-old Jessyca Torres of Austin was hurt when the SUV she was driving left Highway 56 and rolled in the ditch. The crash was reported shortly before 8 AM about a mile east of Adams in southern Mower County. Torres was taken to the Mayo Clinic Health System Hospital in Austin with non-life-threatening injuries.
Another injury crash was reported last night just north of Wabasha. The State Patrol says 38-year-old Serena Hanson was driving north on Highway 61 when her car left the roadway and rolled around 10:30 PM. Hanson also suffered non-life-threatening injuries and was treated at the hospital in Wabasha.
News Update: Rochester May Receive Snow Tuesday - And Much More Friday
15 Celebrities that Have Visited The Hubbell House in Mantorville, Minnesota
Quite a few famous people have visited Southeast Minnesota as patients at Mayo Clinic in Rochester, Minnesota. But did you know that there's quite the list of celebrities that have also visited the very famous Mantorville restaurant, The Hubbell House? Below are a few of the famous actors, athletes, and politicians that have been patrons of one of the oldest working restaurants in the state.
More From Quick Country 96.5