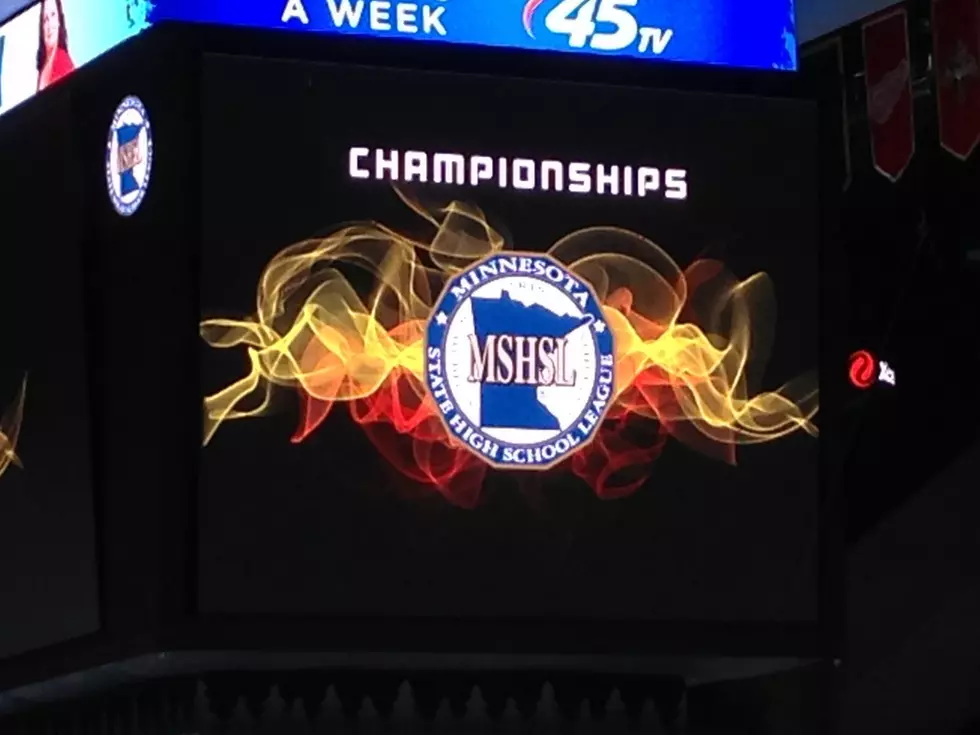 2021 is a Year of Champions in Owatonna and Southern Minnesota
Roy Koenig/Townsquare Media (mshsl graphic)
Conference titles. Section Championships. A state gold medal. As well as a silver and a bronze. Athletes across southern Minnesota celebrated a wide variety of victories in 2021. The winter prep sports season for the 2020-21 school year started late due to the pandemic. But when it began, it was fantastic across the region.
Owatonna's Landen Johnson – then a junior – won a state wrestling championship. Cael Robb – a sophomore at the time – placed sixth. Matt Seykora also qualified for the state meet. OHS as a team earned a share of the Big Nine title thanks to a dominating late season win over Faribault.
Medford wrestling saw Tommy Elwood and Josiah Hedensten come home with fourth place medals. Brennon Hoffman also wrestled at state.
Owatonna boys' basketball won the section championship, beating Lakeville South 94-85 on the road. Shakopee topped the Huskies in the state quarterfinals.
OHS gymnastics captured their fourth straight third-place finish at state. Kaitlyn Cobban – then a sophomore – finished second on the balance beam. Senior Lucy Macius got on the podium with a sixth place performance on the beam. Senior Lindsay Bangs missed qualifying individually for state due to an injury, but ended her career as Owatonna's all-time leader in medals earned at state. She's competing in gymnastics with Gustavus Adolphus College in St. Peter.
Huskies boys' hockey beat the Farmington JV in a section tournament game, then played an instant classic at Lakeville North, that went 2-0 for the Panthers. The game was a defensive and goaltending gem with Owatonna's Preston Meier dueling future Gopher Skylar Vetter.
Owatonna girls' hockey won a road playoff game at Dodge County, before falling to Farmington in the section semifinals.
The Dodge County boys hockey team drew some attention with their first-ever trip to the state tournament behind a strong offensive attack, led by the state's leading scorer Brody Lamb, who scored six goals in their quarterfinal win over Hermantown, who was forced to field mostly a JV team. The Wildcats made it all the way to the state title game, where they lost to Gentry Academy. Lamb scored ten goals during the tournament.
Waseca won a thriller over Caledonia in the AA boys' basketball title game, 51-49. Hayfield won the class A crown in boys hoops. BP's Megan Oswald set the school's scoring record for girls' basketball.
Enter your number to get our free mobile app
If You Do These 7 Things, You Are The Epitome of Minnesota
If you see someone enacting these seven habits, odds are you're in the presence of a true Minnesotan.
In Memoriam: 2021 Deaths
Remembering the musicians, actors, producers and others who have died in 2021.
More From Quick Country 96.5