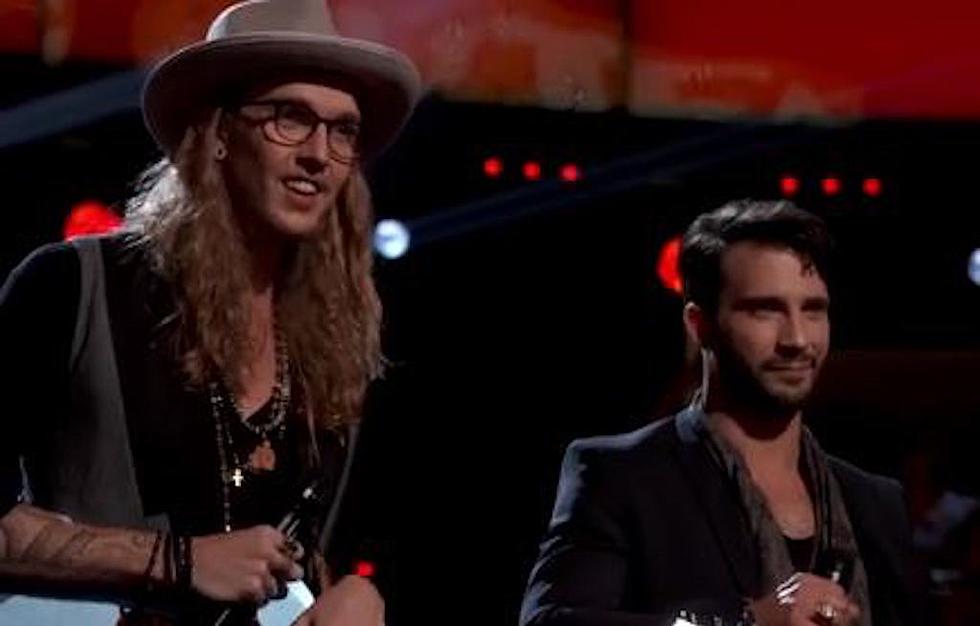 'The Voice': Blake Shelton Keeps Mitchell Lee, Esera Tuaolo After Battle Rounds
The Voice/YouTube
This week, The Voice season 13 moves on to the Battle Rounds, in which the coaches pit team members against each other in epic duets. One singer survives, the other goes home...unless, one of the other coaches decides to steals the losing contestant.
Each coach is allowed two steals, so these rounds are always packed with potential drama. On Tuesday night, coach Blake Shelton kept two singers on his team, while another judge swooped in and made a steal.
In the first Team Blake battle  -- which was montaged -- Esera Tuaolo was pitted against Rebecca Brunner for an impassioned rendition of *NSYNC's "This I Promise You."
Shelton had no problem making his choice, saying "Ezra really sang out, and took possession of that song," thus ushering the way for Tuaolo to the Knockout Rounds.
Things became a bit more dramatic, however, when Shelton's team players Dennis Drummond and Mitchell Lee went head-to-head on a harmony-packed version of the Counting Crows alt-rock classic "Mr. Jones."
Shelton complimented both singers as being "Nashville guys," but Lee stood out as having a clearer vocal as opposed to Drummond's more bluesy style. Ultimately, Shelton chose Lee, saying he was "more in my wheelhouse."
That wasn't the end for Drummond, however, who was stolen by coach Adam Levine, who felt the singer put a more original stamp on the Crowes tune. Drummond -- who happens to play guitar for Adam Wakefield, a former runner-up on The Voice from Blake Shelton's team -- was initially torn between Levine and Shelton as coaches, but ultimately was drawn to Shelton's team due to his influence on country music. Looks like fate put him in the right place after all!
Season 13 of The Voice will air on Monday and Tuesday nights at 8PM ET on NBC.
Most Successful Singer on The Voice? No. 1 Will Surprise You!
We Promise You've Never Seen a Cover Quite Like This!
More From Quick Country 96.5