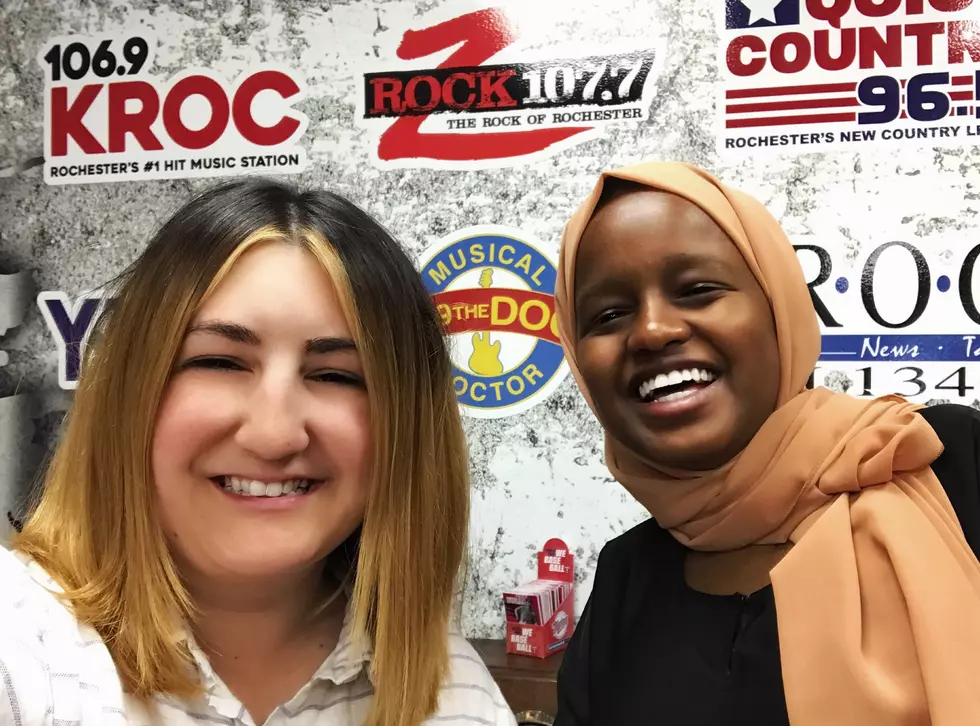 How One Rochester Student Used Her Graduation Speech To Take a Stand Against Gun Violence – [WATCH]
TSM Rochester / Val Kleinhans
Last week, I was offered the chance to meet a local Rochester student doing "big things" for local youth.
I accepted it with a little knowledge about who I was meeting (and why I was meeting them), but not much. I still consider myself a "newbie" in Rochester, so when I get the chance to make a new friend or meet someone new, I take it.
When I walked from my office to our front lobby to greet her, I didn't know she would be the first Muslim woman I'd be meeting in Rochester. If I'm honest, I hadn't really interacted with anyone who is Muslim since 1998. Back in Pittsburgh, we had some Iraqi friends (Kurdish, to be specific) join our class in 1998 after escaping Saddam's chaotic reign. I grew close to them and still communicate with one of them today.
Munira Alimire has a bright smile and infectious giggle. Unlike me, she's a Rochester native. As we first began talking, she sounds like every other 18-year-old in the US. She primped herself and was already preparing an Instragam "story."
"I'm working on my brand," she says, laughing at how silly that sounds. She's hoping I'll forgive her for paying attention to her phone, and I do. I have no room to talk after all: you guys know I'm online ALL OF THE TIME. I smile and tell her, "I get it."
Munira is visiting us to bring a message of hope, and (if we're honest) discontent. Her heart breaks over the fact that millions of people face discrimination and gun violence in our country today. According to this website, just over 6,000 people have died due to gun violence in the US so far this year.
To combat this, Munira joined Donate 60, which encourages students to make gun violence, racial equity and climate change part of their graduation speeches. It also encourages them to vote.
"Our biggest concern at the moment is Islamophobia," she says of Rochester. She explained of gun violence in general, "As a young person, I feel this terror every single time I go to school or in a public place at times because I think about how easy it would be for someone to kill me or my loved ones."
This worry doesn't just apply to Munira as an individual, she's concerned for her younger family members too. "I don't want to live in a world where everytime something bad happens that I'm hoping and praying it's not in my hometown," she says visibly teary.
I almost couldn't handle what she told me of the experience her younger siblings and cousins have had either.
Yep, that's right - her four-year-old cousin already knows what a lockdown is. "He's learning things that nobody should have to learn," she says.
Munira tells me, "I feel like the best part about Donate 60 is that it does focus on voting." This is an initiative that anyone of any gender, race, athletic ability, etc. can get behind because the power comes from the vote. With such a light being shone on politics, maybe this is the way to get something done about gun violence, climate change, and racial equality.
For her part, Munira is pursuing a public policy degree at Stanford (yep, that Standford) this fall to further her interest in politics. This initiative isn't all talk for her.
And it's no surprise she'll be attending Stanford, she has an impressive resume and earned co-valedictorian status at Rochester STEM Academy. Who else nails a 4.2 GPA!??? I didn't!
In all seriousness, I don't think Donate 60 has the wrong idea here. Any US citizen over 18 can change what they want to with a single vote. You can too!
More From Quick Country 96.5