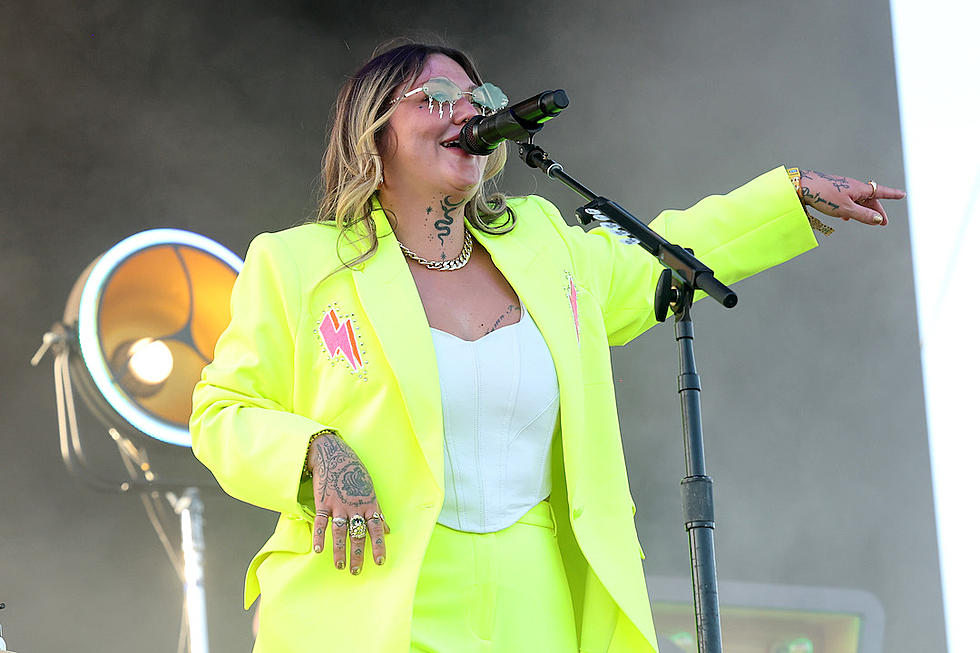 Elle King on Officiating CMA Fest Weddings: 'I Love Love'
Monica Schipper, Getty Images
At 2023 CMA Fest, Elle King is doing more than just performing on the big stage at Nissan Stadium and co-hosting the CMA Fest TV special with Dierks Bentley and Lainey Wilson: She's also officiating some weddings and love ceremonies.
Backstage at Nissan Stadium on Thursday night (June 8), King pointed out that she's got some experience in the officiant department.
"I did an entire tour called the Ministry Tour [in 2016] and I would marry couples every night, and it was just a beautiful way to celebrate love," she explains.
On Saturday (June 10), King will put her skills to the test once again, ministering over the love ceremonies of three couples as part of the Come Get Your Wife Wedding Chapel Event at Nashville's Acme Feed & Seed.
"First and foremost, I love love. I like a party. And those things go together for our weddings and love ceremonies," the singer relates. "... And my country album's called Come Get Your Wife, so there are some wives to be come and gotten."
King's own love life has been at the center of some speculation lately, after the singer sported a green blazer reading "Single" across the back during her 2023 Stagecoach set. She's also been posting a series of selfies on social media, with some captions stating that she's in her "me myself n I era," leading fans to wonder if she and her fiancé Dan Tooker have split. The pair have been linked since 2019, and they welcomed a son named Lucky in September 2021.
The singer hasn't confirmed her relationship status, though she has said that she's focusing on personal growth — and home improvement projects — this summer.
"Well, I'm mowing the grass a lot. Building too many pieces of outdoor furniture. I like to get tan and work on the yard. And two out of three of my neighbors like me, so I'll take that," King jokes.
She also says that her life has changed "exponentially" since she moved to Nashville and began focusing on putting out country music.
"I don't know if it was just timing, or right after I had my baby and also made the country record. I have just felt so drawn back here. My whole band moved here, so I have my whole touring family here with me," King reflects. "I felt very accepted by Nashville and by country music, and I don't know, I've just never been happier. I think I owe a lot of that to Dierks Bentley."
Bentley, of course, has collaborated with King on multiple occasions; he's featured on "Worth a Shot," which is included on the track list of Come Get Your Wife. He's also co-hosting the CMA Fest TV special with King for the second year running in 2023, and they're adding Wilson to the hosting mix this year.
The CMA Fest special will air on ABC on July 19.
PICTURES: See Highlights From 2022 CMA Fest, Day 4
Day 4 of 2022 CMA Fest in Nashville included several surprise collaborations and tributes. Old Dominion tipped a hat to Alan Jackson, Dierks Bentley invited Elle King and Billy Ray Cyrus to the stage. King brought Ashley McBryde out. See photos from all of the Nissan Stadium fun of June 12, 2022.
PICTURES: See Highlights From 2022 CMA Fest, Day 2
Kane Brown, Kelsea Ballerini, Thomas Rhett, Lainey Wilson and Cole Swindell, Carly Pearce and Wynonna Judd and more country stars were among the highlights of the performances at Nashville's Nissan Stadium during Day 2 of CMA Fest 2022 on Friday, June 10.
2022 CMA Fest, Day 1: Keith Urban, Jason Aldean + More!
The first CMA Fest in three years began with outdoor shows across Nashville and the traditional opening night at Nissan Stadium. Enjoy pictures from the stadium show, which featured artists like Keith Urban, Jason Aldean, Zac Brown, Brittney Spencer and more.
More From Quick Country 96.5