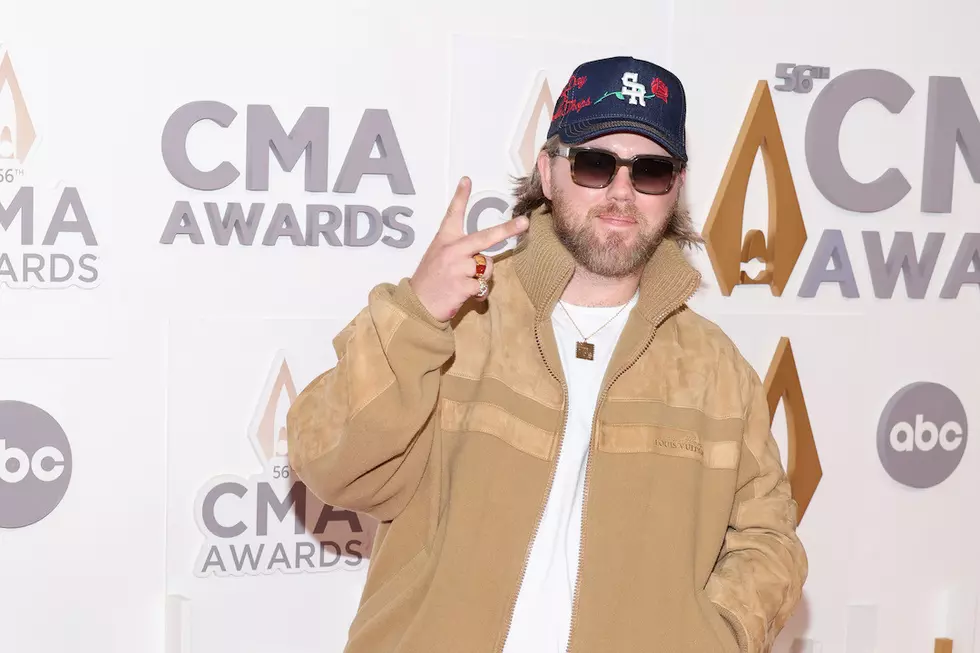 Ernest Doubles Down: Deluxe 'Flower Shops' Expands on His 'Story of Good Love Lost'
Jason Kempin, Getty Images
Most singer-songwriters stop writing for a project once that project is released, but not Ernest. After Flower Shops — an 11-song collection oozing with vintage, lyric-heavy heartbreak — dropped in March 2021, he went right back to work.
The result is Flower Shops: Two Dozen Roses, a deluxe edition that rounds the project out to 24 tracks in his musical bouquet.
"Flower Shops is ... the story of good love lost," Ernest summarizes in a phone conversation with Taste of Country. "And then Part Two is that story again. So it's an up-down, up-down roller coaster."
While most of the new songs on the deluxe version were written in the months that have elapsed since Flower Shops' initial release, the Nashville native says he didn't necessarily plan to write for a deluxe album.
"I really just kept writing songs as if I never finished the album, for no other reason than — I was still writing," he shrugs, adding, "I was specific about it being 13 new songs. I could've done more. But I wanted it to be 24 total songs so that we could make the Two Dozen Roses thing make sense."
As much as anything else, Ernest's new release is a songwriter's flex, a statement of his artistic aesthetic and an introduction that leaves the new fan a lot to choose from. With writing credits on every single one of the album's 24 tracks, Ernest makes a strong case for the diversity of songs born out of imaginative storytelling — even when those stories are focused on the well-worn lyrical trope of throwback country heartbreak.
From the hooky, tender and lullaby-inspired "Miss That Girl" to the reverb-tinged, sway-a-long "This Fire" to the honky-tonking Jake Worthington duet, "Heartache in My 100 Proof," Flower Shops: Two Dozen Roses keeps a common theme without ever repeating itself. Subject matter dictates that much of the tracklist is a downer, but even that mood isn't an across-the-board constant.
Consider "Drunk With My Friends," a quirky and carefree track list bolstered by what Ernest describes as a "Sponge Bob" tropical steel guitar line. A modern-day answer to Brad Paisley's "I'm Gonna Miss Her (The Fishin' Song)" the track depicts an argument between a guy and his partner after she forbids him from going out carousing with his buddies — and he disobeys. In one particularly colorful production choice, Ernest acts out one side of an argument over the phone, an indistinct drone serving as the other end of the call.
"Have you ever seen Charlie Brown? It's a trombone. It's literally mimicking that," the singer explains. "So it's a phone argument with a trombone."
Fans of the original Flower Shops tracklist — and the title track in particular — know that Ernest drew inspiration from classic country legends like George Jones while creating this batch of music. Songs like "Drunk With My Friends" prove he can pay homage to a carefree, comedic '90s aesthetic just as expertly.
"I would say it's also, like, Toby Keith world," he offers. "We just had so much fun writing that song. We had as much fun writing it as it sounds like. It's obviously a joke and a wink. I didn't wanna choose it for a radio single because if it's the first song anyone hears of me, I don't want them to think I'm a parody act, or whatever. But for the tone of the rest of the album, it's a bit of comedic relief."
And for any listener questioning Ernest's reverence for the traditional country he emulates, a listen to "What Have I Got to Lose" -- a co-write with Florida Georgia Line's Brian Kelley, plus industry legend and frequent George Strait collaborator Dean Dillon, who also features on the track -- should put those concerns to bed. Smooth and heart-wrenching, flanked by tender acoustic strumming and tear-in-my-beer steel guitar licks, "What Have I Got to Lose" stands toe-to-toe with the genre's greatest heartbreak hits of all time.
"Me and BK were co-writers," Ernest says, by way of setting the record straight. "Dean Dillon was the writer on that song."
The day "What Have I Got to Lose" was written started with Ernest and Kelley hanging out at Kelley's house, working on a couple of songs that Ernest says were "kind of in the beach world" before Dillon picked up a guitar and changed directions.
"I knew he was going into his George bag, if you will," Ernest remembers. "Sure enough, he wrote that verse and chorus, and then he went and had a smoke and I kind of fooled around with that second verse."
The whole time, he knew he was in the presence of songwriting royalty. "Yeah, me and BK texted about it while it was happening, like, 'Damn, this is cool.' We were just fans, and it was like getting a VIP experience, watching Dean Dillon write a Dean Dillon song," he continues. "After that day, I went back and listened to every Dean Dillon song ever put out. Which — what a legend. All his albums and everything. I just went into Dean Dillon world for about three months after that day."
Even though the Flower Shops: Two Dozen Roses tracklist feels so comprehensive, Ernest means it when he says that he could've kept going. He's still got songs in his pocket that didn't make the cut — either because they didn't fit in with the theme of the project, or because they went beyond his 24-song cutoff for the tracklist.
Look out for one of those tracks around Mother's Day, when Ernest — who shares an almost-2-year-old son named Ryman with his wife, Delaney — hopes to put out a song he wrote about fatherhood and the love and admiration he has for his wife.
"It just didn't fit this album," the singer explains. "It's a song called 'Takes After You.' The song is basically, like, 'If he don't take after Jesus, I hope he takes after you.'"
Flower Shops: Two Dozen Roses arrived on Feb. 3.
Top 22 Country Songs of 2022, Ranked
There are plenty of feel-good country jams on this list of the
top country songs of 2022
, but the No. 1 song is one of the best love songs of the decade. These 22 songs are ranked by critical acclaim, radio and sales success, and importance to the genre.
Seven of the 22 artists made our
Top Country Songs list from 2021
, as well, but there are no song repeats. If a song made a previous list (or didn't spend most of its time on the charts in 2022), it's not eligible. So, before you ask where your favorite song is (i.e. Cody Johnson, "'Til You Can't"), be sure the miss isn't just a technicality.
More From Quick Country 96.5