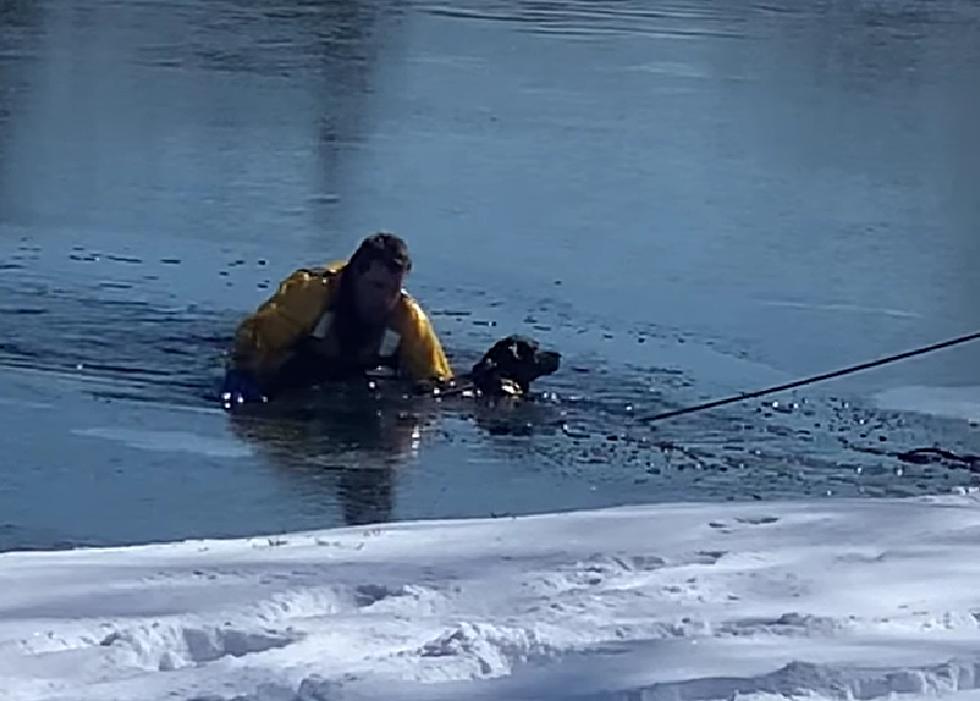 Watch Illinois Firefighter Heroically Rescue Dog from Frozen Lake
The Libertyville Fire Department via Facebook
It was a close call for a dog in Libertyville, Illinois recently. New video shows how an Illinois firefighter heroically came to the rescue after the animal fell into a frozen lake.
The Libertyville, Illinois Fire Department shared the moment the dog was rescued by one of their firefighters on their Facebook page. Here's the short version of what happened.  The owner realized their dog had fallen through the ice in the middle of a retention lake. They were going to attempt to rescue it, but warned by a neighbor to call the fire department instead.
The good news is that both the owner, dog and firefighter are doing fine. The dog was checked out by a local veterinarian and is now safely and happily home.
Among the things mentioned in the fire department's Facebook post to pay attention to is the officer put on special protective gear before jumping into that lake. As CBS News shared, hypothermia can set in for someone not wearing special gear in less than 5 minutes. For a non-trained person like me, that would not be nearly enough time to save the animal or me.
The neighbor who recommended the owner call the Libertyville, Illinois fire department is also a hero for knowing what the right thing to do was. Well done all.
Inside the Mysterious Black Lincoln, Illinois Octagon Home
More From Quick Country 96.5