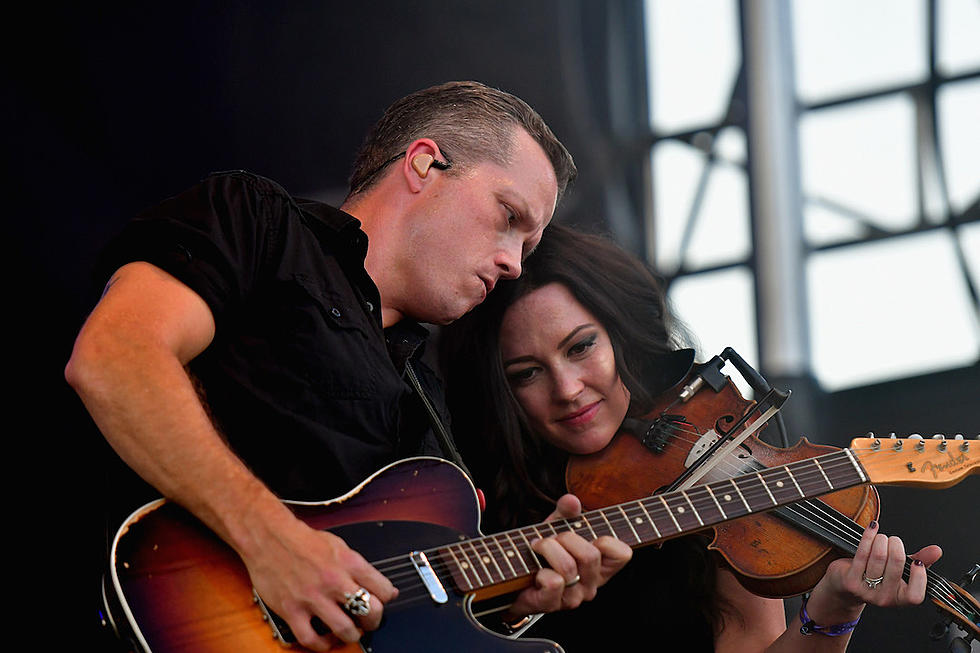 Jason Isbell and Amanda Shires Share Sweet Tributes on 10th Wedding Anniversary
Getty Images
Acclaimed singer-songwriters and musicians Jason Isbell and Amanda Shires took to social media to celebrate ten years of marriage on Feb. 23.
Shires spotlighted the couple's milestone anniversary by sharing an adorable picture that appears to be from when she accepted Isbell's proposal in 2012. Isbell had planned a trip to visit his then-girlfriend at Sewanee: The University of the South, where Shires was taking classes toward her Master of Fine Arts in Poetry. In the picture, Shires posed with her newly acquired ring and arm around a much younger-looking Isbell.
Isbell shared a selection of recent snapshots from the pair's travels across the globe, including a sweet photo of Shires snuggled next to a large teddy bear.
"Happy ten years, @amandapearlshires," he wrote in the post's caption. "Every day I wake up and fall in love with you again."
The two musicians tied the knot on Feb. 23, 2013, in a ceremony officiated by Todd Snider, who became ordained specifically for the occasion. In 2015, the couple welcomed their daughter Mercy Rose to the world.
Over the years, both Shires and Isbell have been open and honest about what it takes to keep a marriage going. Both have incorporated their personal lives into their music, giving listeners a more intimate look into their relationship. Shires' "Fault Lines" allowed the singer to release feelings she was having about feeling disconnected in her relationship.
She spoke to People in the summer of 2022 about how music offers both herself and Isbell a chance to broach difficult conversations and hopes that their vulnerability "might help other people be more comfortable" in similar situations.
"It doesn't matter if you're a quasi-famous person like Jason or me; everybody's relationships are the same; there's ups and downs and there's good and bad and you just try to deal with it."
Isbell has been candid about how the 2020 release of Reunions caused a great deal of tension in his partnership with Shires. In an interview with the New York Times, he explained that he felt pressured about the release and how that infiltrated his everyday life.
"You think, 'If I make a record that's not great, everybody's going to dismiss me entirely. If I [expletive] up my relationship, everybody's going to be so shocked that they'll write me off completely,'" Isbell reflects. "All those things, when you say them out loud sound ridiculous, but they stay in there and gnaw at you."
Tensions between the couple reached a high with Shires deciding to move into a hotel for ten days. Ultimately, the couple was able to work things out and move on. Speaking about how much she supports Isbell, Shires explained that although it was "the worst recording experience" she'd even been involved in, Reunions is now one of her favorite of Isbell's albums.
Happy aluminum (or tin) anniversary to the honest and well-respected couple!
Jason Isbell's Best Live Shots
From his early days with the
Drive-By Truckers
to his mainstream success as a solo artist, take a look back at some of
Jason Isbell
's best live appearances.
More From Quick Country 96.5