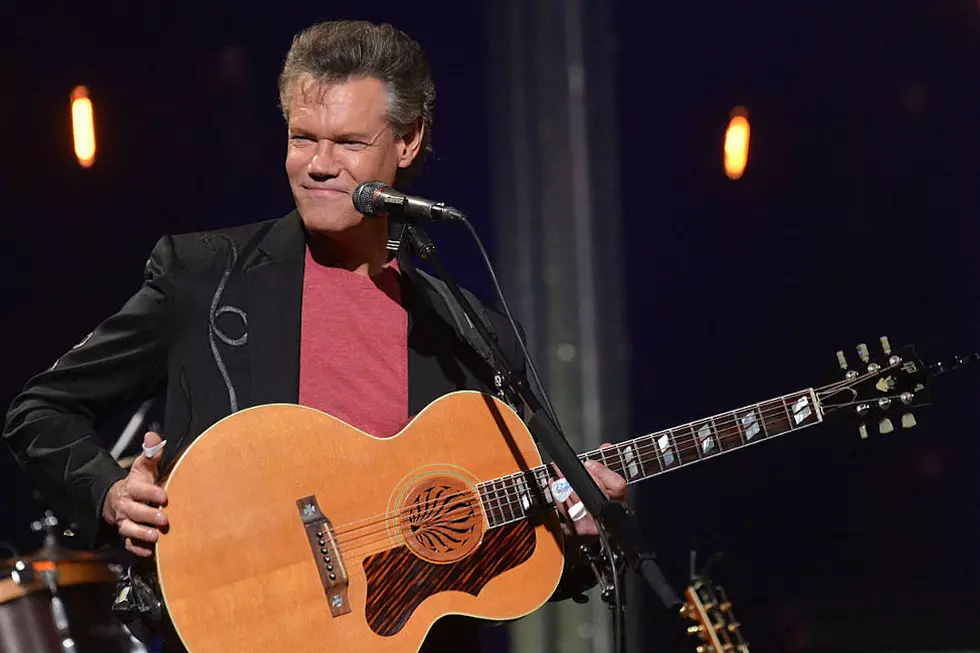 Ranking All 16 of Randy Travis' No. 1 Songs
Rick Diamond, Getty Images
If there was one country artist who maintained artistic integrity, stuck to his roots, and remained steadfast in his love for the old-school country sound and storytelling, it would be Randy Travis.
Travis arrived in Music City in 1982, just around the height of the Urban Cowboy era. Named after the John Travolta-featured film, the music leaned more pop-country with the likes of Mickey Gilley, Kenny Rogers and Anne Murray dominating the format. The tide started turning soon after Travis arrived, ushering in the neo-traditional era of country that catapulted the likes of George Strait, Alan Jackson and Travis to fame.
Travis' deep-rooted passion for the organic, rootsy sounds of country music is no secret. Citing Hank Williams, George Jones, Ernest Tubb and Lefty Frizzell as cornerstone influences, the Marshville, N.C. native launched into the scene with his own brand of unabashedly country sound in 1985 with his Warner Music Nashville debut single, "On the Other Hand." It wasn't a hit at first, but the label re-released it after his second single "1982," and it flew to the top of the Billboard Hot Country Songs charts in 1986. Subsequently, the singer notched a total of 16 No. 1 songs on the same chart, including "Three Wooden Crosses," "I Told You So," "Diggin' Up Bones," and the iconic "Forever And Ever, Amen." Travis also nabbed seven Grammy Awards, 11 Academy of Country Music statuettes, 10 American Music Awards, eight Dove Awards from the Gospel Music Association and five Country Music Association honors, amongst others.
While Travis' stroke robbed him of most of his speaking and singing abilities in 2013, his legacy continues to be told and kept alive today. In 2021, Warner Music Nashville and YouTube unveiled More Life, a documentary that chronicled Travis' storied career with never-seen-before performance footage. The visual was released in conjunction with the 25th anniversary of Storms of Life, the hitmaker's debut album.
"Great songs always do find a home. I have been very, very fortunate in these 25 years of making records to have some incredibly well-written songs find their home with me and that's special. That's really special," Travis shared in his interview for the film, which was recorded before his stroke. "Because if you look at this music business, it starts with a song. You're not going to succeed at all unless you have that kind of caliber song that touches people. I don't care if it's a novelty title song. It has to be something that resonates with people."
To celebrate the music of one of country music's prolific storytellers, The Boot revisits and ranks Travis' 16 No. 1 songs on the Billboard Hot Country Songs chart. Find out where your favorites land on the list!
16

"Forever Together"

From: 'High Lonesome' (1991)

This tender ballad was co-written by Travis and Alan Jackson and served as the former's second single from his 1991 album, High Lonesome. Over gentle percussion beats and prominent steel accents, Travis sings of an enduring affection that keeps two lovers "forever together" come what may.

15

"Honky Tonk Moon"

From: 'Old 8x10' (1988)

ravis took fans on a trip to "honky tonk moon" on the lead single from his Old 8x10 album in 1989. The feel-good track finds the singer basking in the countrified romantic spotlight with his sweetheart. "My heart's on a roll, I'm easy in my soul / There's no hurry, no worry, things are goin' my way," goes the invitational verse.

14

"Whisper My Name"

From: 'This Is Me' (1994)

>Penned by hit songwriter Trey Bruce (Diamond Rio, Faith Hill, Leann Rimes), this song tells of the saving and life-changing power of love. It was Travis' second single from his 1994 record, This Is Me.

13

"I Won't Need You Anymore (Always And Forever)"

From: 'Always & Forever' (1987)

Originally recorded by George Jones in 1981, Travis decided to cut it for his Always & Forever LP in 1987. It peaked at the top of the Hot Country Songs chart in the same year and became the North Carolinian's fourth career No. 1 single.

12

"It's Just a Matter of Time"

From: 'No Holdin' Back' (1989)

The production and sonic elements of this song take listeners back in time to the yesteryears of country music, where the likes of Patsy Cline, Jim Reeves, Brenda Lee, Eddy Arnold, and The Everly Brothers dominated the airwaves. While it stays true to Travis' signature country-centered baritone, it also blends some familiar arrangements synonymous with the pioneering Nashville sound. Interestingly, Travis was the third country artist to put his spin on this. It was originally recorded by pop singer Brook Benton and became a breakthrough hit for him in 1959, before Sonny James and George Jones each released their renditions in 1970 and 1985 respectively.

11

"If I Didn't Have You"

From: 'Greatest Hits, Volume One' (1992)

This toe-tappin' love song was the lead-off single from Travis' 1992 Greatest Hits, Volume One LP. Over a euphoric melody, Travis sings of a persona who jubilantly celebrates a life well lived with his significant other. "If I didn't have you I'd long ago / Been left in the dark, out in the cold / Blowing around from town to town / Like a feather in the wind," Travis declares.

10

"Look Heart, No Hands"

From: 'Greatest Hits, Volume Two' (1992)

Serving as the sole single from his 1992 Greatest Hits, Volume 2 LP, this romantic ode paints a heartfelt picture of what true love looks like. "No chains, no strings, no fences, no walls / No net, just you to catch me when I fall / Look heart, no hands," Travis sings with his distinctive baritone.

9

"Too Gone Too Long"

From: 'Always & Forever' (1987)

If there was an unofficial kiss-off song in Travis' catalog, this would be it. A cheeky, ebullient number, this track was the third single from his sophomore album, Always & Forever, and topped the charts in 1988.

8

"Is It Still Over?"

From: 'Old 8x10' (1988)

Travis sure has a knack for delivering heartbreak songs over ebullient melodies. In this 1989 cut, the singer ponders on the state of a past relationship. "Is it still over are we still through / Since my phone still ain't ringing I assume it still ain't you," he questions in denial throughout the track.

7

"Diggin' Up Bones"

From: 'Storms of Life' (1986)

It's not often that the term "exhuming" appears in a country song, which is what sets this Travis hit apart. Instead of drowning his sorrows in a bar, the forlorn guy decides to go "diggin' up bones" to relive some bittersweet memories. Sure, it's a song about heartbreak, but it also has a mid-tempo, almost-jaunty singalong chorus that makes listeners want to experience their own version of 'grave-digging' as well.

6

"On The Other Hand"

From: 'Storms of Life' (1986)

A song's re-release may sometimes give it a new lease of life. This was certainly the case with Travis' Warner Music Nashville debut single, "On The Other Hand," which was also his first No. 1 hit. It first peaked at No. 67, before being reissued a year later and soaring to the top of the Billboard Hot Country Songs chart. The song finds a guy tethering the lines of going all-in in his extra-marital affair and staying committed to his marriage vows, as reminded by a "golden band."

5

"Hard Rock Bottom of Your Heart"

From: 'No Holdin' Back' (1989)

Serving as the second single from Travis' fourth record No Holdin' Back, this song finds Travis bemoaning the "hard rock bottom" his heart has been thrust to. Over a melancholy singalong melody, Travis laments, "I keep waiting for you to forgive me / And you keep saying you can't even start / And I feel like a stone you have picked up and thrown / To the hard rock bottom of your heart." The track held steady at the No. 1 spot on Billboard's Hot Country Songs chart for four weeks.

4

"I Told You So"

From: 'Always & Forever' (1987)

This solo Travis-penned two-week No. 1 is about a person who brings up several imagined romantic situations to his significant other. Right from the get-go, he asks, "If I told you that I realized you're all I ever wanted / And it's killin' me to be so far away / Would you tell me that you love me too? And would we cry together? / Or would you simply laugh at me and say?" Of course, the crux of her response is in the song title: "I Told You So." Its generation-transcending power has led to Carrie Underwood releasing her version of it in 2007, before enlisting Travis for a duet rendition in 2009. The latter won a Grammy Award for Best Country Collaboration with Vocals at the 52nd Grammy Awards.

3

"Deeper Than The Holler"

From: 'Old 8x10' (1988)

Travis' eighth No. 1 single is breezy mid-tempo tune that fits right in with Travis' love song-heavy catalog. The Don Schlitz and Paul Overstreet-penned track cleverly employ simile to capture the breadth and depth of the persona's love. >"My love is deeper than the holler / Stronger than the river / Higher than the pine trees growin' tall upon the hill," Travis sings tenderly in the chorus.

2

"Three Wooden Crosses"

From: 'Rise and Shine' (2002)

This stirring faith-based song, which is Travis' 16th and final No. 1 song, won a CMA Song of the Year award in 2013 and a Dove Award for Country Song of the Year by the Gospel Music Association in 2014. It tells the tale of a farmer, teacher, preacher and hooker involved in an unfortunate wreck, but with a plot twist of an ending. It's a heartwarming tune that couples impeccable storytelling and emotion-packed lyrics with an invaluable life lesson: "it's not what you take when you leave this world behind you, it's what you leave behind you when you go."

1

"Forever and Ever, Amen"

From: 'Always & Forever' (1987)

Is there a greater quintessential Randy Travis song than "Forever And Ever, Amen"? This three-week No. 1 has truly stood the test of time, with many of today's artists covering it at live shows. In the song, hit songwriters Don Schlitz and Paul Overstreet cleverly employ the title and hook to punctuate an everlasting romance. This track has won a Grammy for Best Country & Western Song, as well as a Country Music Association and Academy of Country Music award for Song of the Year.
More From Quick Country 96.5