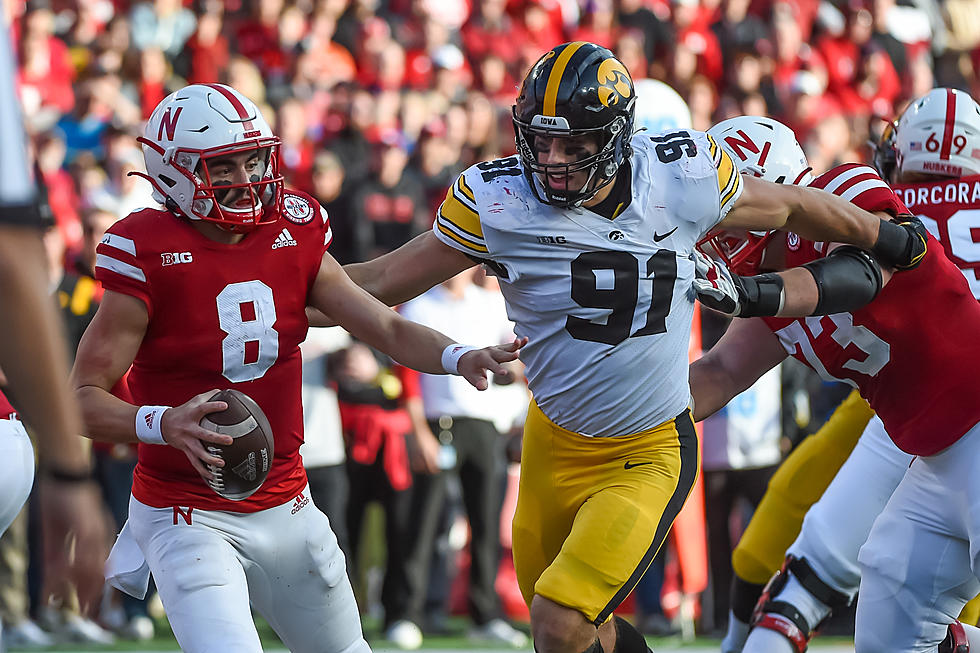 Iowa Linebacker Picked Up by Green Bay; Iowa State DE Heads to NY
Lukas Van Ness (#91) playing for the Iowa Hawkeyes. Photo Credit: Steven Branscombe, Getty Images
The 2023 NFL Draft kicked off last night in downtown Kansas City, MO. I've watched the first round of the NFL Draft for the last several years. It's an event that should remind everyone the magnitude of sports. The draft makes individuals' wildest dreams come true, rewards excellence, and helps lift young men out of poverty and provide them the opportunity for generational wealth.
Last night was a special one for 31 players, and three of them in particular played in the great state of Iowa. There was a bit of a run on Iowa defensive players, as picks 13, 15, and 18, respectively, were all studs out of the Hawkeye State (although one was a Cyclone). If you missed the draft, here's the recap of which Iowa boys went where in the first round:
Lukas Van Ness, Outside Linebacker (Iowa):
Throughout the draft process, prognosticators and mock draft fanatics pegged Iowa's outside linebacker Lukas Van Ness as a potential top 10 pick this year. While he fell outside the top 10, the Green Bay Packers acquired him at pick #13 (after they swapped first round picks with the New York Jets, who took Green Bay's original pick at #15 along with Aaron Rodgers).
The Bears fan in me revels in the fact that the Packers passed on the opportunity to take the best available receiver or tight end in favor of an outside linebacker. The football realist in me, however, recognizes that Van Ness is a hell of a player, and should be productive in Green Bay's time-tested defensive scheme.
Will McDonald IV, Defensive End (Iowa State):
Just like Green Bay, with whom they made the aforementioned trade, the New York Jets had their hearts set on an Iowa kid, only this one is a former cyclone. The Jets selected Iowa State defensive end Will McDonald IV with pick #15.
McDonald was named first team All-Big 12 Conference as a redshirt sophomore. How did he do it? By setting Iowa State's record and tying for the national lead with 10.5 sacks. He's a viciously competitive player, and he should further beef up a vaunted Jets defensive front. He's also sure to please their defensive-minded head coach Robert Saleh, who likely needs to win this year in order to keep his job.
Jack Campbell, Linebacker (Iowa):
The last Iowa player to hear his name called (at least during the first round) was linebacker Jack Campbell, who was selected by the Detroit Lions at #18 overall. The Cedar Falls native won the Butkus Award last year as the top linebacker in college, and anchored an elite Iowa defense that was best in yards per play average and top five in total defense and defensive efficiency.
Campbell should be a great boon to a leaky Detroit defense, which, quite frankly, was the major reason that stopped them from being a playoff squad last year. Campbell should be a plug-and-play kind of linebacker into the Lions' system, which would be ideal given the lofty expectations bestowed upon Detroit for the first time in many, many moons.
One Fun Fact About All Three Players:
Lukas Van Ness is from Barrington, IL. Will McDonald IV is from Pewaukee, WI (also the birthplace of future NFL Hall of Famer J. J. Watt). Jack Campbell is from Cedar Falls, IA. All three are from states that make up the Tri-States!
Click here for a complete list of all the players taken in the first round of the 2023 NFL Draft.
Iowa Born Sports Stars
What do each of these stellar athletes have in common? They all hail from the Hawkeye State.
More From Quick Country 96.5