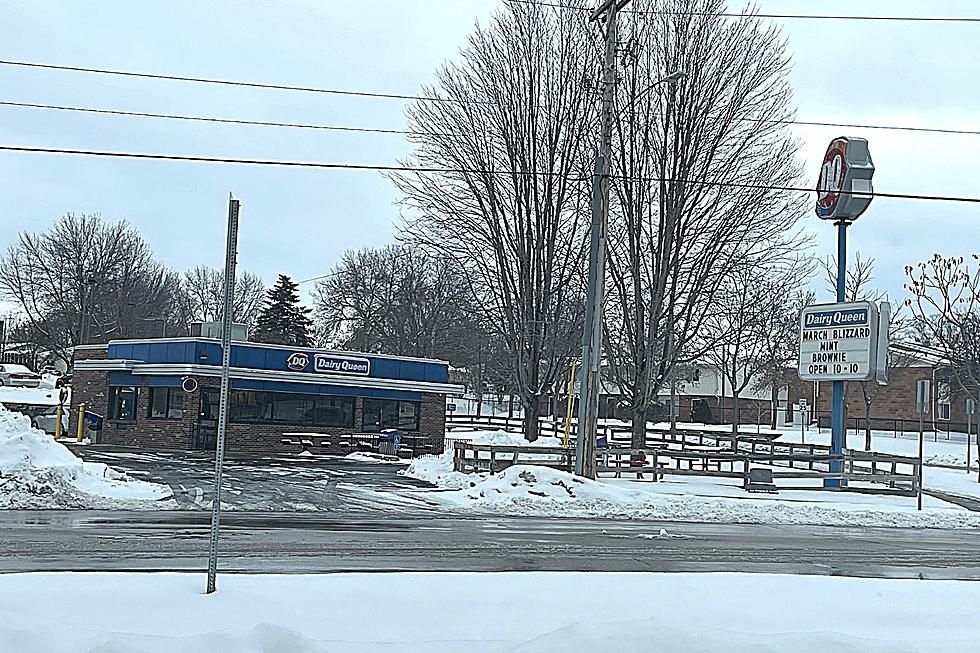 GOOD NEWS! Popular Dairy Queen Reopened in Rochester
Jessica Williams/TSM
It's not a robin BUT the first sign of Spring has arrived in Southeast Minnesota!
You Know Spring Has Arrived When This Spot Opens Up in Rochester, Minnesota
While we were getting hammered with more snow this week, a business that people have been anxiously awaiting to reopen decided to start taking orders again.
Out of all of the Dairy Queens in Rochester, the place by Best Buy at 4140 E Frontage Road in NW Rochester is our family favorite.  This one is our favorite because it seems like the amount of ice cream you get with a Blizzard is just a little bit more than what you get at the other locations.  You can test that out yourself this year because they are finally back open!
When is the Dairy Queen on North Broadway in Rochester opening?
Ice cream must be on everyone's mind because Mandy sent me a message on the Y-105FM app wondering if I knew when the Dairy Queen on North Broadway would open up for the season.  My route to and from work is North Broadway and last time I checked, everything was still closed up tight.
I did check their Facebook page though and found a little bit of info:
Good morning, one and all! This is Chris from the North Broadway Dairy Queen management team. Hope you've all had a good winter and are excited about the upcoming Spring! We're meeting this week to plan out our preparations, strategy, and opening date for the approaching 2023 season. We'll be sure to announce our opening date as soon as it's been decided. Thank you all so much for your continued patronage and support over the years, we couldn't do it without you! We appreciate all of you and look forward to serving up your favorite DQ treats and good times in the nicer months to come.
Much love,
Chris
Once I see an update or notice that the North Broadway location is open for business, I'll post the update on my Facebook page - Jessica On The Radio.
BTW, the DQ on 12th near Lincoln school has been open all winter.  Yep.  AND...if you happened to have our app, you could have saved some cash there a few months ago with our Dining Deals at SeizeTheDeal.com.  Not only do we have amazing giveaways happening all the time on our app but you can save quite a bit of money too.
Score a $250 McDonald's Arch Card By Showing Us Your Shamrock Shake
If you love ice cream, this is going to sound a little too good to be true but I promise, it isn't.  Go get a Shamrock Shake at McDonald's and order a Shamrock Shake.  If you take a photo and send it to us on our app, you could score a $250 McDonald's Arch Card and you will also help out the Ronald McDonald Houses too.  Learn a bit more on our app.
READ MORE:  Show Us Your Shake to Score a $250 McDonald's Arch Card
New Ice Cream Shop Now Open in Downtown Rochester in Old Potbelly's Location
ICYMI - Potbelly's closed up its downtown Rochester location earlier this year.  It didn't sit empty long though.  Now open is a new ice cream shop called Fuzzy's Italian Ice.  Learn more about the new spot and see a few photos of their unique waffle cones here.
READ MORE:  New Ice Cream Shop in the Old Potbelly's Location in Rochester
6 of the Best Chocolate Shops in Southeast Minnesota
If you are a true chocolate lover, there are 6 chocolate shops in Minnesota that need to be on your list to taste-test. They were picked by OnlyInYourState.com as some of the best just a few years ago.
More From Quick Country 96.5