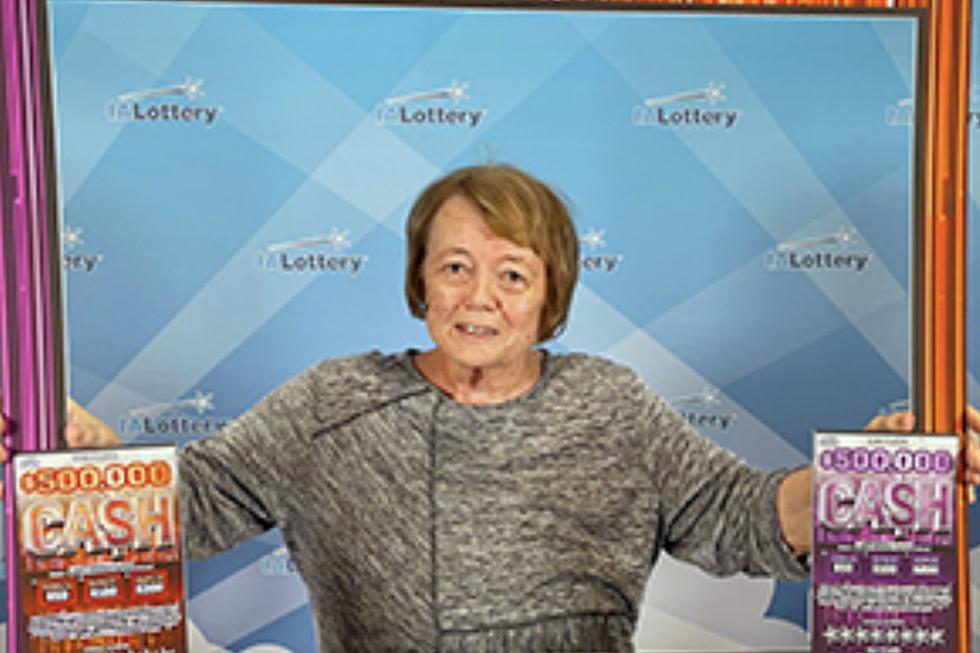 75 Year Old Grandmother Claims Massive Iowa Lottery Win
Iowa Lottery
I have a feeling the grandkids might expect some pretty decent Christmas presents this year from Grandma. A big congratulations to this 75-year-old woman, who just took home a massive amount of money from the Iowa Lottery.
Here we have another Iowa lottery winner who happened to grab a ticket "on a whim." It never seems to be the people who are trying to win, that win, does it? It's always someone who's just randomly grabbing a ticket.
According to Iowa Lottery, Carolyn Carson was out running an errand for one of her grandchildren, when this grandmother of four decided to stop at Casey's convenience store. She bought her winning ticket at Casey's, located at 1008 Grand Ave, in Alden, Iowa. She waited until she got home to scratch her ticket and her life has officially changed forever.
Just like that, Carolyn won $500,000 playing the "$500,000 Ca$h" scratch game, which debuted last April. You might remember this Iowa man from Davenport, who claimed the game's first top prize, in the first week of sales, for this new game.
When you win a massive amount of money, you can go through a little bit of a shock. It makes sense why everyone who wins big with the Iowa Lottery double and triple checks their ticket. That's exactly what Carolyn did after realizing she won big.
After scratching her ticket, she told the Iowa Lottery,
Oh, my gosh, I think I won! You hear about it, but you don't think it could happen to you. But it can!
After showing the ticket to her husband Mike, she scanned the ticket with the Iowa Lottery app and it confirmed her win. Her husband was in disbelief and asked her to scan it again. It once again confirmed she won.
After telling her three children about the winning ticket, they wanted her to send them all a picture of the ticket, you know, just in case Mom and Dad were missing something. Talk about one heck of a Mother's Day present to herself.
Carolyn and Mike told the Iowa Lottery, "They plan to invest the winnings." 
Huge congratulations to another Iowa Lottery winner as these big wins seem to keep pouring into the state of Iowa.
Always remember to gamble responsibly. If you or a loved one is showing signs of gambling addiction, seek help by visiting Your Life Iowa or call 1-800-BETSOFF
Biggest Winners in the History of the Lottery in Iowa
These are the people who have cashed the biggest checks since the Iowa Lottery debuted in the summer of 1985.
How is this Amazing Cedar Rapids Home So Inexpensive?
Take a look at this Cedar Rapids home and see if you can find out why it's so inexpensive.
More From Quick Country 96.5