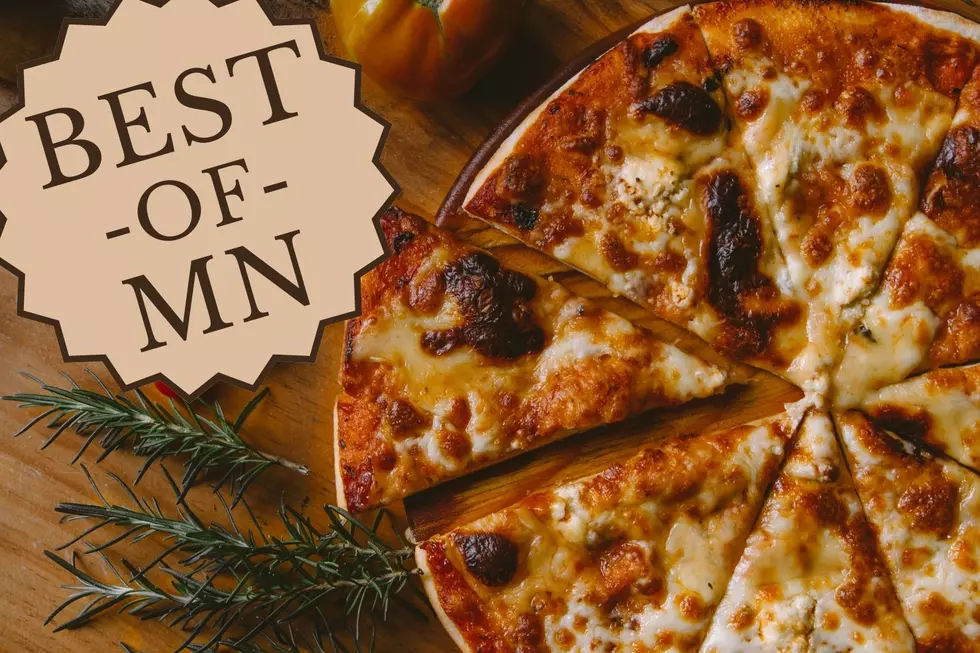 Top 5 Best Pizza Places In Southern Minnesota That Will Make You Say WOW!
Canva
Happy National Pizza Week! What is a better way than to celebrate a whole week by eating pizza all week (I'm kidding). But hey, if you want to try the best pizza around southern Minnesota I got you!
When looking at exploreminnesota.com I was ecstatic to see more than one southernly located place, and so I bring them here for you, the top 5 places to get pizza in southern Minnesota:
As explained in their story, Jake's started with "Rose & Ernie Jacobson [opening] the first Jake's Pizza in Albert Lea in 1964 and created the recipes that are still used today." I mean you can't get better than that! Today, the Mankato and St. Peter locations use all the same ingredients and recipes since day 1, and even get their cheese from a place in Wisconsin that exclusively sells to them! Explore Minnesota shares that their most popular item is the "Sarge's special, topped with Canadian bacon, fresh onions, ground beef and mushrooms."
Happy Joe's (New Ulm)
Happy Joe's is a place you go to when you are happy and excited to try unique and tasty pizzas! They have so much to choose from, from BLT pizza, to chicken bacon ranch pizza, to taco pizza, and even the Happy Joe's Special (which includes Canadian bacon, mozzarella, and sauerkraut, and is amazing)!
Happy Joe's is not just known for pizza though, included in their 7 paged menu is their award-winning Tater-Tot Hotdish which was named "Best Hotdish in Minnesota" by WCCO viewers according to exploreminnesota.com.
Looking for authentic pizza? Well as stated on their website, "Chef Pasquale Presa is serving the food he grew up with....authentic NY style pizza along with simple, traditional Italian food." Besides Pizza, guests can choose Pasta, Calzones, Stromboli, Panzerotti, Sandwiches, Salads, Soups, and classic Antipasti plates. And now they even serve gelato at their Italian Pasticceria in the restaurant! I mean it's a little space of Italy right in Minnesota!
Not only do they have great pizza, but they have their own craft beer, I mean what's better than that? Not only did Red Wing Brewery craft their own local beer, but their handmade pizzas are well known and well-liked because all of the pizza "dough and bread is made using our brewing grains by Red Wing's Hanisch Bakery on 3rd Street, downtown." But it doesn't stop there! To show appreciation and pride, The beers are named for the area and include the Stoneware Stout, Barn Bluff Brown Ale, and Jordan Creek IPA. Explore Minnesota also shares that "if you're looking for something spicy, order the buffalo chicken pizza, made with buffalo sauce, mozzarella, diced chicken, and crumbled Amablu cheese from Faribault."
Finally, we started this list in Mankato and we are finishing it in Mankato! Locally owned and operated, Pagliai's is the oldest pizzeria in Mankato and one of the oldest restaurants in the city, as noted by their website. In addition to Jake's Stadium Pizza, Pagliai's also gets its high-quality cheese from Wisconsin! Pagliai's has managed to be a staple in Minnesota because of its high-quality, fresh, and nostalgic pizza!
Honorable Mentions:
I could not go without an honorable mentions list because there are so many amazing pizza places. While these restaurants are not located in southern MN, they are amazing, and you need to check them out!
All information is credited to the article from exploreminnesota.com and the websites of each resturant.
How Many of These Minnesotan Terms Do You Know?
Yes, there are a lot of words in the English dictionary, but we Minnesotans decided to add more meanings. Test your Minnesota roots and see if you know all of these!
More From Quick Country 96.5