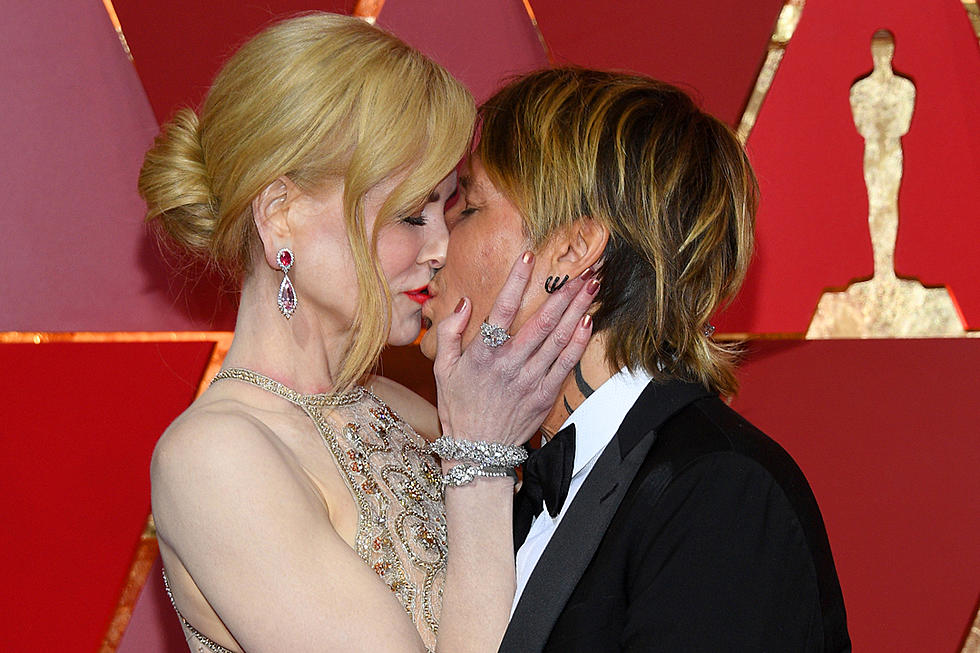 Keith Urban, Nicole Kidman Caught Kissing on the 2017 Oscars Red Carpet [Pictures]
Devork Djansezian, Getty Images
Keith Urban and Nicole Kidman were as adorable as ever on the red carpet at the 2017 Academy Awards on Sunday night (Feb. 26).
Urban chose a simple black tuxedo for the occasion, while Kidman wore a nude-colored Armani Prive gown.
According to the Daily Mail, Kidman -- who is nominated for Best Supporting Actress for her role in the film Lion -- experienced a minor fashion emergency on the way to show, when she broke the strap of her dress getting into the car.
The couple were as cute as always, being affectionate with one another on the red carpet by openly kissing in front of reporters and photographers after 10 years of marriage. Check out photos in the gallery above.
Country Artists Caught on the Kiss Cam
Though Urban played a supporting role on Sunday night at the Oscars, he's been in the spotlight plenty recently. He was nominated in the 2017 Grammy Awards, where he staged a high-profile performance of "The Fighter" with Carrie Underwood, and he is the most-nominated artist in the upcoming 2017 ACM Awards, where he is nominated for a whopping seven awards overall.
His recent hit "Blue Ain't Your Color" is nominated for Single Record and Song of the Year, while Ripcord is nominated for Album of the Year. Urban is also nominated for Entertainer of the Year, which he tells Rolling Stone Country is especially significant since it's an "all-encompassing acknowledgment" of the Ripcord album and tour.
"I guess everybody defines that particular category and nomination differently," he says. "Personally, I've always seen it from a touring standpoint. I've always thought it's about, 'Do you entertain? Can you put on a show?' I've always taken that nomination name so literally. Of course, I love touring. I've done it since I was a little kid. To get that nomination is just an extraordinary feeling."
See the Most Adorable Couples in Country Music
Watch the Most Unforgettable Keith Urban Moments
More From Quick Country 96.5