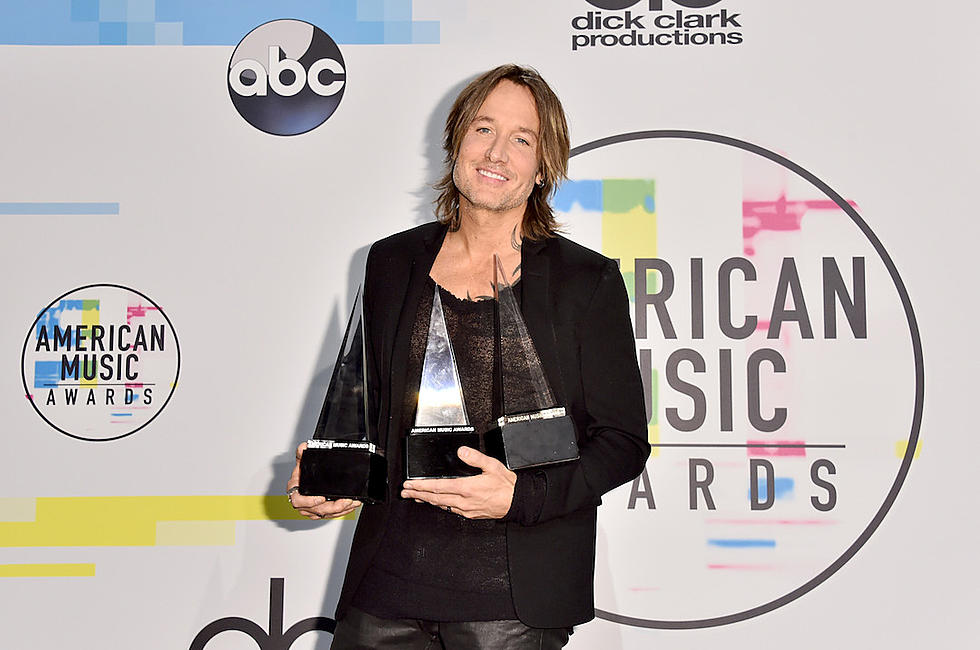 Keith Urban Shares New Music During Pop-Up Nashville Show [WATCH]
Alberto E., Rodriguez, Getty Images
Keith Urban was full of surprises on Wednesday (Jan. 17) in Nashville, Tenn. The singer appeared in a free pop-up show at Exit / In to play some older fan favorites as well as make some very special announcements.
After opening with a few songs from recent years, including the 2016 hit "Blue Ain't Your Color," Urban launched into the news: He will be releasing new music very soon! The new album will be called Graffiti U, and while details of the release date are still vague, the singer had even more news to share. He will be heading out on the road in 2018 for the Graffiti U World Tour, which kicks off on June 15 in St. Louis, Mo. He'll be bringing Kelsea Ballerini out on the road with him, and Ballerini also appeared onstage during the surprise Nashville show as a special guest.
"Man, it's good to be back at the Exit / In," Urban commented between songs. He went on to tell the story of a performance he'd given at the venue early in his career, before he'd signed to his record label, Capitol Records. He recalls struggling with an amp during his set, and getting his equipment to work just in time to see a white limo pull up and Jimmy Bowen, who was then the head of Capitol Records, get out and come inside the Exit / In. "I was playing, thinking, 'Oh man, this is awesome,'" Urban says. However, he was not to be signed that day: Bowen looked around for about 30 seconds and then headed for the door. "In his defense, I think I sucked back then," Urban laughs.
Dreams that come true seemed to be a theme of the night. During her appearance onstage, Ballerini told the story of the first time she met Urban just before launching into "Love Me Like You Mean It," the single that introduced her to country fame in 2015. At 14, Ballerini had only just begun writing songs, and she wasn't sure which direction she wanted to go in as a musician. Then, she saw Urban live and met him after the show. This event sparked her to move to Nashville and pursue a country career. "I wish I could go back and tell my 14 year old self that 10 years later I would spend my summer touring with the person whose songs led me to Nashville," Ballerini said on Wednesday in an Instagram post.
The energy remained high at Urban's pop-up show after the big announcements: The singer pulled a fan onstage, an aspiring singer herself, to duet with him, and performed an amped-up rendition of his most recent single "The Fighter," with the crowd singing Carrie Underwood's part of the song for her. "If I could just bring all of you on the road, that'd be great," Urban joked.
That isn't all: Urban also had not one but four new songs to share. "I recorded a lot of songs; I recorded too many songs," the singer joked. Readers can press play above for a taste of the rollicking "Texas Time," Urban's new contribution to the impressive catalogue of songs written about and for the Lone Star State. The singer also performed a new song called "Parallel Line," which he'd teased earlier that day via a social media post with the caption "1.19.18."
Urban also shared a ballad off the new album, called "Same Heart;" press play below to see video footage of that song. Additionally, the singer revealed another new tune called "Steal My Thunder," a catchy love song about letting your girl be the star of the show. He rounded out the night with some more older fan favorites -- including a medley that took an unexpected turn into Bob Marley's "No Woman No Cry" -- before saying he hoped to see everyone in the audience out on the road.
Keith Urban + Nicole Kidman's Most Adorable Moments
Unforgettable Keith Urban Moments
More From Quick Country 96.5