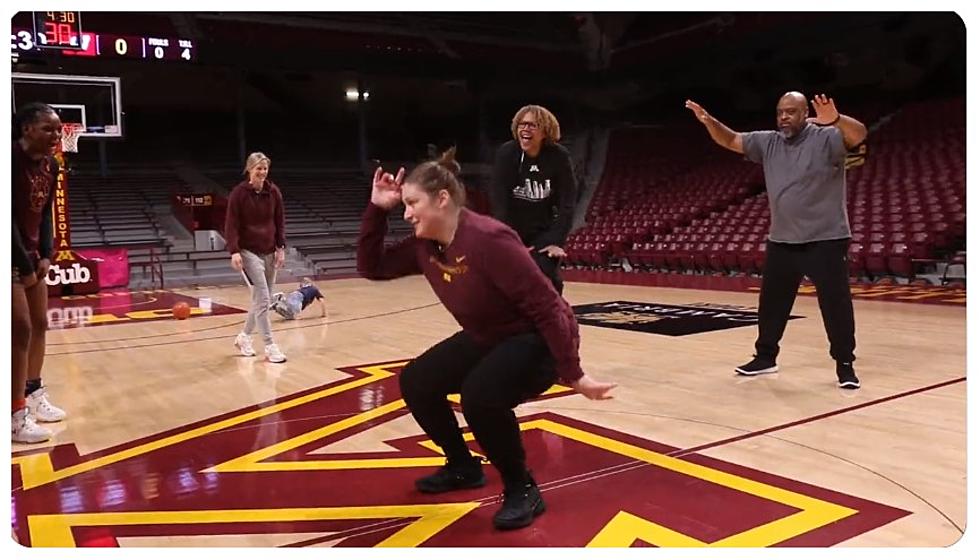 WATCH: Little Kid Steals The Moment From U of M Women's Basketball Coach
Photo: Minnesota Women's Basketball Via Twitter
The University Of Minnesota Women's Basketball Head Coach and former Pro Basketball and now Hall Of Fame guard Lindsay Whalen showed she has still got mad skills as she was hanging out with her team and sunk a half-court shot, followed up by some serious dance moves.
Whalen was born in Hutchinson Minnesota about an hour outside of Minneapolis, attended the University of Minnesota playing basketball, and except for her first 2 years in the WNBA, she came back home in 2010 to play for the Minnesota Lynx and helped establish that dynasty!
Rebekkah Brunson, Whalen's longtime Lynx teammate said to ESPN.com
You could always rely on Whay getting us into our sets and being that floor general. But the best thing about her is when s--- was hitting the fan and the clock was running out, she could just put her head down and get to the rack.
Whalen is known to be tough on the court but always managed to make her teammates laugh. You can tell she has a great sense of humor from the video below, make sure to watch until the end for the little kid doing his imitation of an elephant!
It was nice to keep things light despite the season being a bit disappointing for the Gophers who are now 9-16 on the season. But according to S.I.com "Despite their record, the Gophers are banking on the development of their younger players, such as sophomore Alanna Micheaux, who leads the team with 14.7 points per game, and freshmen Mallory Heyer, Mara Braun, and Amaya Battle."
15 Professional Athletes From Minnesota
10 Words & Phrases You Will Only Hear In Minnesota And Wisconsin
More From Quick Country 96.5