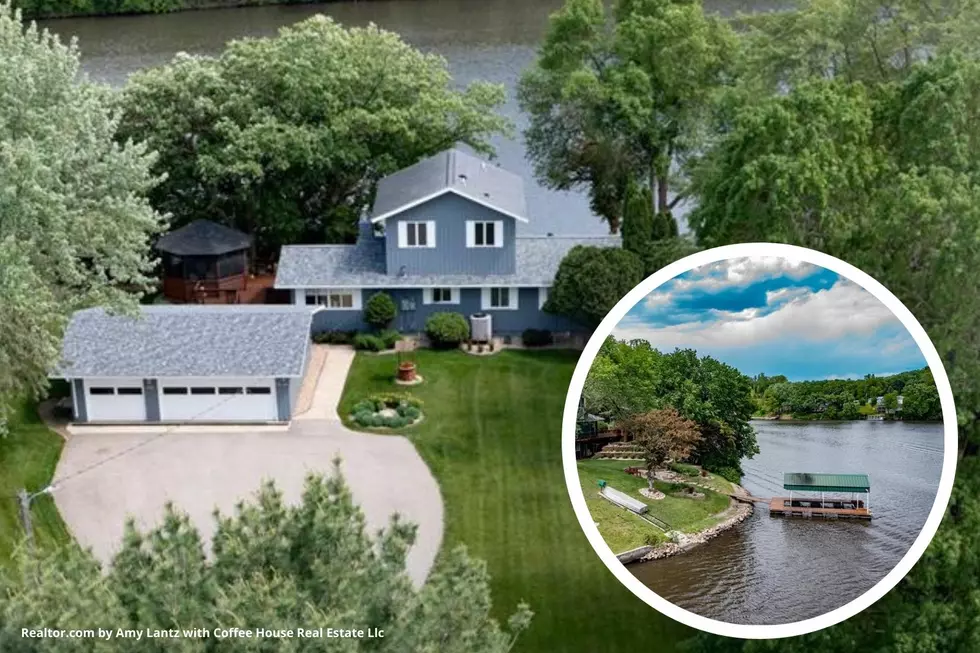 Love the Lake Life? Check Out This Year-Round Home in Oronoco
Realtor.com by Amy Lantz with Coffee House Real Estate Llc
So many people in Minnesota crave a life with weekends by a lake during the summer.  If that's one of your happy places too, there is actually a house for sale not far from Rochester, Minnesota that's less than $700,000 that might be your next perfect home!  It sits right on the water and even has a dock for all of your boating adventures.
Love the Lake? Check Out 36 Blakely Ct NW in Oronoco, Minnesota
I've got a few shirts that say "Lake Life" but sadly, I don't actually live at the lake.  :( I'd love to someday have water in my backyard but right now, all I can do is just look at photos on Realtor.com and dream.  If you are ready to buy that dream lake house, there is one that just showed up on the real estate market that has 3 bedrooms, 3 bathrooms, sits on the edge of the water, and even has its own dock!
Lake Home Lovers Will Truly Enjoy This New Home for Sale in Oronoco, Minnesota
If you've been wanting a home by a lake, one of the most desirable spots in Southeast Minnesota is Lake Zumbro. Lucky for you, a home is now for sale that's just under $700,000 and sits right there on the water with 139' of shoreline. It's like a vacation every day at this place!
The home at 36 Blakely Ct NW in Oronoco, Minnesota features 3 bedrooms, 3 bathrooms, 2,312 square feet, lots of great features including its own dock!
Check out the photos below to get an inside look of the home at 36 Blakely Ct NW in Oronoco, Minnesota.
The home at 36 Blakely Ct NW in Oronoco, Minnesota was built in 1967 and sits on a .62 acre lot.  It's got a lot of space and quite a few upgrades, including 2 gas fireplaces, quartz countertops, a screened in gazebo, new tiled floors, wrap around deck, 3 car garage, and so much more!  It even has an area for campfires to enjoy on all of those perfect summer nights in the land of 10,000 lakes.
If you are ready for the lake life to become your reality year round, check out the entire listing on Realtor.com by Amy Lantz with Coffee House Real Estate Llc here.
Almost Million-Dollar Home for Sale in Rochester, Minnesota Comes With A BOAT!
For about $1 million, you can own one of Rochester, Minnesota's luxury lakeside homes. And no, I'm not talking about Silver Lake. This home sits at 146 Interlachen Ln NW on Interlachen Lake. The views are gorgeous and you aren't just getting a house with this purchase. Nope - you are also getting a BOAT!
If you love the lake life but don't want to drive a few hours to a cabin, you might want to consider this home. It features 4 bedrooms, has over 4,000 square feet, and even has a heated and cooled workshop. While some might enjoy the fireplaces, patios, and hot tub, I know a few that are focused on the pontoon that comes with the property.
More From Quick Country 96.5