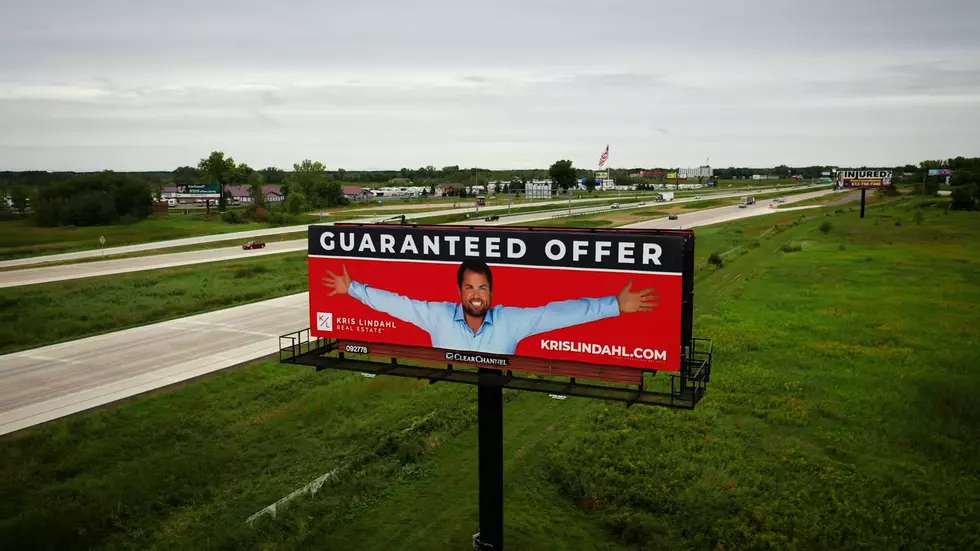 Minnesota Realtor Files Trademark For Iconic 'Arms Out' Pose
Kris Lindahl via YouTube
Driving through Minnesota, you are sure to see not one, but many "Guaranteed Offer" billboards of a certain Minnesota realtor with their arms out, and smiling.
Minnesota realtor Kris Lindahl has had these billboards up for years, now he has filed a trademark for the iconic pose. Even on the homepage of his website, you'll see the words "The Arms Out Real Estate Company".
According to Timberlake Law, this is what the trademark states:
A depiction of a human shown from chest up, smiling and looking straight ahead, with arms outstretched slightly higher than perpendicular to the torso and fingers splayed.
Many Minnesotans took to Twitter after hearing the trademark news:
One comment to the above tweet was from user @jonmbauer who said "I believe you immediately qualify as an employee if you do that pose"
According to the StarTribune, Lindahl wanted to trademark the signature pose so there aren't any copy-catters throughout the state. Just last year another Minnesotan named Chris Lindahl trolled Kris by making a billboard of his own.
I know his billboards are closer to the cities than Duluth, but it is hard not to drive by a billboard around the cities without seeing that pose. Comedians Content Machine even did a parody rap called "Do The Kris Lindahl" to the tune of "Donald Trump" by Mac Miller (just a heads up, the music video contains language). Kris Lindahl Real Estate even partnered with the Minnesota Wild to become their official real estate partners:
Say what you will about the man, he knows how to play the market game. I'll leave you with the tweet I laughed the most at:
10 Things You Do If You Were Born And Raised In Minnesota
More From Quick Country 96.5