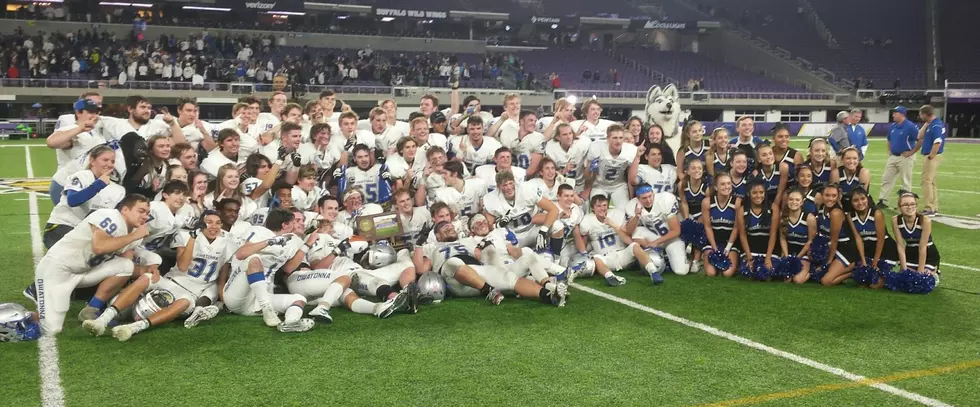 Owatonna Football Assaults the Record Book
Rich Will/Townsquare Media
Owatonna's football team set at least 20 records during their state championship run. Game, season and career records were rewritten for Owatonna, along with one state record being eclipsed.
Owatonna set records for team rushing yards in a season with 3,813 yards and average gain per attempt at 7.1 yards. The Huskies' main offensive linemen included Isaiah Noeldner, Zach Wiese, Joe Edel, Carter DeBus and Ethan Rohman, plus tight ends Carson DeKam and Zander Johnson. Luke Effertz and Chris Lewis also played at times on the line.
Junior Isaac Oppegard set the school record with eight interceptions. Junior Isaac Gefre set the record for best punt average at 38.4 yards. Senior David Keller enters the record book with most extra points in a season at 63.
Williamson's name fills the record book in several categories, with numbers that seem to be hard to ever match. He has most yards in a career (7,009), season (3,009) and game (477) while setting the mark for carries in a season (313) and career (923). He set a state record with 110 career touchdowns and holds the OHS record for touchdowns in a season (47) and game (8). He also holds the school records for points in a career (668), season (284) and game (50). Williamson finished ninth on the all-time receptions list with 66.
Other entries into this year's record book include sophomore quarterback Brayden Truelson, whose 961 yards passing is 11th best for a single season in school history. Junior Ethan Walter is 23rd in career receptions with 33.
The Huskies won their second straight state title and the third over the last six seasons. The 13-0 record matches the 2013 mark as the only two unbeaten seasons in school history.
More From Quick Country 96.5