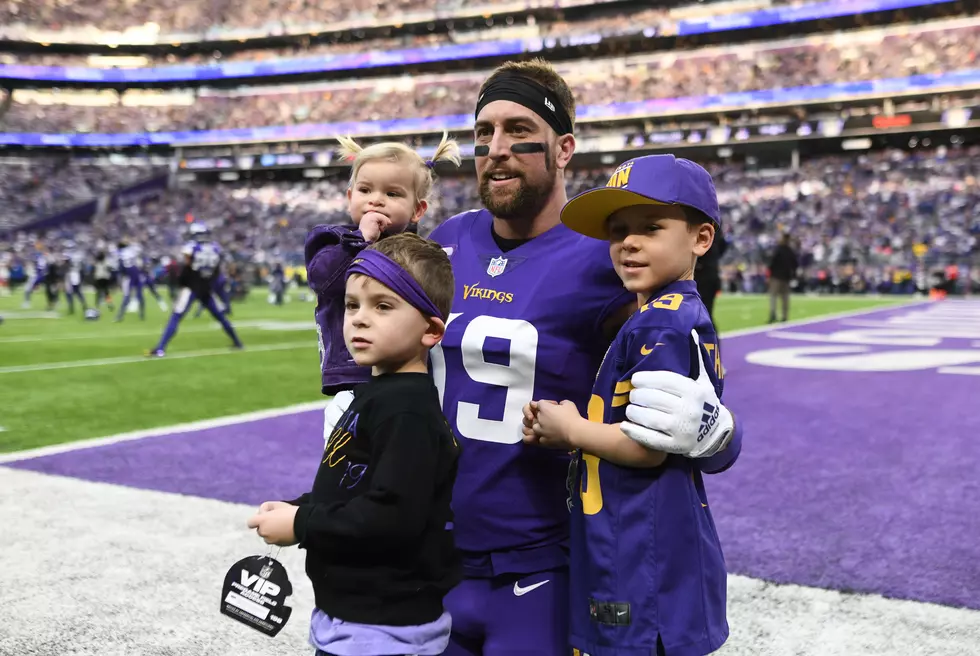 Popular Viking Hints Time In Minnesota May Be 'At An End'
Stephen Maturen/Getty Images
Could Adam Thielen have played his last game in a Minnesota Vikings uniform?
The loss to the New York Giants at U.S. Bank Stadium in Sunday's Wildcard round of the NFC Playoffs is still pretty fresh in minds of most Minnesota Vikings players and fans. Losing in the first round after the incredible season the Vikings had in 2022 is a tough pill to swallow.
Even tougher, though, might be the fact that popular Vikings wide receiver Adam Thielen said that his days in the purple and gold might be over. Well, it wasn't what he said so much as what his wife apparently posted on her social media page Sunday.
According to this Yahoo Sports story, Caitlin Thielen posted a picture of her and Adam in his Vikings uniform (taken before Sunday's game, it would appear) with the text:
And just like that, the season and our time here in MN may be at an end😢 super proud of your attitude this season and always fighting
Now, on the surface that doesn't specifically *say* that the Minnesota native, who's been with the team since 2013, wants to leave his home state and team. Nor is that pic likely referencing any kind of ill will after Sunday's playoff loss. Instead, it's likely a reference to the fact that the team might 'go in a different direction' next year, as they say.
That could be because of Thielen's contract, which is set to pay him nearly $20 million for the 2023 season. This FanSided story notes Thielen and the team restructured his deal last March, and that he'll count for $19.5 on the Vikings' salary cap next season.
That big amount may make Vikings management think about trading him away for future NFL draft picks as they try to fit all the pieces of the puzzle fit under the NFL's salary cap for next year.
And, should be noted that while the above picture appeared in an Insta Story on the Instagram page titled 'life_with_mrst' which says it is the page of Caitlin Thielen, it doesn't have the verified blue checkmark, as this Caitlin Thielen 'mrs_t_19' Instagram page does (though the verified page *doesn't* have that same photo in its Insta stories.)
So will Adam Thielen, who was the Viking's finalist for the NFL Walter Payton Man of the Year Award in 2022, be back with the team next season? Only time will tell, but at least we've all been warned if he does end up on another NFL roster.
Listen to Curt St. John in the Morning
Weekdays from 6 to 10 a.m. on Quick Country 96.5
Check Out Former Minnesota Vikings GM Rick Spielman's Home
The Eden Prairie home where former Minnesota Vikings GM Rick Spielman lived is now for sale.
More From Quick Country 96.5