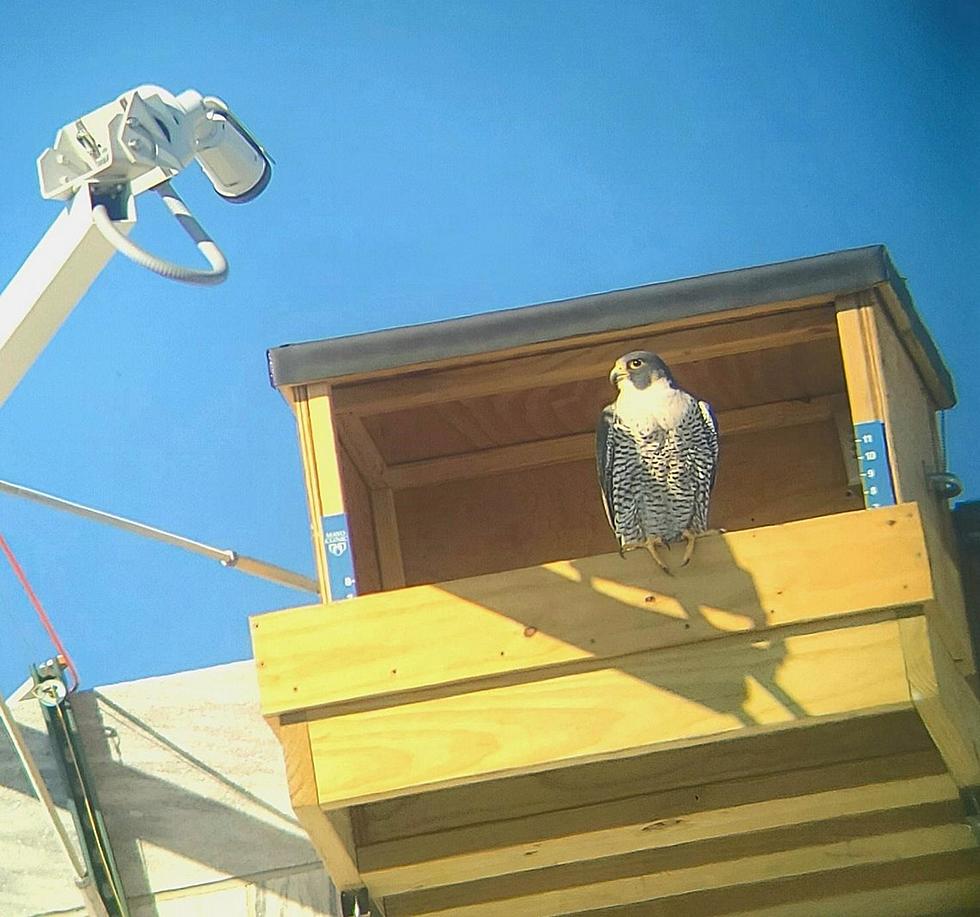 Rochester Mayo #FalconCam Update – Hattie's Laid Her First Egg!
Mayo Clinic
Hattie Lays An Egg...and you can watch the hatching live!
For six years now Hattie, the Peregrine Falcon, has been nesting atop the Rochester Mayo Clinic Building and laying eggs as people in Rochester, Minnesota, the Untied States, and all over the world watched it all.
From approximately mid-March to late June, this page features a live camera with 24/7, real-time views of where they live and raise their young. Throughout the year, this page features a film about peregrine falcons and their activities at Mayo Clinic. Questions about the program may be submitted to HeritageDays@mayo.edu (Mayo Clinic)
The Mayo Clinic Peregrine Falcon Program goes beyond just the last six years with Hattie and her mates. 2021 is the program's 34th year. Since the 80's, falcons have been watched, and watched Downtown Rochester go thru all its changes.
Imagine if they could talk.
Anyway, this is about Hattie and her first egg. Let's check the last couple months to get caught up.
Rochester Mayo Clinic's Peregrine Falcon Program - Hattie Lays An Egg
A lot of Rochester is proud of the 30+ years Rochester's Mayo Clinic has been home to the Peregrine Flacon Program, the last six with Hattie claiming that nest high above Rochester on the Mayo Clinic building. If you're new to the program, or you're just catching up, check out all the pictures in Hattie Lays An Egg!
Because of COVID-19 restrictions, the weekly "Meet the Falcon" programs on the Rochester campus have been replaced by short video segments amd Facebook Live events, posted below, featuring Jackie Fallon of the Midwest Peregrine Society. (Mayo Clinic)
The next Facebook Live event is tomorrow, Friday, March 19 from 11:00 - 11:30 AM.
Join Jackie Fallon, Midwest Peregrine Society, and Tom Behrens, Mayo Clinic Facilities Operations, in this live presentation. Jackie will bring a special guest to help viewers learn more about the interesting characteristics of peregrine falcons. We hope you can join us and we welcome your questions throughout the presentation. (Mayo Clinic)
As always, if you have a comment, complaint, or concern about something I wrote here, please let me know: james.rabe@townsquaremedia.com
Listen to James Rabe and Jessica Williams Weekday from 6 - 10 AM on Y-105 FM
I've never once heard the P-Falcs make noise. Probably because they're so high up. But that's OK. There are plenty of sounds to hear in Rochester!
Top 10 Favorite Sounds Heard in Minnesota
More From Quick Country 96.5