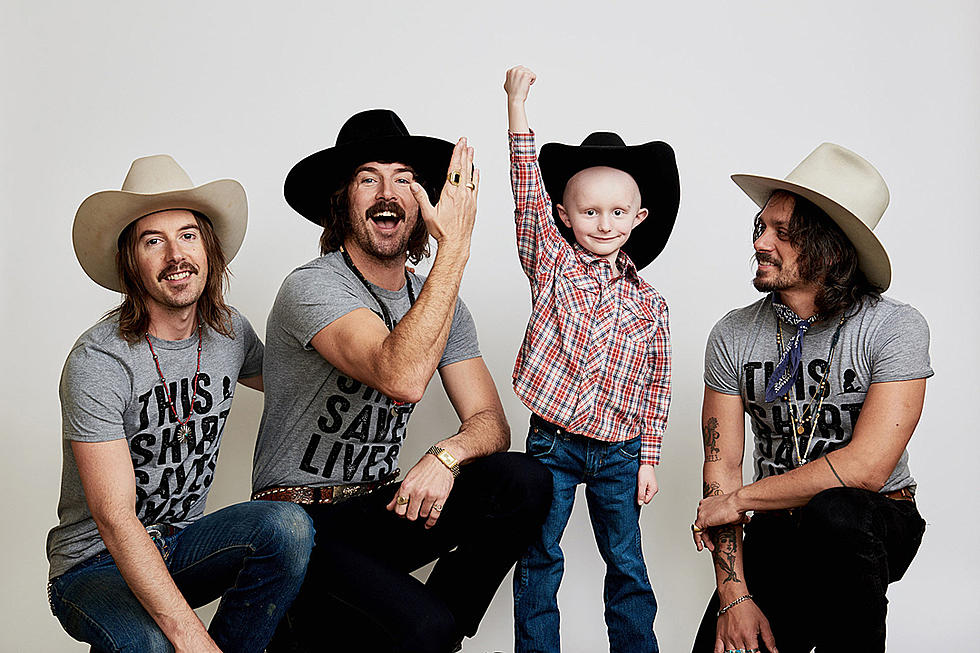 St. Jude Supporters Are Saving Lives, One Shirt at a Time
John Shearer
​There's something about putting on a shirt that says, "This Shirt Saves Lives" that makes you feel like a cool kid.
During a visit to St. Jude in December, they didn't hesitate when asked to pose for photos in the shirt, hoping to serve as a call to action inspire donors across the world. "I think this gave us a perfect opportunity to go to so many different artists who've offered to help and toured St. Jude through the years and were always looking for a way to get involved and say, 'Hey, here's a cool way to get involved,'" says Scott Hinshelwood, associate director of radio development at St. Jude. "This was kind of a new, fresh spin that we could put on that to make it something new."
These simple, but striking photos of the artists tie together their presence and passion for St. Jude and ending childhood cancer. After going through several T-shirt iterations that included potential phrases ("This Shirt Is Saving Lives" and "We Won't Stop" were two) to testing focus groups, they landed on a more compelling message of "This Shirt Saves Lives," and it's stopping people in their tracks.
"We've had people tell us that they're getting stopped in the elevators or at the grocery store because you see 'This Shirt Saves lives' and you see that St. Jude logo," St. Jude Senior Specialist Jessica Turri says. "But it's a conversation starter for people to say 'tell me more about that, what does that mean.'"
John Shearer is the man behind the camera. He's worked with many of these country artists before, and he knew they'd be passionate about the shirt project. "I knew the second I heard about it I'd get to shoot all these guys, because literally like every country artist in town wants to be involved with St. Jude, so everyone was more than happy to do it. I knew it'd be a fun project," Shearer says.
The fact that so many artists want to be a part of St. Jude helped make "This Shirt Saves Lives" the "cool thing" to do as photos of Jake Owen, Cole Swindell, Brothers Osborne and many others in this shirt spread across social media. 'It was a really fun, but also really emotional thing, because we got to shoot the artists, but then some of the patient children came in to do photos with them, as well," Shearer explains. "So that's always emotional, and everyone was obviously very excited to do that and to interact and develop relationships with some of the patients."
The social media response has been resounding — #ThisShirtSavesLives has amassed 153 million impressions, and the movement itself has made more than $6 million for St. Jude, $800,000 from online. "The hashtag alone is bringing visibility every single day, so even though we don't have artists currently posting today, we're still receiving donations," Turri continues. "So my hope is that that's going to continue and that we can just raise as much as possible."
Ten artists would've made the campaign a success, but 80 came on board. The campaign grows by the day, so the St. Jude team is incorporating Spanish and urban radio stations, as well as reaching out to Hispanic actors and actresses and sports figures to continue to spread the St. Jude message. "This is a concept that's not just a T-shirt — it's a movement," Hinshelwood says. "To see that it's gone on like this is not just refreshing, but it's rewarding."
It's efforts like this that allow children and families who come to the Memphis-based hospital to never receive a bill for their treatment. As cancer survivors who were given the gift of life by St. Jude many years ago, this is a full circle moment for Turri and Hinshelwood. Watching the artists' passion for the organization through this campaign spread to the patients is both humbling and moving.
"This isn't really a job to us, this is our belief in them. They saved our lives, the least we can do is try everything we can to raise money for that place, and I think that's what I've seen out of this is it's such a new excitement about St. Jude from existing to donors to new donors," Hinshelwood says.
"And how do you say thank you for the gift of life?" Turri poses. "So that's what we try to do every single day here."
St. Jude's survival rate has increased from 20 percent to 80 percent in 50 years. They help more and more children every year walk out of the hospital, thanks in large part to movements like "This Shirt Saves Lives" that motivate donors to make a difference, the tireless efforts of the St. Jude team and the passionate artists who help inspire the cause.
No wonder everyone wants to be a cool kid.
More From Quick Country 96.5