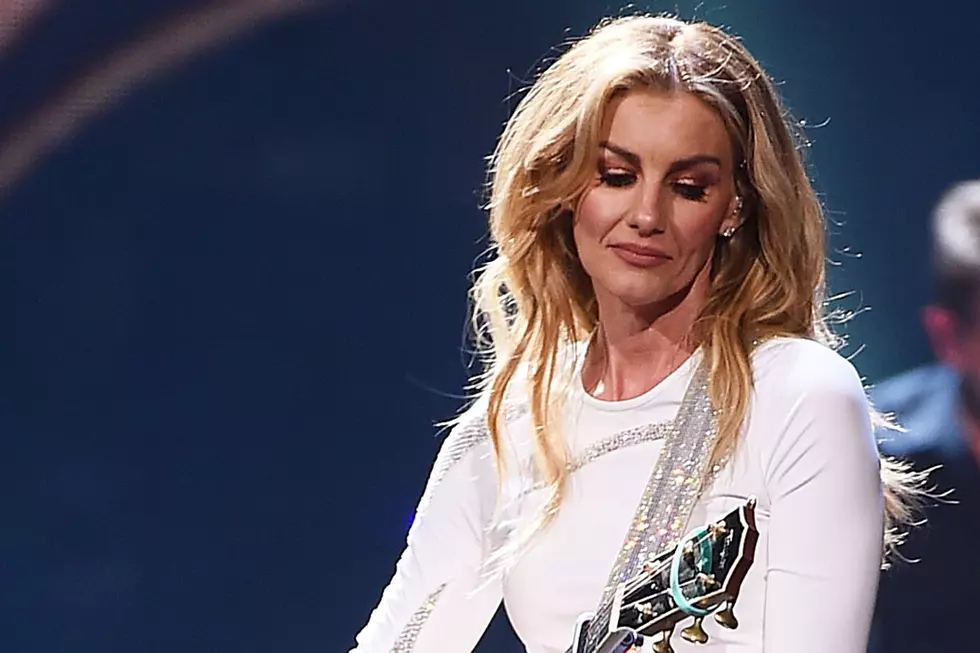 Michael Loccisano, Getty Images
Faith Hill songs are some of the most popular of the last 20-plus years. Since her debut in 1993, the country superstar has sold more than 30 million records and scored more than a dozen No. 1 hits.
From traditional-leaning material to uptempo contemporary country, Hill has recorded some of the best songs to come out of Music City in recent memory. Her strong vocal delivery powers all of her songs, from emotional, heart-wrenching ballads to fun, lighthearted fare. The Boot's list of the Top 10 Faith Hill Songs draws from all of the different aspects of her career.
10

"Wild One"

From: 'Take Me As I Am' (1993)

Spinning a tale of a young woman defying her parents' orders in favor of her own lifestyle choices -- including listening to rock and roll and dating a boy named Bill -- this song was Hill's debut single from her very first album, Take Me As I Am. It went all the way to No. 1, solidifying her home in country music. One of the more traditional sounding hits of Hill's career, it's an appropriate choice to kick off the Top 10 Faith Hill Songs.

9

"It Matters to Me"

From: 'It Matters to Me' (1995)

An unconventional twist on the classic love song, this tune mourns a once-solid relationship that has turned cold and distant over time. With heartbreaking lyrics such as, "When we don't talk, when we don't touch / When it doesn't feel like we're even in love / It matters to me," this title track of Hill's sophomore album also marked her first appearance on Billboard's all-genre Hot 100 chart.

8

"Mississippi Girl"

From: 'Fireflies' (2004)

Co-written by John Rich specifically for the Star, Miss., native, this song boasts that "a Mississippi girl don't change her ways just 'cause everybody knows her name" and features several milestones in Hill's personal and professional life, including seeing her "face on the big movie screen" and "ridin' [her] kids around piggy back." The song was believable enough to take Hill back to No. 1 after a five-year absence from the chart's top spot.

7

"Like We Never Loved at All"

From: 'Fireflies' (2004)

This tragic tale of former lovers who run into each other after they have broken up features Hill's husband, Tim McGraw, on additional vocals and in the video as the man she once loved. Singing, "Time is leaving us behind / Another week has passed, and still I haven't laughed yet," the real-life couple used this emotionally charged hit to open their Soul2Soul II tour in 2006.

6

"There You'll Be"

From: 'Pearl Harbor' Soundtrack (2001)

This song didn't quite make it into the Top 10 on the country charts, but it soared to the top of the adult contemporary charts thanks to its inclusion in the soundtrack for the 2001 Oscar-winning film Pearl Harbor. Hill's rendition of the Diane Warren-penned hit, which was also nominated for an Academy Award for Best Original Song, helped cement her position as a musical superstar who can seamlessly transcend genres.

5

"Stronger"

From: 'Cry' (2002)

It's hard to find a song in Hill's catalog that showcases her incredible vocal range better than this album cut from her fifth studio CD, Cry. Just watch her perform "Stronger" live, and you'll see that her producers have a pretty easy job -- no ProTools required. Hill grew up singing gospel in church and certainly carried that over into her career, with a great example being this soulful song that lifts spirits in tough times.

4

"Let Me Let Go"

From: 'Faith' (1998)

This Grammy-nominated hit includes guest vocals by Vince Gill, whose rich voice blends perfectly with Hill's to pack quite the emotional punch in this heart-wrenching ballad. Begging the memory of a lost love to stop lingering in her mind, Hill's rendition of this song took her all the way to No. 1 on the charts and scored her an invitation to perform at the 2000 Grammy Awards.

3

"It's Your Love"

From: Tim McGraw, 'Everywhere' (1997)

We stole this duet from Hill's husband, McGraw, who included it on his multi-platinum Everywhere album. The accompanying video, which featured Hill very pregnant with their first daughter, Gracie, was one of the public's first glimpses into one of country music's most enduring love stories. With lines such as, "Better than I was / More than I am / And all of this happened by taking your hand," this tune is still a wedding staple many years later.

2

"Breathe"

From: 'Breathe' (1999)

If ever there was a definitive career song for Hill, this is it. The sensual, sexy love song's popularity increased exponentially when the video of the song, which featured Hill writhing on a bed clad only in a sheet, hit the airwaves. Reaching No. 2 on Billboard's Hot 100, as well as staying on top of the country charts for four weeks, this song is still popular on Adult Contemporary radio today.

1

"This Kiss"

From: 'Faith' (1998)

Never has a song better reflected the spine-tingling elation felt during the first kiss with a crush. This song gave Hill solid footing in the pop and country worlds with kissable lines such as, "It's centrifugal motion / It's perpetual bliss / It's that pivotal moment ..." Hill's ethereal video for the song, featuring her jumping on flowers and riding a nectarine, makes this The Boot's all-time favorite Hill hit.
More From Quick Country 96.5