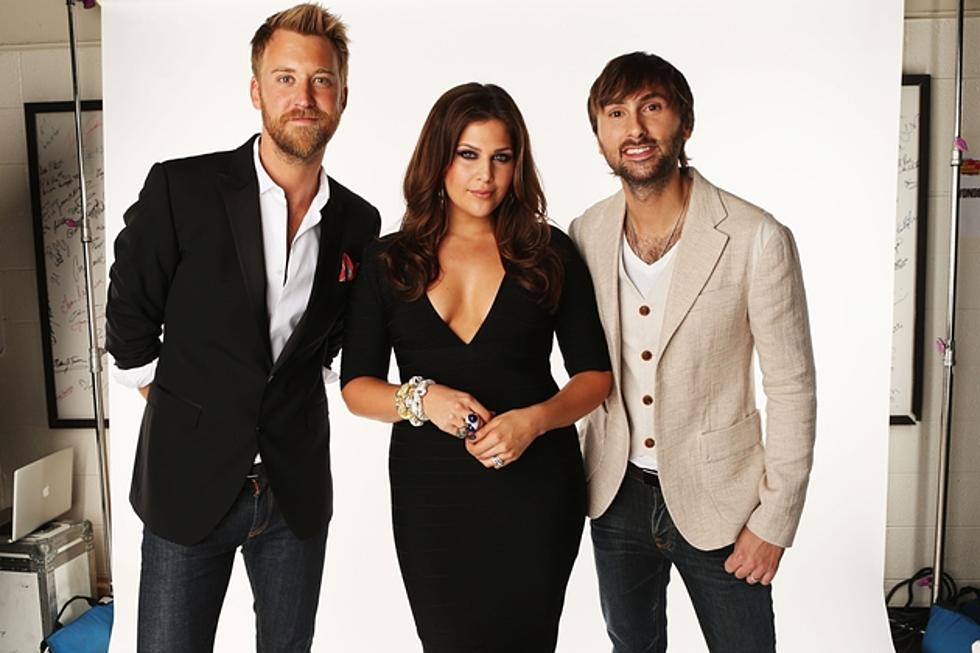 Christopher Polk, Getty Images
Lady A songs are some of the most popular of the last decade. Since the trio released their first single, "Love Don't Live Here," in 2007, they have placed a string of hit singles in a wide variety of styles on the country charts. The group relies on the vocal chemistry between Charles Kelley and Hillary Scott, as well as the instrumental and songwriting contributions of Dave Haywood, to form their unique sound.
Lady A have released fun, uptempo hits, as well as more serious fare, and pretty much everything in between -- as you'll see on The Boot's list of the Top 10 Lady A Songs.
10

"Our Kind of Love"

From: 'Need You Now' (2010)

The third single from the trio's breakthrough Need You Now album is an uptempo love song that relies on the vocal chemistry between Kelley and Scott. Written by the members of Lady A along with busbee, the song described a love that is always fresh and fun: "Just like drivin' on an open highway / Never knowing what we're gonna find." It reached No. 1 in September of 2010.

9

"Dancin' Away With My Heart"

From: 'Own the Night' (2011)

The third single from Own the Night did not reach No. 1, but it has been certified gold for selling 500,000 units. Written by Lady A and Josh Kear, the ballad looks back to a special first dance between young lovers: "Sometimes I find myself wondering where you are / For me you'll always be 18 and beautiful, and dancin' away with my heart."

8

"American Honey"

From: 'Need You Now' (2010)

Interestingly enough, the second single from Need You Now is one that none of the group members helped write. The followup to the breakthrough title song is a turn in a different direction, with Scott taking the lead as a woman who longs to go back to the innocence of youth: "Oh I miss those days as the years go by / Oh nothing's sweeter than summer time / And American honey." Written by Cary Barlowe, Hillary Lindsey and Shane Stevens, it scored Lady A another No. 1 single.

7

"Bartender"

From: '747' (2014)

Lady A have evolved into an arena act over time, and "Bartender" is a perfect example of that evolution. The song's tempo and subject matter lend themselves more toward a larger, rowdier performing environment, and the subject matter of a woman partying away her romantic troubles fits in perfectly with contemporary country radio. Written by Lady A and Rodney Clawson, the lead single from 747 gave Lady A another chart-topping song.

6

"We Owned the Night"

From: 'Own the Night' (2011)

The second single from Own the Night was a stylistic shift for Lady A. An uptempo track based around a mandolin riff, the song tells the story of a one-night romantic encounter: "We woke under a blanket, all tangled up in skin / Not knowing in that moment we'd never speak again / But it was perfect, I never will forget / When we owned the night." Bro-country maestro Dallas Davidson co-wrote the song with Lady A, displaying a different side of his writing and scoring yet another No. 1 hit.

5

"Love Don't Live Here"

From: 'Lady Antebellum' (2008)

Lady A released the self-penned "Love Don't Live Here" as the first single from their self-titled debut album, announcing a new sound right out of the gate. Though the track relies more on Kelley's voice than Scott's, it establishes the signature harmonies that would become the trio's trademark. The single peaked at No. 3 and earned Lady A a Grammy nomination for Best Country Performance by a Duo or Group with Vocals. They were also nominated for Best New Artist.

4

"Downtown"

From: 'Golden' (2013)

"Downtown" signaled a change of direction from Lady A toward more upbeat, fun-loving songs, with a take-charge performance from Scott. Luke Laird, Shane McAnally and Natalie Hemby wrote the sassy song, which was originally intended for Miranda Lambert. Instead, Lady A's high-energy rendition took the song to No. 1, while a comical video featured a several famous guest stars.

3

"I Run to You"

From: 'Lady Antebellum' (2008)

Lady A scored a major breakthrough with the third and final single from their debut album. Written by the group with Tom Douglas, "I Run to You" really established Kelley and Scott as equal singers and honed their trademark harmonies in a perfectly produced track. The lyrics are a unique take on a universal theme: "This world keeps spinning faster / Into a new disaster, so I run to you." The song earned the trio a Grammy for Best Country Performance by a Duo or Group with Vocals and was also nominated for Song of the Year.

2

"Just a Kiss"

From: 'Own the Night' (2011)

"Just a Kiss" was somewhat of a natural musical followup to Lady A's big breakthrough, "Need You Now." The mid-tempo ballad played to all of the band's strengths with a strong melody, tradeoff lead and harmony vocals from Kelley and Scott, a piano motif from Haywood and a sweeping string arrangement. Written again with Davidson, the song reached No. 1 and was certified double platinum.

1

"Need You Now"

From: 'Need You Now' (2010)

What other song could possibly top our list of the Top 10 Lady A Songs? "Need You Now" was a career breakthrough of epic proportions for the group, taking them from rising stars to one of the industry's top acts. The song's story, told from the perspective of both a lonely man and woman reaching out for late-night companionship, was universal, and its alluring arrangement made it stand out at radio. The song hit No. 1 in both country and adult contemporary and earned an armload of awards, including CMAs, ACMs, CMTs, Teen Choice Awards and four Grammy Awards, including Song and Record of the Year.
More From Quick Country 96.5