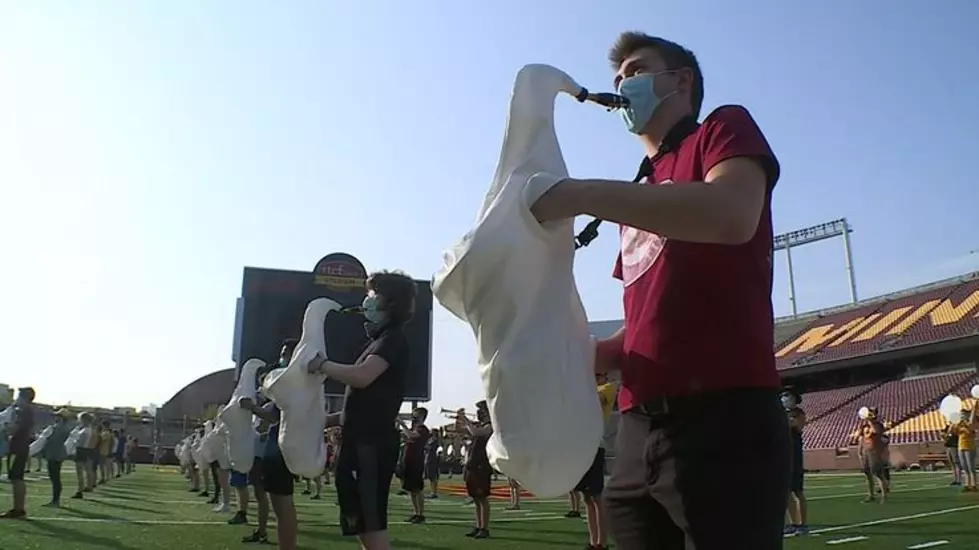 University of Minnesota Marching Band Getting Creative so They Can Practice Together
Kent Erdahl, KARE 11
Enter your number to get our free mobile app
The University of Minnesota marching band has been practicing over Zoom lately. Yeah, practicing MARCHING over Zoom. That's so crazy! But now that the campus is back open the marching band got creative in order to safely practice in person.
The U of MN band director Betsy McCann told KARE 11 that she was closely following studies about how effective bell covers and woodwind bags actually are at preventing the spread of COVID-19. She was very excited to see that as more and more research came out, including this one that came out over the summer, the more proof there was that these safety precautions actually worked.
So now the marching band uses face masks with holes cut in them just big enough so they can fit their mouth piece through, bags that cover the woodwind instruments, and bell covers that go over the bells of the brass instruments.
Not only do the instruments look different, but their marching formations will also be different in order to keep them all safely distanced from each other. However, they don't even know if they'll be able to perform at Gopher football games just yet, the University hasn't made a final call on that. But they are really hoping, especially after all of this hard work and dedication, that they will be able to perform at some capacity at the upcoming Gopher football games.
2021's Best Colleges/Universities in the Country
More From Quick Country 96.5