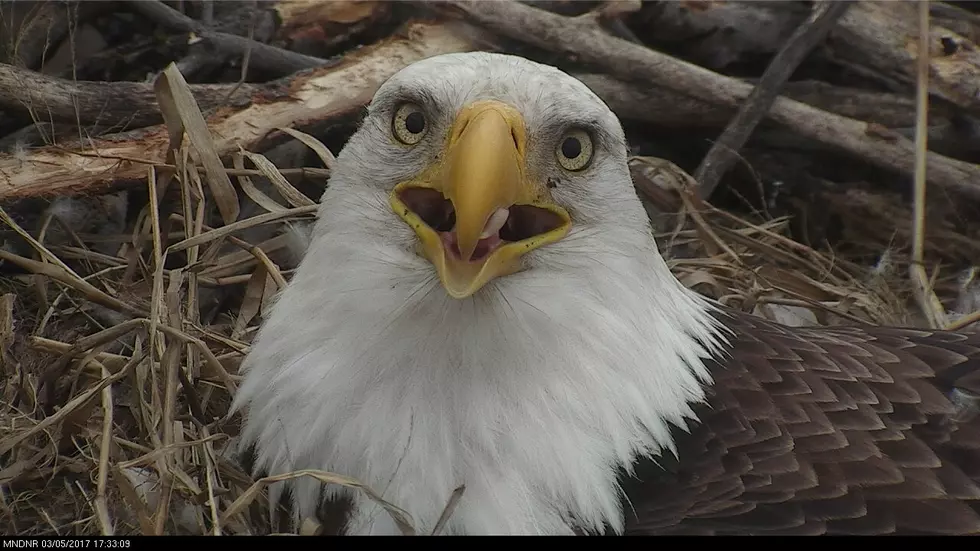 WATCH LIVE: 2022-23 Minnesota DNR 'EagleCam' is On
Photo courtesy of the Minnesota DNR
The beginning of another great season of Eagle TV, better known at the Minnesota DNR's live eagle nest cam -- which is live as of this week.
Both adult eagles have been visiting the nest a couple times per day. Recently an attempt at mating was even observed! Luckily, the female appeared to be having none of it at this point. We agree that it is a bit early in the season for that! 😊
This is the tenth year the Minnesota Department of Natural Resources has placed cameras at the nest.
Minnesota DNR EagleCam Live Stream
Note to viewers: This is live video of wild bald eagles living in nature. Natural struggles will occur and some of the feeding or other wild bird behaviors may be difficult to watch. Please use discretion when watching this cam. DNR staff monitor this camera and nest.
According to the DNR:
During a time of year when some of us reflect on family and gratitude, the eagle cam team has been reflecting on our gratitude that this wild endeavor, which we decided to try 10 years ago, found so many eager minds. We hope this season will be another that brings us to the edge of our seats with all the drama that nature possesses. Through whatever this season brings, we remain your Nongame Wildlife Program. Your Nongame Wildlife Program brings you the passion and science you demand of us, but we can only do this because you support us.
This EagleCam is brought to you by the Minnesota DNR Nongame Wildlife Program, which helps over 700 species of Minnesota wildlife thrive. The program is largely supported by donations from Minnesotans like you -- and you can donate here.
MORE TO EXPLORE: The 17 Snake Species of Minnesota
More From Quick Country 96.5