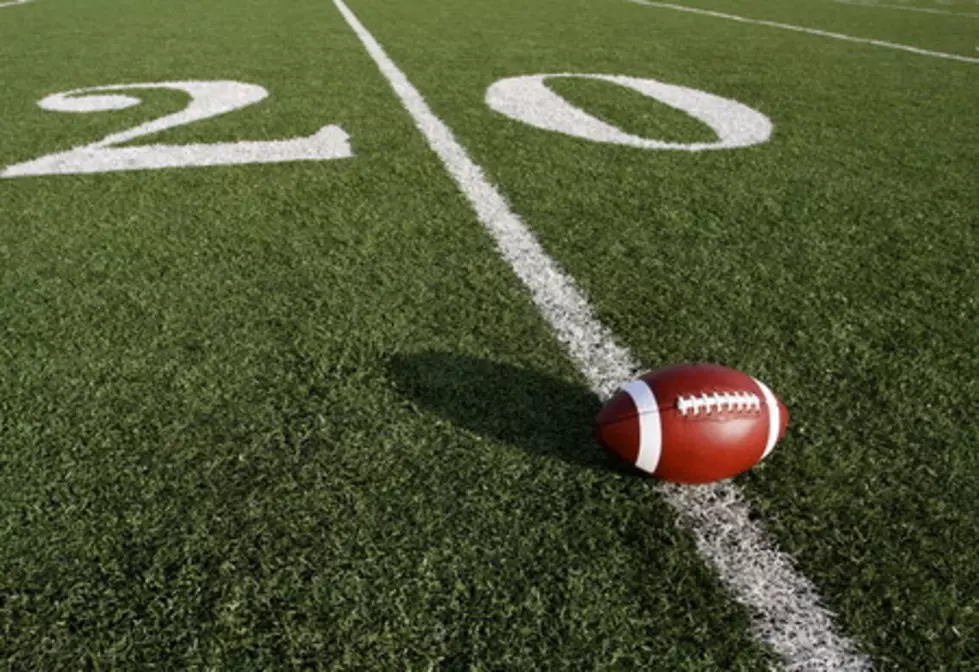 Southeast Minnesota Well Represented In Week 1 Football State Rankings
ThinkStock
Week 1 of the high school football season is in the books, and many teams across Southeast Minnesota found themselves in the rankings early in the season.
There is still a TON of football to be played, so yes these rankings really don't mean much, but it is fun to get a look at the state as a whole. Below you will find the Minnesota AP Rankings.
Minnesota Week 1 9-Man Rankings
Spring Grove and Lanesboro are the two team in Section 1 ranked in the Top 10, with Spring Grove at #2 after an impressive victory over Houston, and Lanesboro at #4 after a opening night win over Grand Meadow (who also received votes). Spring Grove and Lanesboro play in Lanesboro Week 8. It could be a matchup for the top seed in the section.
1. Mountain Lake Area
2. Spring Grove
3. Mountain Iron-Buhl
4. Lanesboro
4. Verndale
6. Hills-Beaver Creek
7. Renville County West
8. Hancock
9. Win-E-Mac
10. Edgerton
Also receiving votes: Blackduck, North Central, Grand Meadow, Nevis, Norman County East/Ulen-Hitterdal, Warren-Alvarado-Oslo, Ogilivie, Cook County, Sleepy Eye St. Mary's, Brandon-Evansville
Minnesota Week 1 Class A Football Rankings
No teams in Section 1 are ranked in the Top 10, but Randolph, Rushford-Peterson, and Fillmore Central all received votes coming off of nice wins in Week 1. The Trojans and Falcons will battle in Harmony on Friday night and you can catch the action on FUN 104.3.
1. Mahnomen-Waubun
2. Murray County Central
3. Minneota
4. Browerville-Eagle Valley
5. BOLD
5. Dawson-Boyd
7. Gibbon-Fairfax-Winthrop
8. Mayer Lutheran
8, Tracy-Milroy-Balaton
10. Russell-Tyler-Ruthton
10. Pine River-Backus
Also receiving votes: Randolph, Rushford-Peterson, Cleveland, Fillmore Central,
Ottertail Central, Upsala-Swanson, Belgrade-Brooten-Elrosa
Minnesota Week 1 Class AA Football Rankings
Blooming Prairie is making the move to Class AA and they take the #1 ranking in the state, while playing in Section 2 this year. Triton took down Rochester Lourdes week one and have the #5 spot, while Caledonia is ranked #7.
The Warriors lost to open the season to Lake City (ranked #5 in Class AAA), which ended a 71-game win streak. There is no doubt that the Warriors will find a way to be very good as the season moves on. Lewiston-Altura take the #9 spot after a big 41-0 win over Zumbrota-Mazeppa in Week 1. Triton and Caledonia will meet in the regular season in Caledonia during Week 7 on October 15th.
1. Blooming Prairie
2. Minneapolis North
3. Blue Earth
4. Pipestone
5. Triton
6. Redwood Valley
7. Caledonia
8. Kimball
8. West Central Area
9. Lewiston-Altura
9. Paynesville
Also receiving votes: Pelican Rapids, Staples-Motley, Royalton, Moose Lake/Willow River, Maple River, Eden Valley-Watkins, Hawley, Barnesville
Minnesota Week 1 Class AAA Football Rankings
Cannon Falls makes it way back to Section 1 and are tied for #3 in the Class AAA rankings. Lake City is in at #5, and Plainview-Elgin-Millville, coming off a big win over Chatfield, earned the #10 ranking. The battle for the Section 1 crown will be a good one once again!
1. Albany
2. Pierz
3. Annandale
3. Cannon Falls
5. Lake City
6. Dilworth-Glyndon-Felton
7. Litchfield
7. Waseca
9. Fairmont
10. Plainview-Elgin-Millville
Also receiving votes: Dassel-Cokato, Tri-City United, Aitkin, Morris-Chokio-Alberta, Breck, Mora, Perham, New London-Spicer, Watertown-Mayer, St. Croix Lutheran
Minnesota Week 1 Class AAAA Rankings
Kasson-Mantorville and Winona are once again in the Top 5 for Class AAAA football. K-M opened up with a 31-21 win over Byron, while Winona topped Red Wing 31-6. Stewartville opened the season with a big win over Mankato East 47-20 and are earning votes in Class AAAA.
1. Hutchinson
2. Becker
3. Kasson-Mantorville
3. Winona
5. Cold Spring Rocori
6. Holy Angels Academy
7. Mound-Westonka
8. Fridley
9. Willmar
10. Grand Rapids
SMB-Wolfpack
Also receiving votes: Jordan, Cloquet, Faribault, Stewartville, Simley
Princeton, Marshall, Columbia Heights
Minnesota Week 1 Class AAAAA Rankings
Rochester Mayo opened up their season with a big win over Section 1 Class AAAAA  powerhouse Owatonna. Both teams are receiving votes in the early season, and they just might meet up again in the Section Championship game.
1. Mankato West
2. Moorhead
3. Elk River
4. Andover
5. Spring Lake Park
5. Saint Thomas Academy
7. Mahtomedi
8. Chaska
9. Robbinsdale Cooper
10. Rogers
Also receiving votes: Rochester Mayo, Chanhassen, Tartan, Owatonna
Minneapolis Washburn, Monticello, Bemidji, Sauk Rapids
Cheapest Minnesota House On The Market Includes Mystery Trash Bags
This
861 square-foot home
comes with a one-car garage on an 8,886 square-foot lot. It was built back in 1920 and has an unusual room that is filled with mystery trash bags.
See it for youself!
More From Quick Country 96.5