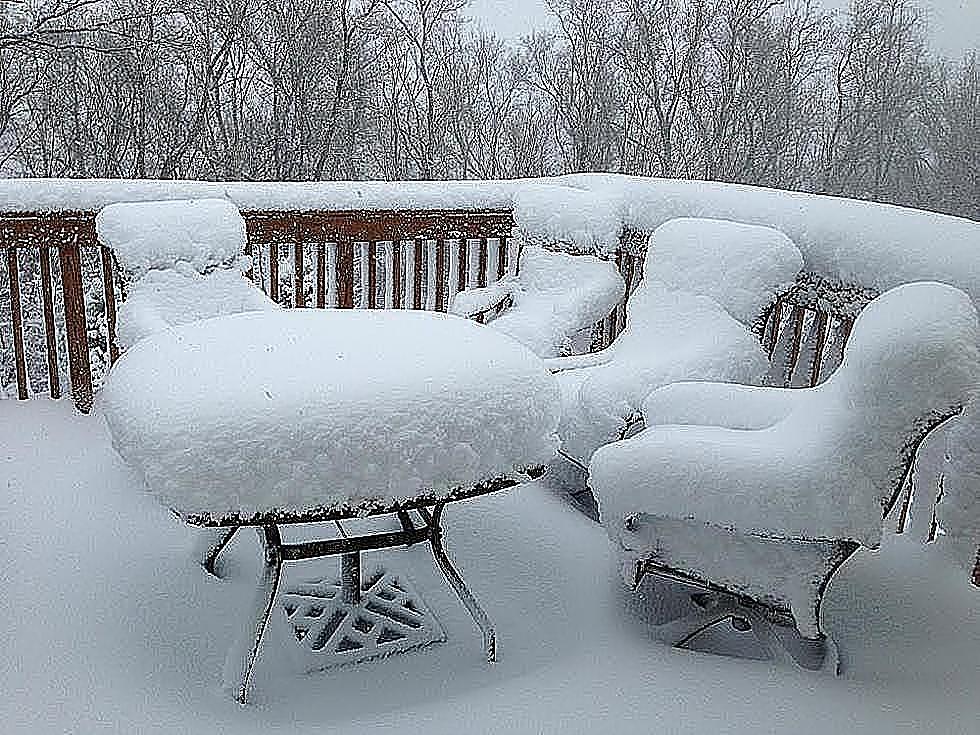 8 Years Ago This Week Rochester Was Shoveling a Lot of Snow
The May 2nd, 2013 Rochester snowstorm. (CSJ/TSM-Rochester)
If you ever needed proof about how different the weather can be during spring in Minnesota, just check out what's happened during the first days of May.
Ahh, spring in the Land of 10,000 Lakes-- when it can be sunny and warm one day and then 50 degrees colder with snow flurries falling only a day or so later, right? Yes, the Minnesota weather roller coaster can give you a serious case of whiplash during the spring.
Take, for instance, the weather we just experienced on the first day of May here in 2021. According to the National Weather Service in La Crosse, our high temperature reached all the way up to 91 degrees on Saturday at Rochester International Airport, breaking the previous record of 89 which was set back in 1992.
NWS-La Crosse also noted that it was our first 90-degree day of the year, and was the warmest day in Rochester since August 26th of 2020-- when the mercury also topped out at 91 degrees!
But compare and contrast that with what happened on May 1st just 8 years earlier. If you were here in Rochester (or anywhere in southeast Minnesota, for that matter) in the spring of 2013, then you probably remember that freak late-season snowstorm that dumped anywhere between 12 and 17 inches of wet, heavy snow on us... ON THE SECOND DAY OF MAY! 😱
I still think of how wet and heavy all that snow was as I was trying to get our driveway cleared-- and the fact it had fallen in the month of May! In fact, as any good Minnesotan will do, I still get nervous when I rearrange our garage and put away the snowblower for the season-- thinking that, even though it's May, we still COULD get more snow-- with that freaky 2013 May snowstorm still fresh in my mind!
Of course, while getting snow in the spring here in Minnesota can be annoying, we all know that Mother Nature has often packed much more fury in the forecast not just during the spring, but year-round. Keep scrolling to check out some of the most devasting weather disasters that have happened here in Minnesota.
Listen to Curt St. John mornings from 6 to 10 on Quick Country 96.5
and afternoons from 2 to 6 on 103.9 The Doc
11 of the Most Devastating Weather Disasters in Minnesota Throughout The Years
We might be full of lakes and "nice" but Minnesota has had its fair share of horrible and nasty weather. Throughout the years we've had floods, fires, storms that have crushed stadium roofs flat, and tornadoes that have destroyed lives.
More From Quick Country 96.5