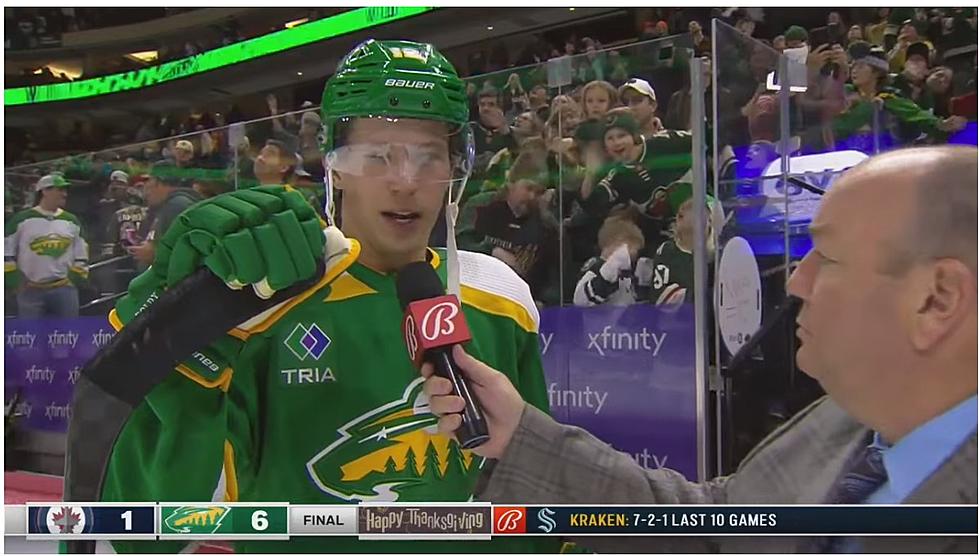 All Minnesota Pro Teams Need Funny Interviews Like This [Video]
Image Credit: Bally Sports North via YouTube
I love my Minnesota teams and watch anything and everything that I can on them. But sometimes it gets hard watching the after game interviews and the locker room interviews after that. They are more often than not, the same old interview as the last one, the one before that and the many more before that. There are only so many ways you can answer the same questions that they get asked ALL the time.
"What do you think was the difference in this game"?
"How did that winning goal/touchdown/basket make you feel"?
"What could the team have done different to avoid this loss"?
Interviews kind of like this:
Actually a good interview, just seems to me the same old, same old. Think you get the picture. I get that sometimes it's hard to find other questions, but maybe it's okay to have a little fun with it now and again. The way Reavo and Klingberg recently did after a Minnesota Wild Game. Here's the hilarity:
I couldn't help but laugh and I actually enjoyed watching that interview, because it was different for a change, even if the questions weren't. So if there are any pro athletes in Minnesota who happen to read this (not likely but a girl can dream), on your next interview after the game in the locker room, go ahead and have some fun like this.
Why not? You'll probably find it entertaining and so will all of us fans. Not that I can speak for all fans, but come on, don't act like you wouldn't want to see more funny interviews like this in not just Minnesota but perhaps with most any pro team.
ALSO: Former Minnesota Twins All-Star's Home for Sale - Complete With Brewery
Top 20 Minnesota Breweries From All Over the State
Top breweries in the Minnesota ranked according to Brewery Stars with representation from all over the state
Pictures from the 2023 World Snow Sculpting Championships In Stillwater Minnesota
The World Snow Sculpting Championships were held recently in Stillwater where teams from as far away as Mexico and Columbia competed against each other for a share of the top prize, medals, and the title of World's Best when it comes to snow sculpting.
KEEP READING: Here are 50 of the most famous sports goofs
So Long! Minnesota's Ugliest Car Just Got Drove Off To Michigan
Alex Wayne recently bought a mash-up of a Minnesota vehicle. It's a Mini Cooper frame with a Chevy Express van skeleton on top. This vehicle definitely turns some heads as it goes by, but it was supposed to do that.
More From Quick Country 96.5