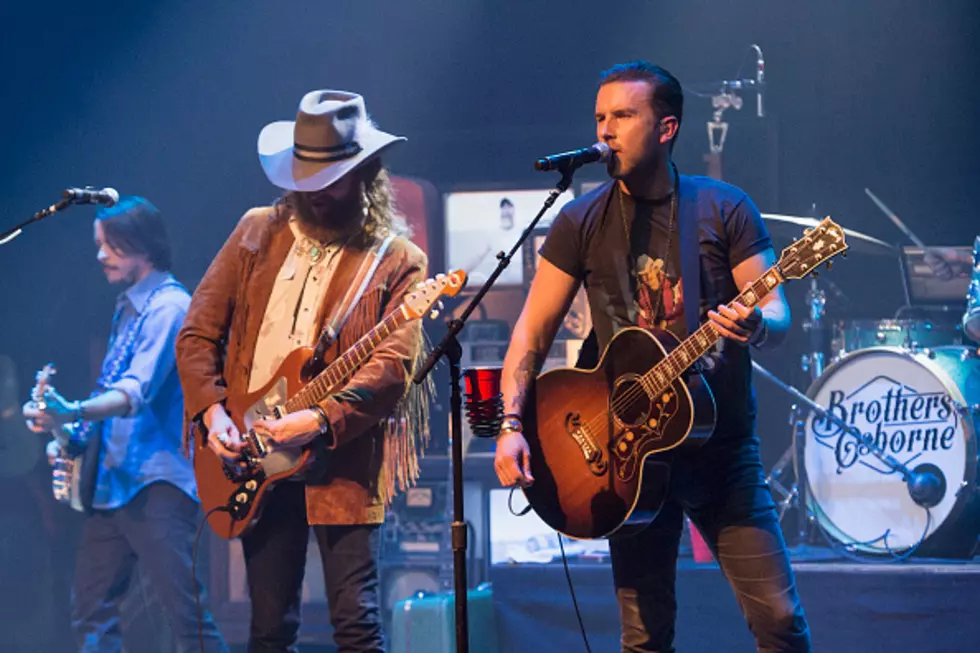 Country on the River Snapshot – Brothers Osborne
Photo: Erika Goldring/Getty Images
One of their video's on You Tube has over 13 MILLION views. There must be a good reason for that, right? ~~ Watch'em! ~~
When I heard this duo for the 1st time I instantly detected a specific sound & vibe I had heard before, but not in the country music genre'. After investigating more for myself I detected a slight tinge of the 'Muscle Shoals' music scene (aka: 'swampers' ), southern rock, and even jam-band indie-music culture, coupled with catchy song writing and better-than-average level of musicianship, especially with the guitar work.
They grew up on the Delmarva Peninsula (Delaware-Maryland-Virginia) on the Atlantic seaboard in a small Maryland fishing town. Parts of their sound remind me of that region, and my 5-year Navy stint in the Mid-Atlantic region of the country.
Many country music fans liken their lead vocalist ( TJ Osborne ), with his rich baritone voice  to that of a Toby Keith and/or Josh Turner. This is all pretty easy to detect, but I happen to think that this duo would be equally comfortable performing on a hillside at an Indie-Music Fest, Bonnaroo, or a 80/35 Music Festival right down I-35 in Des Moines, IA.
TJ Osborne says.. "Most duos are built on singing, but brother John is an incredible guitar player, and this band is built on me singing and John playing guitar. It gives us two parallels that work nicely together."
source: http://www.brothersosborne.com/
No matter what you detect when you listen to their music, Brothers Osborne find themselves well entrenched into
the mainstream country music genre', and have established themselves as an innovative & edgy performing duo, not afraid to look social issues squarely in the eyes and sing about them. Their LIVE shows are road-tested, with raw talent and energy.
Brothers Osborne garnered a nomination at the 59th annual GRAMMY awards with 'Best Country Duo/Group Performance' for their current single '21 Summer.' This is their second GRAMMY nomination as they were nominated last year with their hit single 'Stay a Little Longer.'
-Steve ~Quick Country Weekends
Their current record 'Pawn Shop' on CD & Vinyl can be purchased right HERE!
=================================================
The first video below is all music, and is the full album version of their hit 'Stay A Little Longer'. This is the version we will likely get at this year's Country on the River in Prairie du Chien, WI., Aug. 3-5
=================================================
Brothers Osborne - Stay A Little Longer (Audio) - ALBUM VERSION
More Brothers Osborne...........
More From Quick Country 96.5