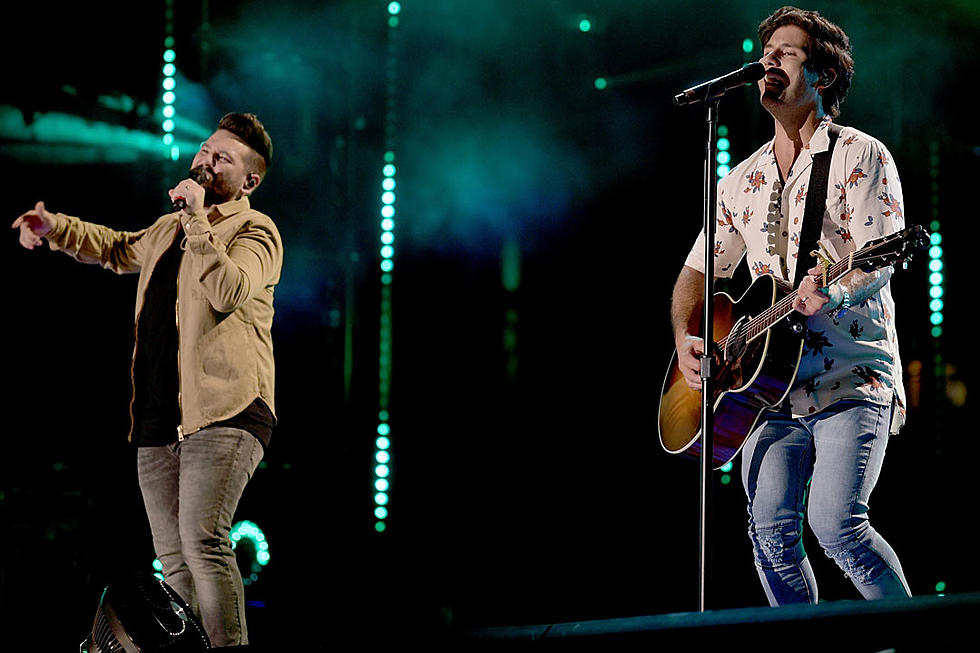 Dan + Shay Rave About Kelly Clarkson and Surprise Guest on New Album
Jason Kempin, Getty Images
"We recorded the song and we were talking about getting a feature. And I was like 'who is a super-powerful singer that would be a great duet partner with Shay?' And we sent that song over to her," Dan Smyers explains of the collaboration, which had been in the works for a period of time before it all came together toward the end of recording Dan + Shay. 
The twosome flew out to Los Angeles, where they worked in the studio with Clarkson as she cut her vocals. "Kelly Clarkson is probably the most powerful female singer of our generation," Smyers continues, calling the superstar "the nicest person ever."
"She's super down-to-earth," he adds. "Country music loves her, she's already had success in country music and she lives in Nashville. It was a really cool experience."
"She's intimidating as a singer. She's so good," notes Shay Mooney, who shares vocals with her on the track.
Clarkson's guest appearance is just one special feature fans have to look forward to on the new project. Smyers and Mooney also reveal that there's another surprise guest, but it's not one you'll hear right away. The duo hints that listeners will have to figure out who the mystery person is when they get the album.
"We had a very special country music guest performing an instrument on the record on one of the songs. We didn't list the name on the back, so it's a little Easter egg for the fans to dig and find out," Smyers promises.
Though his lips are sealed about which song this mystery guest appears on, Smyers does give a clue that fans who buy a physical copy of the album will be able to determine who it is when they look in the liner notes. "You'll very quickly figure it out," he ensures.
Dan + Shay serves as the duo's third studio album that's set to drop on June 22. They're  on the road with Rascal Flatts' Back to Us Tour through summer of 2018.
Listen to Dan + Shay's Interview on ToC Nights,
Shay Mooney + More Share First Kiss Stories
More From Quick Country 96.5