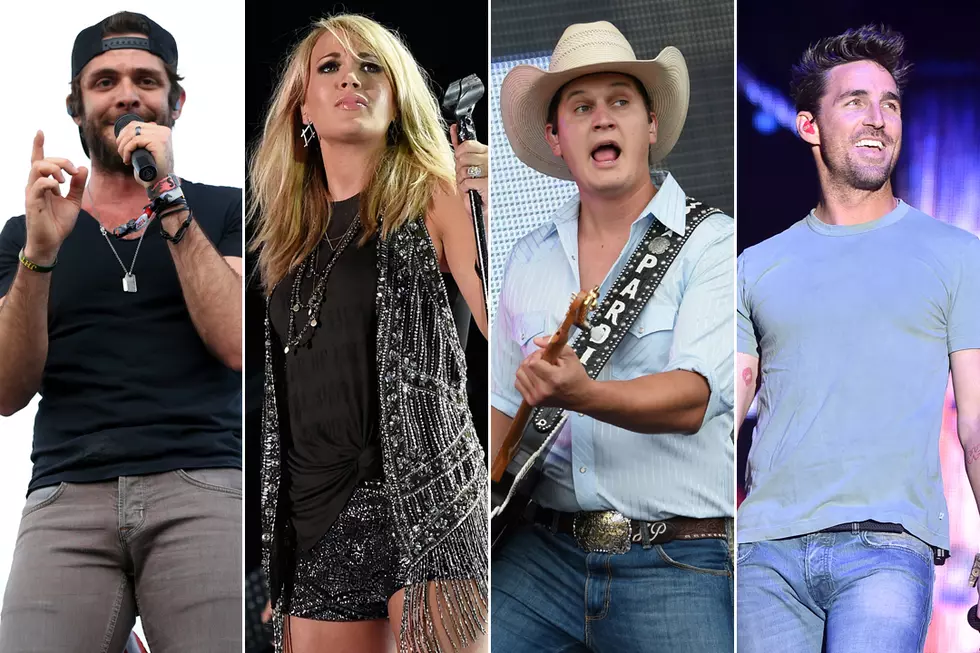 Hottest Summer Singles of 2016
Karl Walter / Rick Diamond (2) / Kevin Winter, Getty Images
Summer is in full swing, and those beach vacations and family BBQs aren't complete without the hottest new country music. We've got a list of the 10 Hottest Summer Singles of 2016 — perfect for any pool day!
Dierks Bentley is craving an afternoon on a beach "sippin' something strong," and Thomas Rhett is forever itching for a "Vacation." These two tracks epitomize the warm weather, sunny days and cold dips that make up sweet summertime. Other songs on our Hottest Summer Singles of 2016 list made the cut for for other reasons: Either they're infectious and you can't stop singing along, they're already big hits or they're quickly climbing the charts. Some will make you reminisce about the past, think about all the "Noise" in the world or even tell the story about a no-good man.
10

"21 Summer"

Brothers Osborne

Brothers Osborne's "21 Summer" is a song anyone can relate to, because it will bring up a bittersweet summer memory that everyone has. The duo tell the story and rely on all of your senses to reminisce on a meaningful memory.

9

Chris Lane's debut single is so infectious, we just can't get our "Fix." The track has a big pop-country sound that's perfect to crank up at a pool party. The song is resonating with country fans and climbing the Billboard charts! Play this one loud.

8

"Noise" is the heaviest song on this list of the Hottest Summer Singles of 2016. It's a country-rock earworm that has the singer challenging the ways of the world.

7

"Church Bells"

Carrie Underwood

Carrie Underwood is not afraid to take on a no-good man, and "Church Bells" is another tale of a relationship gone wrong. Why mess with a great thing? The hit single quickly turns dark, but it does so in a way that gets us belting it out right along with her.

6

"Head Over Boots"

Jon Pardi

With lyrics like "You're the rock in my roll, you're good for my soul / It's true / I'm head over boots for you," it's no wonder Jon Pardi has a Top 5 hit on his hands. The song is super catchy, and although it's not a party anthem per se, it's perfect to listen to on a slower sunny day.

5

"Somewhere on a Beach"

Dierks Bentley

Play this one at your next backyard BBQ and everyone will start singing along that they're, "somewhere on a beach, sipping something strong / Got a new girl, she got it going on / We drink all day and party all night / I'm way too gone to have you on my mind." You may not be "Somewhere on a Beach," but you can pretend.

4

"Wasted Time" is a progressive look at where Keith Urban's music is moving. The pop-country song is a mix of bass and synthesizers with a little bit of banjo. He's pushing the limits of country, and even his own, with this one, but it works well for him. Not only has it been a big hit, but it will also be one of the tracks leaves an imprint on summer 2016.

3

"Lights Come On"

Jason Aldean

The sound fans know and love from Jason Aldean resurfaced in summer 2016 with "Lights Come On." The song is hot, hot, hot right now — it's sitting in the Top 5! It's truly what summer is about: enjoying yourself on the weekends after several long days at work.

2

"Vacation" is one of this summer's feel-good jams — No. 2 on our Hottest Summer Singles of 2016 list, in fact! Heck, it's one of the feel-good songs of the year! Just try listening to the upbeat, funky track when you're in a bad mood. Go on, "put a little liquor" in that coconut water. You deserve it.

1

"American Country Love Song"

Jake Owen

It's hard to deny that "American Country Love Song" is the single you'll have in your head all summer long. From start to finish, it's one to raise a beer to when you're hanging with your squad. Bonus: it's another hit for Jake Owen, currently sitting in the Top 15 and climbing. You can't head to — or throw — a country party this summer and not hear this one.
More From Quick Country 96.5