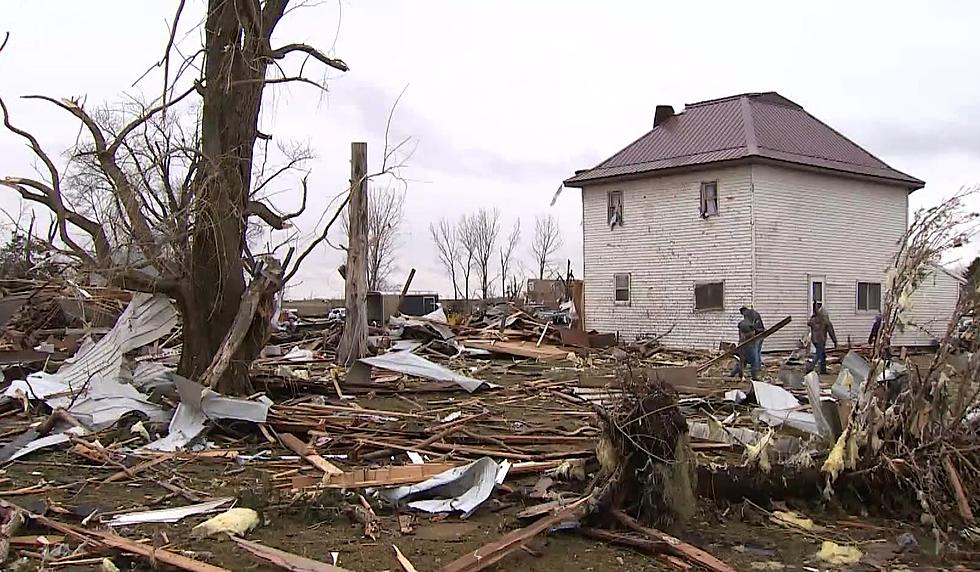 Donation Filling Taopi Home With Love Is True Minnesota Nice
KARE 11 Screen Capture - Video in story.
The tornado that hit Taopi, Minnesota on April 12th showed once again, in typical Minnesota fashion neighbors are helping neighbors. In one case, though, neighbors from quite a piece down the road from Taopi are helping out.
If you still haven't seen the damage, just click play. It's astounding.
According to a story in the Post Bulletin by Abby Sharpe, Scott and Melorie Swenson's home was damaged during the storm, and are getting help from neighbors here in Rochester at the Neuro Hospitality House.
How are they helping? They gave the Swensons furniture and home furnishings. Other families will receive bed and bathroom linens, and stuff for the kitchen (the kind of things you need to keep a home going).
Why Are THey Donating So Generously?
Rochester Finds Store's Strange Work Ethic Sign Uncommonly Annoying
According to the story in the PB, Neuro Hospitality House is closing its physical space* and was going to auction all the stuff in the home. But when the tornado came along, the plan changed.
"Peggy Paul, the executive director of Neuro Hospitality House, knew she had to donate the house's contents to a Taopi family. Paul researched where donations were being accepted to benefit Taopi families. She came across the United Farmers State Bank Taopi Relief Fund and sent a request to be connected with a family in need." (SOURCE)
And then, the wheels started moving and on Wednesday, April 20, the donations were delivered to a holding spot 'til their homes are ready to live in again.
While Neuro Hospitality House is closing its physical location, they are not closing up as a non-profit! According to their website,
Beginning in May, the Neuro House is delighted to partner with Inns at Centerstone for our guests. This partnership includes all hotel amenities, along with an affordable rate for Neuro patients and caregivers while visiting the Mayo Clinic. Click here to see how it works now.
As always, if you have a comment, complaint, or concern about something I wrote here, please let me know: james.rabe@townsquaremedia.com
Listen On-Demand with the Y105FM app, and on the following podcast platforms: Apple Podcasts | Google Podcasts | Spotify
The Minnesota Junk Drawer
I hate to admit it, I complain my junk drawer is a mess, but never do anything about it. This is why I am nodding my head to so many of these.
80+ Items That You Can Definitely Find in a Minnesota Junk Drawer
How many junk drawers do you have at your house? One? Two? It seems like every house in Minnesota, Iowa, Wisconsin, Illinois, and home in the United States has at least one. Look below...I can almost guarantee you have at least 25 of the items below in one of your drawers.
More From Quick Country 96.5