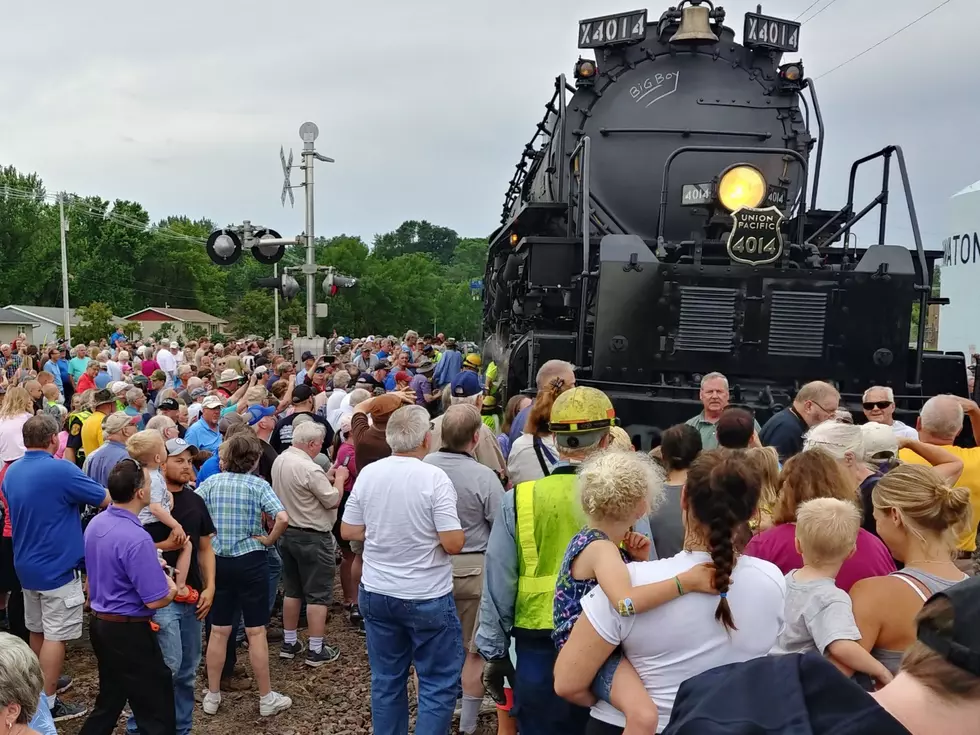 Hundreds Turn Out to See History [WATCH Big Boy Engine Arrive]
Roy Koenig/Townsquare Media
Hundreds turned out to see a big train steam into Owatonna Wednesday. People of all generations and for all manner of reasons crowded around the West School Street crossing and everywhere else the Union Pacific railroad wound through the area to see the steam engine. The hour late arrival and threat of rain did little to dampen spirits.
Several enthusiasts said to me that the history that the 4014 steam engine represents brought them out. One told me the "Big Boy" is the biggest steam engine ever made. The train carried freight in the 1940s and 1950s and was restored for this trip around the country as the Union Pacific Railroad celebrates the 150th anniversary of the completion of the Transcontinental Railroad.
The connection to the World War II-era was of note for one older gentleman. A young boy said, "I haven't seen a steam engine in my whole life." A young girl said her grandpa made her come out. She had no choice.
Other words and phrases from spectators included
Fascination
Beautiful
Really cool
Rolling history
Amazing machine
Enjoy the following video of the Big Boy just before it stopped at the entrance to Morehouse Park.
A more modern engine was buried inside the railcars that apparently helps power the train at times. One train expert on hand found it amusing that no one was paying attention to that engine, which is pictured below.
The following video opens with the steam whistle and the rest of the video is the bell. I was hoping the train was going to start moving, but they weren't ready to go yet. And it appears the fans wanted the train to stay all day.
More From Quick Country 96.5