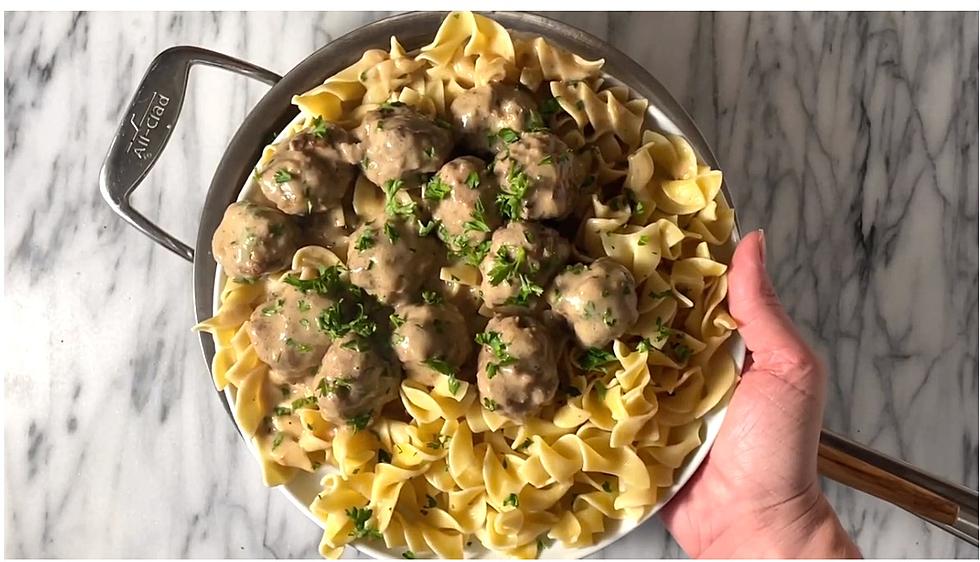 6 Minnesota Comfort Food Favorites to Have on Snowy Days
Image Credit: Minnesota Pork Board via YouTube
Like it or not winter isn't quite done yet. We've been threatened with more snow and who knows what will happen in April. So embrace it and maybe enjoy cooking or baking a little on what potentially could be another snowy day coming up. There are plenty of activities one can do when it snows as laid out with a few ideas HERE.
Not going to lie though, when it begins snowing I often want to enjoy some real good Minnesota comfort food. We have plenty of great dishes to choose from, but if you need an idea or two here is:
6 Minnesota Comfort Food Favorites:
Did you know that Wild Rice is Minnesota's state grain? First discovered by the Ojibwe people back in the 1600's when they migrated north and found it in the banks of Lake Superior. Wild Rice is enriched in history and worth reading more about HERE if you get the chance.
Reading, you'll learn exactly why Wild Rice is a Minnesota staple and appreciate eating this popular Minnesota comfort food, especially when you add cream of mushroom soup, chicken or hamburger and a few other ingredients to make it a true Minnesota Hotdish. Learn how to cook wild rice correctly here and find a good recipe at Cookin' Up North.
Throw these on mashed potatoes or some good noodles and I'll be in Minnesota comfort food heaven. Looking for a good recipe, follow along on this video from Minnesota Pork Board and you should be good to go!
You had to know this Minnesota staple would be on the list, right? It's the ultimate Minnesota comfort food, that has caused a lot of controversy lately on reddit. Many started scoffing at a user when their tots weren't properly aligned on top and seemed to be just thrown all willy-nilly. Everyone has their own version of this and their own Minnesota way of doing it, but this is a rather good recipe from The Supper Club on YouTube if you wanted one and the video is entertaining .
Really at the end of the day, any hotdish is considered a favorite and a comfort food in Minnesota. Add some meat, veggies, a starch of some sort, and a cream of something soup or tomato based sauce, bake it and there you have what we call in Minnesota a HOTDISH, just go with it. If you still need more answers, maybe WCCO can help answer it a little more.
While wild rice hotdish is great, the real winner in my opinion, is wild rice soup. Having grown up on the White Earth Indian Reservation, where they hand harvested wild rice, my family always had an abundance of it. So when I was way younger and probably in junior high, I went looking for a really good Wild Rice soup recipe. I found, what is in my opinion the best I've ever had.
RECIPE:
Ingredients
1/2 Cup Wild Rice
2 Cups Hot Water
10 Slices Bacon
1/2 Large Yellow Onion
1 Pint Half & Half
2 Cups Milk
2 Cans Cream of Potato Soup
1lb. Velveeta Cheese
Directions
Rinse Wild Rice with running water. Put in heavy pan with 2 cups hot water, cover and bring to a boil. Turn heat down and simmer about 35 minutes and then drain (I often just make my wild rice in my rice maker so if you have that do it!) Meanwhile cut bacon into small pieces and sauté with onion. Drain fat and set aside. Warm together half and half, milk, potato soup and Velveeta cheese. Do not boil or you'll burn at the bottom. Add Wild Rice, bacon and onions, serve and enjoy
Okay, maybe it's not a food. But I can guarantee there are several out there in Minnesota who are cracking one of these when the snow comes again. Maybe even running to the store to stock up before the snowflakes start falling. Whether you choice of beer be Busch Latte, Miller Lite, Budweiser or whatever, don't forget we have over 200 breweries in our great state, with one probably nearer to you than you think. Take a look at a few
Top 20 Minnesota Breweries From All Over the State
Top breweries in the Minnesota ranked according to Brewery Stars with representation from all over the state
LOOK: Best Beers From Every State
To find the best beer in each state and Washington D.C., Stacker
analyzed January 2020 data from BeerAdvocate
, a website that gathers user scores for beer in real-time. BeerAdvocate makes its determinations by compiling consumer ratings for all 50 states and Washington D.C. and applying a weighted rank to each. The weighted rank pulls the beer toward the list's average based on the number of ratings it has and aims to allow lesser-known beers to increase in rank. Only beers with at least 10 rankings to be considered; we took it a step further to only include beers with at least 100 user rankings in our gallery. Keep reading to find out what the best beer is in each of the 50 states and Washington D.C.
What Are the Signature Drinks From Every State?
KEEP READING: 3-ingredient recipes you can make right now
8 Apps Minnesota Enjoys More than Watching the Super Bowl
Apps or food we enjoy in Minnesota when watching football and more specifically during the Super Bowl
The Best Dairy-Free Items I've Found Around St. Cloud
Cozy Up at This New Coffee Shop in Long Prairie
More From Quick Country 96.5