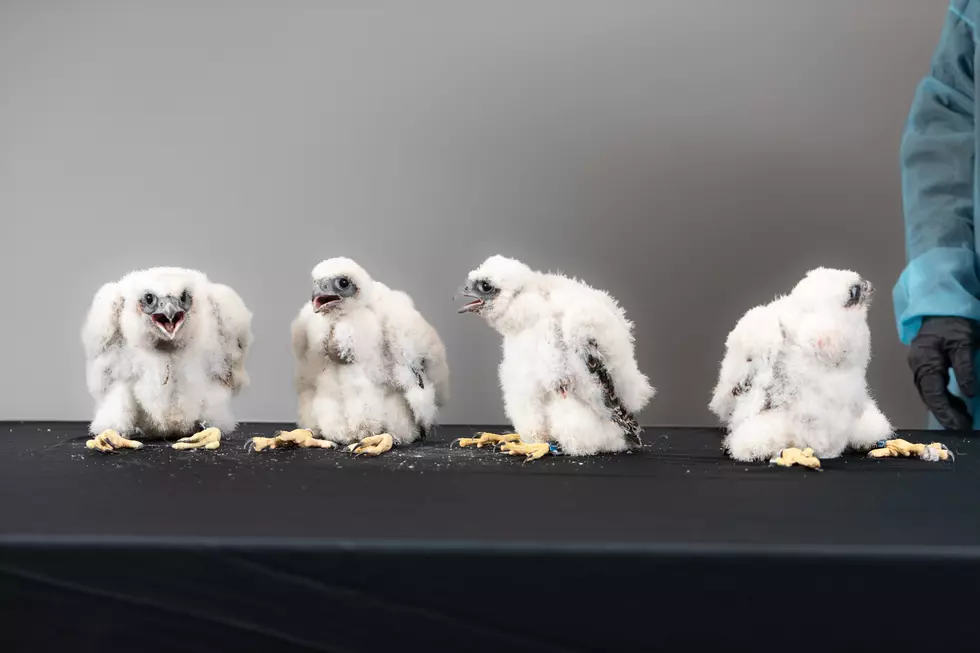 Mayo Clinic Celebrates 35 Years of Peregrine Falcon Program
Photo Courtesy of Mayo Clinic Photographer Mike Burrows
Rochester, MN (KROC-AM News) -  Mayo Clinic celebrated its 35th year of the Peregrine Falcon Program Wednesday.
Staff weighted, named, and banded four healthy peregrine falcon chicks. The chicks have been nesting in a box atop the Mayo building in downtown Rochester.
Following World World II, the widespread use of pesticides, especially DDT, put many wildlife species at risk, including the peregrine falcon. When DDT was banned in 1973, recovery efforts began for many threatened species. After an invitation from the not-for-profit Midwest Peregrine Society, Mayo Clinic started to host the falcons in 1987 and has produced 70 chicks since then.
This year, falcon parents Hattie and Orton had 2 females and 2 males. After more than 450 falcon fans submitted over 1,700 name suggestions for the chicks the names Nova, Comet, Rebel, and Tom were chosen.
The chick named 'Tom' is in honor of Tom Behrens, Mayo Clinic's Unit Head of Facilities. He has been an integral part of the program for 30 years and his team built the nest box the chicks were returned to after the banding.
Mayo Clinic says they will continue to grow as they prepare for their next adventure: fledging and learning to fly. A live falcon cam in the nesting box provides a front-row seat as the chicks continue to grow and soon leave Hattie and Orton as empty nesters.
The Peregrine Falcon Program supports the Mayo Clinic value of Stewardship and recognizes the healing dimension of nature.
Two Students Injured in Winona Area School Bus Crash
LOOK: $259,900 2 Bedroom Condo On Top Floor of Downtown Rochester's Hotel Indigo
A truly must-have experience living in one of Rochester's most updated buildings with exciting, upbeat restaurant and skyway access to downtown.
This 2 bedroom 2 bath East facing unit with balcony is sure to give you the downtown experience you're looking for conveniently connected to Mayo Clinic, restaurants, and shopping via expansive skyway and walking subway system.
Large, ample windows throughout offer spectacular sunrise, and river views.
In unit laundry area, freshly painted and new carpet to move in and enjoy.
On-site security, private residential elevator and lower-level secured storage area.
Adjacent parking ramp with reserved space is available for monthly fee. You wont want to miss this opportunity!
More From Quick Country 96.5