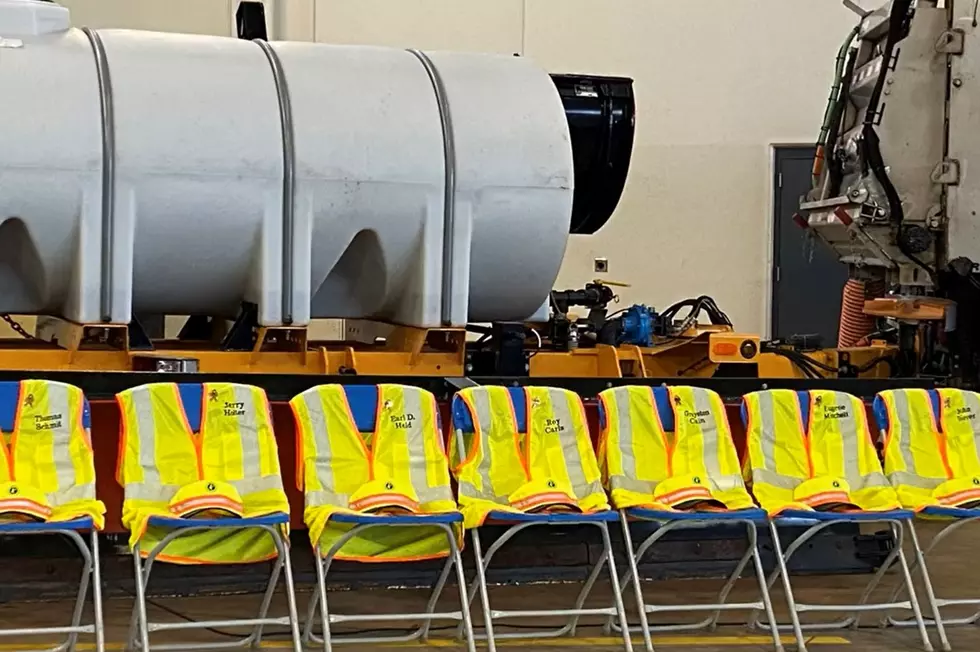 Rochester Event Honors Highway Workers Who Died 'On the Job'
MnDOT (Twitter)
Rochester, MN (KROC-AM News) - A ceremony was held today at the Minnesota Department of Transportation District Headquarters in Rochester as part of the statewide commemoration of Worker Memorial Day in Minnesota.
Gov. Tim Walz also issued a proclamation recognizing "the high-priced transportation workers have paid in the construction and maintenance of Minnesota's transportation system." That recognition also includes the lighting of the I-35W Bridge in Minneapolis in orange tonight to honor highway workers who have died while working in work zones.
"Every day, road workers across the state put themselves on the line to keep Minnesota's roads safe for everyone," said Nancy Daubenberger, MnDOT interim commissioner. "Those workers – and everyone traveling through work zones – deserve to get home safely. Please, slow down and avoid distractions in work zones to help keep our workers—and yourself—safe."
There have been 35 MnDOT workers and 16 contractors who have lost their lives while working on Minnesota highways. The following list is of the seven people from southeastern Minnesota who died as a result of highway work-related incidents.
John Biever: Mr. Biever was working on a bridge on Highway 16 when he was hit by a truck on September 13, 1962.
Eugene Mitchell: Mr. Mitchell died working for MnDOT while in District 6 on April 23, 1964.
Earl D. Held: Mr. Held died while on a survey crew. He was on Highway 65 when three of the four men were struck by an automobile on October 30, 1964.
Roy Carls: Mr. Carls was on his way home from a meeting when his vehicle left the road and hit a bridge abutment. He died March 2, 1968.
Jerry Holter: Mr. Holter was struck and run over by a truck while performing inspection duties on October 16, 1973.
Grayston Cain: Mr. Cain lost his life when he was struck by a truck while he was performing inspection duties on August 28, 1980.
Thomas Schmit: Mr. Schmit fell from a falsework deck suspended under a bridge and drowned in the Mississippi River on October 21, 1994.
A news release from the State Department of Transportation also highlights how motorists can help keep themselves and highway workers safe. The list is predictable and starts with driving the speed limit and avoiding distraction. Motorists are also urged to move over it workers the space they need to do their work, avoid unnecessary lane changes, and be patient.
Motorcyclist Hurt In Crash In Rochester
The Landing, MN is giving the homeless in Rochester, Minnesota a place to land.
While Rochester, Minnesota is home to the world-famous Mayo Clinic, it is also home to many who are facing homelessness. Thankfully, in 2018, The Landing MN was founded which is a resource-based non-profit organization that assists multiple individuals with fulfilling needs, such as handling medical resources, seeking housing, and obtaining necessities for day-to-day living. Get a glimpse at the impact The Landing, MN is making in the community at the photos below and at
their website here.
More From Quick Country 96.5