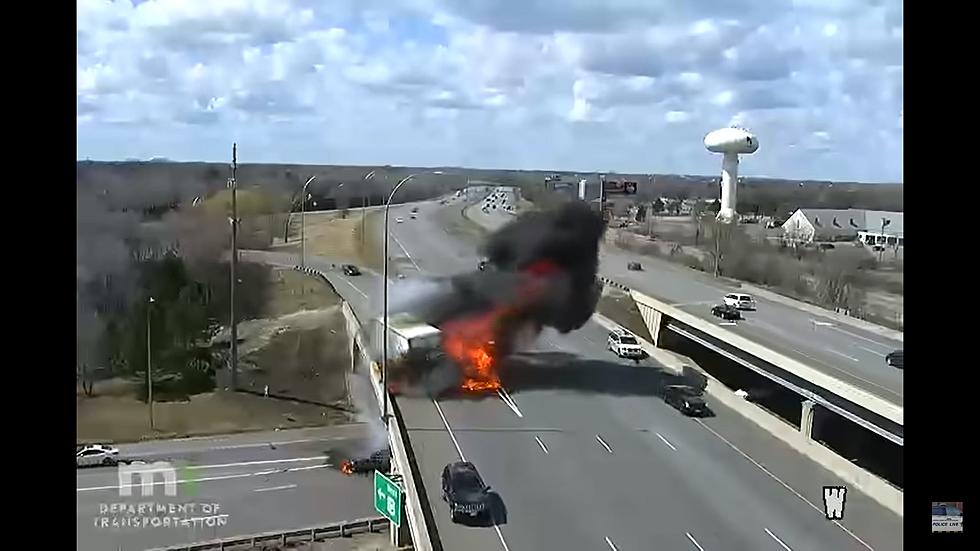 Scary! Traffic Cameras Show Truck Crashes & Immediately Explodes On Minnesota Highway
Minnesota Traffic Live via YouTube
Traffic cameras on a Minnesota Highway caught a scary incident when a truck was hit, crashed and exploded.
According to WCCO-TV, the Minnesota State Patrol says the crash happened at about 2:30 p.m. on Highway 10 and over MN-65 in Spring Lake Park. The scary incident was all caught on a MnDOT camera.
As seen in the video, a vehicle is beginning to merge onto the freeway from the on-ramp when it loses control and strikes the front of a box truck. This causes the truck driver to overcorrect and crash into the highway's side wall. The truck almost drove off the overpass onto MN-65 before being engulfed in flames as the truck exploded.
Could you imagine being the driver of the truck? So scary, especially when it caught on fire. The highway was then closed down as crews took care of the situation. There were only two drivers involved in the crash, and both suffered injuries described as non-life threatening. Investigators suspect the driver of the other vehicle was "driving while impaired." The state patrol is still investigating the incident. Check out the video of the incident below:
Speaking of scary incidents, weather has been unusually weird in Minnesota. MnDOT camera caught another incident this week as the wind blew over 9 semitrucks on Interstate 35 south of Faribault.
Check out what some people think of Minnesota's Scenic Highway down below:
11 Bad Reviews Of Minnesota's North Shore Scenic Drive
15 "Anti-Minnesota Nice" Nicknames For Towns
More From Quick Country 96.5