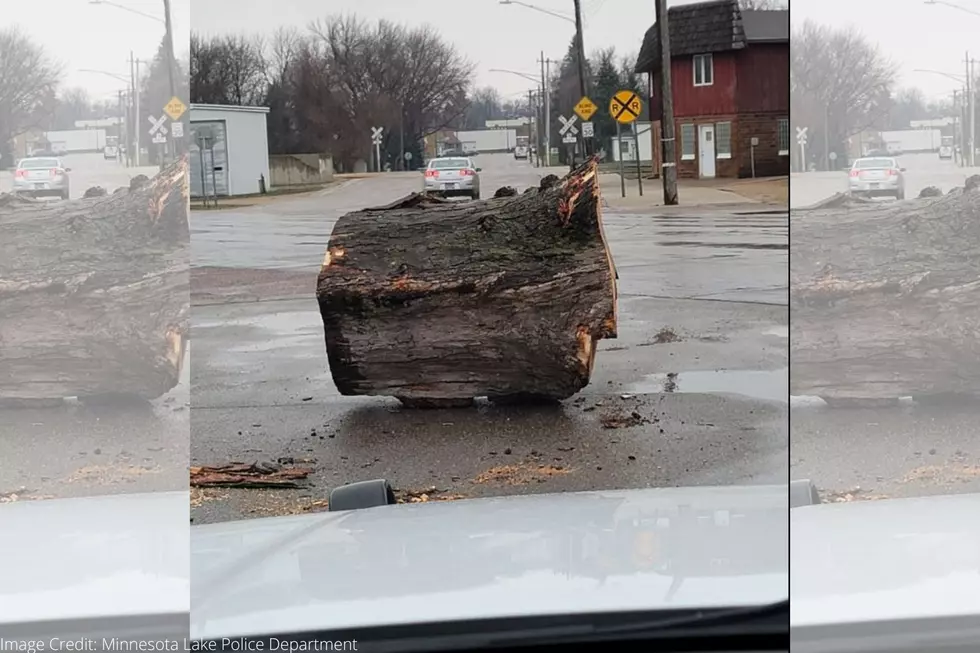 Southern Minnesota Police Department Reunites Lost 'Log' With Its Owner
Image Credit Minnesota Lake Police Department
About once a week I see a post from a Southern Minnesota police department, from just about everyone in our area, seeking the public's help in reuniting a lost item or pet with its owner. Sometimes it's serious things like dogs or keys, other times it is tongue in cheek like a bag of pot or a backpack full of drugs. One Southern Minnesota police department took the lost item to a whole new level with a lost log post, and it got people's attention.
Minnesota Lake, a small southern Minnesota community of fewer than 700 people that spans both Blue Earth and Faribault Counties, recently posted about a lost log that was wanting to be reunited with its owner after it was found in the middle of a street. The internet came to the rescue, sort of, and that post was shared more than 790 times, or more times than the town has people!
Has anyone lost their pet log? It is blocking Main St and HWY 22. After many intense minutes of negotiations, it refuses to move and I am stumped. If this is your log, it will be cold and rainy all night and I am sure it wants to go home.
The good news is that the lost log was reunited with its owner, it is unclear if the owner was cited for littering or simply was allowed to pick the log/stump back up and get it to where it was going.
The lost log post reminded me of this Ren and Stimpy short, simply because it is big, heavy, and wood.
Duluth Area Delivery Driver Creates Hilarious Memes Of His Work Experiences
Every job has it's ups and downs, but the key is trying keep a fun attitude through it all. That's just what one Duluth area delivery driver has done and the memes he created over the course of a year on the job are not only very funny, but they are something everyone can relate to regardless of their profession.
Mike is a Duluth area delivery driver who decided to keep track of the things he sees and hears while working hard on his route. He then captured a few classic reaction pictures of himself which are a perfect fit.
We salute all the delivery drivers out there working hard around the clock and year round!
Freakishly Terrifying Photos of Home for Sale in Illinois Will Either Make You Laugh...or Cry.
Is it freaky? Oh yeah.
Will these scary photos sell the house at 141 E Hoehn St. in Carlinville, Illinois? Who knows. It definitely is a different approach than just putting some photos up on Zillow or Realtor.com with a cutesy description hoping that the right words and images will draw people in.
Not every photo is scary though. Ok, the majority have something hiding. After you see a few of the photos of this house you might even start laughing.
See what happens!
More From Quick Country 96.5