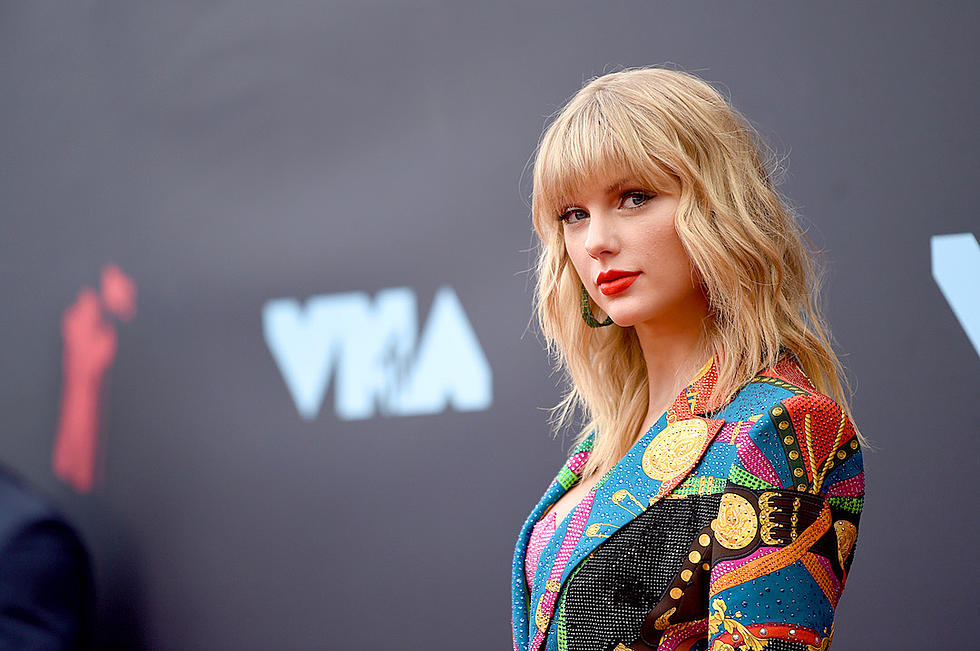 Taylor Swift Says Scooter Braun, Scott Borchetta Are Blocking Her From Playing Big Machine-Era Music at 2019 American Music Awards
Jamie McCarthy, Getty Images
Taylor Swift has been open about her battle for the rights to her old music following the sale of her former record label, Big Machine, to celebrity talent manager Scooter Braun. Now, the superstar is letting fans in on her continued struggles with Braun and the label's founder and CEO, Scott Borchetta; this time, the point of contention is the upcoming American Music Awards.
Swift was recently named the AMA's Artist of the Decade for the 2010s, and she is scheduled to perform a medley of her biggest hits from the past 10 years at the Nov. 24 ceremony. However, due to the continued fallout from the label sale, that performance may not happen. The singer spelled out all the details in a letter to her fans, which she posted on social media, along with the exasperated caption, "Don't know what else to do."
"Scott Borchetta and Scooter Braun have now said that I'm not allowed to perform my old songs on television because they claim that would be re-recording my music before I'm allowed to this year," Swift explained, adding that Borchetta and Braun's stipulations for allowing her to perform her old material at the ceremony included her agreeing not to re-record those songs as planned. In exchange for the performance, the singer says, they also asked her to stop talking about Borchetta and Braun.
However, Swift adds, the reason she's speaking out on that contentious relationship is much bigger than her own personal gratification. "I feel very strongly that sharing what is happening to me could change the awareness level for other artists and potentially help them avoid a similar fate," she goes on to say. "The message being sent to me is very clear. Basically, be a good little girl and shut up. Or you'll be punished."
The letter she posted finds Swift at an impasse, not only regarding her AMAs performance, but also for an as-yet unannounced Netflix documentary that she's got in the works. "Additionally -- and this isn't the way I had planned on telling you this news -- Netflix has created a documentary about my life for the past few years," she continues. "Scott and Scooter have declined the use of my older music or performance footage for this project, even though there is no mention of either of them or Big Machine Records anywhere in the film."
At a loss for what else to do, Swift is turning to her fans. "Please let Scott Borchetta and Scooter Braun know how you feel about this. Scooter also manages several artists who I really believe care about other artists and their work," she continues. "Please ask them for help with this -- I'm hoping that maybe they can talk some sense in Theo the men who are exercising tyrannical control over someone who just wants to play the music she wrote." She then specifically calls out The Carlyle Group, which is the asset management and financial services corporation that put up the funds allowing for her first six records to be sold.
At the end of her letter, Swift admits she isn't sure what the immediate future holds for her and any performances she's planning. "I've tried to work this out privately through my team but have not been able to resolve anything," she explains. "Right now, my performances at the AMAs, the Netflix documentary and any other recorded events I am planning to play until November of 2020 are a question mark."
"Please be advised that BMLG will not agree to issue licenses for existing recordings or waivers of its re-recording restrictions in connection with these two projects: The Netflix documentary and The Alibaba 'Double Eleven' event," the message reportedly read. "To avoid an argument over rights, Taylor performed three songs off her new album Lover at the Double Eleven event as it was clear that Big Machine Label Group felt any televised performance of catalog songs violated her agreement. In addition, yesterday Scott Borchetta, CEO and founder of Big Machine Label Group, flatly denied the request for both American Music Awards and Netflix.
"Please notice in Big Machine's statement, they never actually deny either claim Taylor said last night in her post," Swift's rep's statement continues. "Lastly, Big Machine is trying to deflect and make this about money by saying she owes them but, an independent, professional auditor has determined that Big Machine owes Taylor $7.9 million dollars of unpaid royalties over several years."
Taylor Swift vs. BMLG: Who's Said What
More From Quick Country 96.5