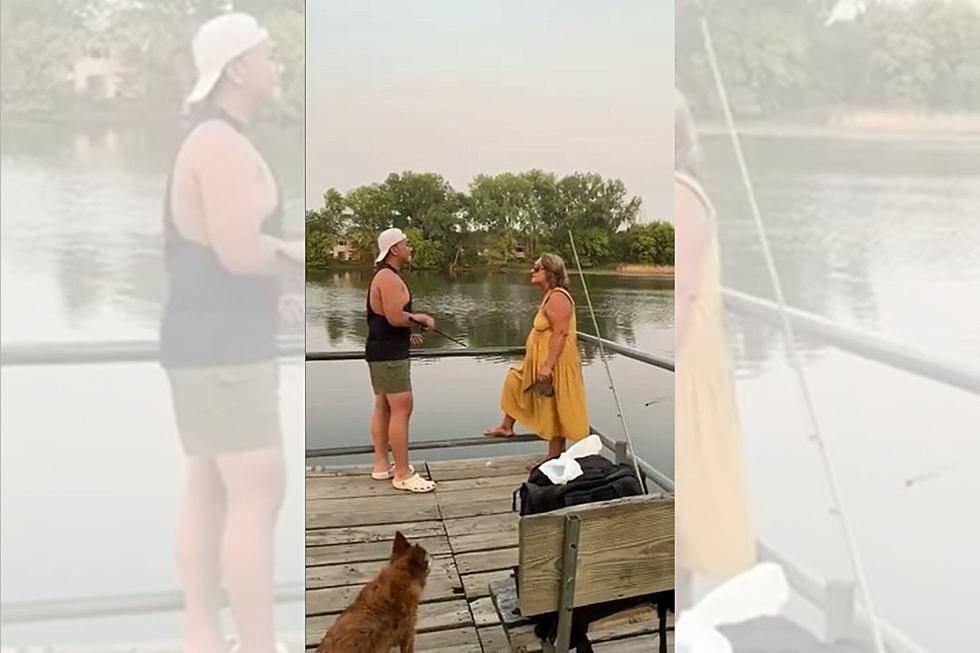 Watch: Minnesota Karen Harasses Pair of Anglers in Maple Grove
u/SimpingEgurl via Reddit
Not all Minnesotans are "Minnesota nice," and this woman appears to be one of them.
A video posted to the Minnesota thread of Reddit appears to show a woman harrassing a pair of fishers at a lake in Maple Grove.
"Woman gets mad over guys fishing," reads the video's title. "Good ol Maple Grove!" reads a second caption. The 3:58 long video begins in the middle of an altercation between an older white woman and a young Asian man. Another man who appears to be the angler's friend is filming.
"There's no f*****g fish in the lake!" the woman yells, pointing at the water behind her.
"Stop touching my s**t, ok?!" the young fisherman yells back. The cameraman points at the water and says, "[she] just threw a pole in."
"I thought it was mine," the woman claims. "He just gave me that. What are you guys doing recording? He just gave me that line, and now you're recording me?"
"When did he say he gave it to you?" the cameraman asks her.
"He told me I love you so f*****g much I'm giving you this fishing pole," she answers, hand to her chest.
"I did not," the young man replies before turning to his friend with the camera. "Hey Noah, call the cops."
The cameraman asks the woman if she likes "underage boys," (there's no indication that either men are underage, though perhaps he's trying to scare her off). "Just call the cops," his friend insists. The woman makes herself comfortable, leaning against the railing. "You can do whatever you want to do," the young man tells her. "I am going to do whatever I want to do," the woman replies. "I don't have to lift a [hand]. I already know what you are"
"What am I?" he asks her.
"Guess."
"What am I?" he demands.
"I already told you," she replies, apparently referring to conversation that occurred before the video began.
"Say it to my face," he insists, perhaps trying to catch her repeating it on camera. She doesn't take the bait.
"I already did!" They continue to argue. The cameraman, meanwhile, dials the police at which point the woman finally decides to walk away, accusing them of leaving lines, hooks and bobbers around.
WARNING: LANGUAGE
(If video above does not show, refresh page or click here)
Many in the video's comments section have come to the young men's defense. One person pointed out that -- according to the Minnesota DNR website -- the lake in question is, in fact, stocked with fish -- Bluegill and Black Crappie specifically. "Boundary Creek is a great lake to try fishing in the summer and fall," the website reads. "The south and east sides of the lake are suitable for shore fishing."
"Man she must have an awful life," one commenter sympathized. "Would be exhausting to be her every day. All that hate and anger eating you up and then you have to try and justify it mentally somehow."
"That's angler harassment," points out another in the comments. Minnesota Statute 97A.037 subdivision 1 regarding the harassment of hunters, trappers and anglers reads:
A person who has the intent to prevent or disrupt another person from taking or preparing to take a wild animal or enjoyment of the out-of-doors must not disturb or interfere with that person if that person is lawfully taking or preparing to take a wild animal. "Preparing to take a wild animal" includes travel, camping, and other acts that occur on land or water where the affected person has the right or privilege to take lawfully a wild animal.
"At a certain point you just can't argue with crazy," sums up one Redditor nicely. "It's not worth trying once you get to a certain point. I had a crazy neighbor call the police about me spraying (with round-up, died blue so i could see) the weeds growing through the sidewalk next to my house."
What do you think -- is the woman justified? Did the anglers handle it properly? Was this a matter of race or just a case of a crazy individual?
10 Hilarious Bad Google Reviews of Central MN Landmarks
10 (More) Hilariously Bad Google Reviews of Central MN Landmarks
More From Quick Country 96.5