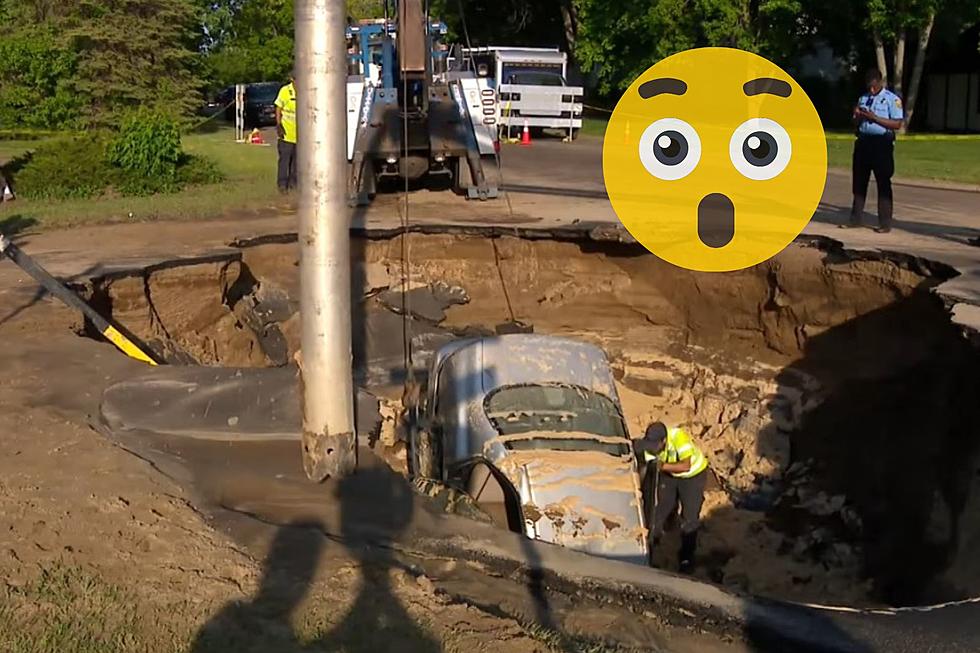 A Massive Sinkhole Just Swallowed An Entire Car In Minnesota
YouTube/Canva
It looks like something out of a horror movie, but this massive sinkhole developed here in Minnesota over the holiday weekend and swallowed an entire car.
I'm just going to guess that Jump Out Of My Car Before It's Swallowed In A Massive Sinkhole probably wasn't on your To-Do list over the Memorial Day weekend, right? It likely wasn't for this Brooklyn Park, Minnesota woman, either, yet that's what she ended up doing!
Talk about scary! Check out the pictures below of the massive sinkhole that developed at the intersection of 79th Avenue, Shingle Creek Drive, and Douglas Drive in Brooklyn Park in the late afternoon on May 26th.
WCCO-TV in Minneapolis reported that the huge sinkhole developed because of a water main break that caused thousands of gallons of water to wash away the soil and road on top of it-- right while Josie Russell was in her car directly above.
Josie told WCCO she was driving home when she tried to dodge what appeared to be a puddle. But it wasn't a puddle-- it was the sinkhole and her car quickly began sinking into the mud and water.
Luckily, the story said thanks to some help from a nearby neighbor, she was able to get out of the car before it was entirely swallowed by the sinkhole-- which only took about 15 minutes to do, the story said.
Yikes! I'm hoping I don't run into a sinkhole anytime soon! However, if you would like to check out some natural sinkholes, did you know there's a town here in the Land of 10,000 Lakes that calls itself the Sinkhole Capital of the World?
It's true. Fountain, Minnesota still holds that title, and once had a sign with that claim to fame on it, according to this MPR story. It also noted that there the surrounding area of Fillmore County likely has more than 10,000 naturally-occurring sinkholes across its terrain! Hopefully none, though, on the road-- while you're driving on it!
Listen to Curt St. John in the Morning
Weekdays from 6 to 10 a.m. on Quick Country 96.5
LOOK: Here are the states where you are most likely to hit an animal
Hitting an animal while driving is a frightening experience, and this list ranks all 50 states in order of the likelihood of such incidents happening, in addition to providing tips on how to avoid them.
Gallery Credit: Dom DiFurio & Jacob Osborn
More From Quick Country 96.5