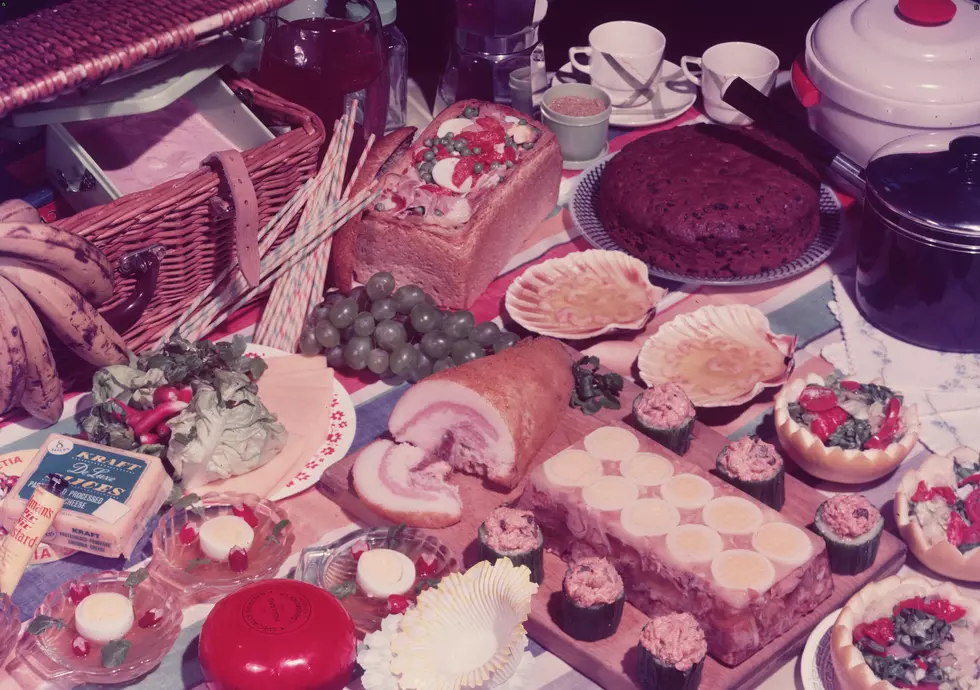 Hard Pass: 1950's Seafood Jell-O Recipe
Getty Images
Here is another recipe from way back when that sounds absolutely horrible, but was quite popular for a time in the 1950s and 60s. Seafood aspic. It's a savory Jell-O filled with bits of seafood. I'm cool with just normal seafood, you don't need to suspend it in gelatin for me to enjoy. And what it looks like as a final product isn't very appetizing either.
Enter your number to get our free mobile app
I've never heard of an aspic before, but a quick Google of what it was told me it was basically meat Jell-O. Aspic "is a dish in which ingredients are set into a gelatin made from a meat stock or consommé." It originated in the 10th Century and has been around ever since. So if you are feeling adventurous, here is how you make this 'unique' looking seafood aspic. (recipe credit Food.com)
Dissolve lemon jello in hot tomato juice.
Dissolve 1/3 package unflavored gelatin in 1 tablespoon cold water.
Mix gelatin, vinegar, lemon juice, horseradish and worcestershire with the tomato juice mixture and let stand until it begins to thicken. (Just let it cool down.).
Add celery, scallions, green bell pepper, crab and shrimp.
Pour into 9X13 glass dish.
Chill until set, overnight is best.
Before serving, "frost" with mayonnaise, or serve the mayo alongside.
Enjoy!
Don't forget to 'frost' your seafood Jell-O with mayo...*gag*.
When I was younger, my grandmother used to treat us with Jell-O that had peas, carrots, and other assorted vegetables in it. I wasn't a fan. So being young and naive I thought of look it's Jell-O with whipped cream on top. I took the biggest fingerful of what I thought was whipped cream and plopped it in my mouth only to immediately spit it out in the trash. My folks laughed so hard after witnessing my mistake. I later told my dad that grandma's whipped cream must be old as it tasted bad. It was mayo, ugh.
To this day I approach any gelatine topping with suspicion.
WINING: Minnesota's Winning-est Lottery Cities of 2020
More From Quick Country 96.5