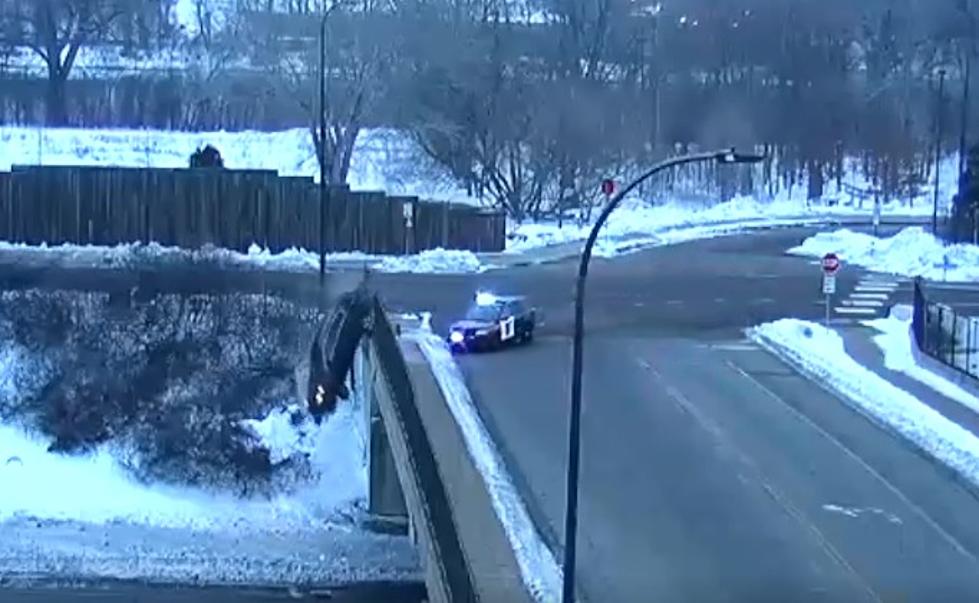 It Looks Like A Movie: Car Careens Off Bridge During Chase In Minnesota
MN Safety/Facebook
It may look like a car chase scene from a movie or TV show, but this crash is real and happened Friday morning along a busy interstate here in Minnesota.
Running from the police is never a good idea, right? And, leading police on a high-speed chase while you're running away from them is an even worse idea. But nobody apparently told that told the two occupants of this Kia that just crashed off a highway overpass.
According to a post on the MN Safety Facebook page, troopers from the Minnesota State Patrol observed a Kia speeding quickly by along I-94 near Broadway Avenue in Minneapolis Friday morning (March 3rd.)
The trooper began a pursuit of the Kia, and followed it as it took the 49th Street exit. And even though the roads appeared to be dry, the Kia didn't apparently was going too fast to make the left turn and ended up driving right off the highway overpass.
The vehicle landed on its roof along the side of I-94 and then rolled over again-- and the two occupants of the car ran away. (Apparently they weren't hurt in the crash.) Eventually, the post said, police caught up with the two occupants (who turned out to be juveniles) and took them into custody.
Remarkably, the two juveniles sustained only 'non-threatening' injuries in the crash, which was caught on video by several Minnesota Department of Transportation (MnDOT) traffic cameras. The two juveniles were extremely lucky they weren't more seriously hurt-- or that they didn't crash into another innocent victim who happened to get in their way Friday morning.
You can see the amazing video below, and marvel in the fact that no one was seriously hurt at the scene of this crash! You can also check out more crashes caught by Minnesota traffic cameras HERE. And speaking of crash locations, keep scrolling to check out what 25 true crime locations look like today!
Listen to Curt St. John in the Morning
Weekdays from 6 to 10 a.m. on Quick Country 96.5
25 True Crime Locations: What Do They Look Like Today?
Below, find out where 25 of the most infamous crimes in history took place — and what the locations are used for today. (If they've been left standing.)
More From Quick Country 96.5