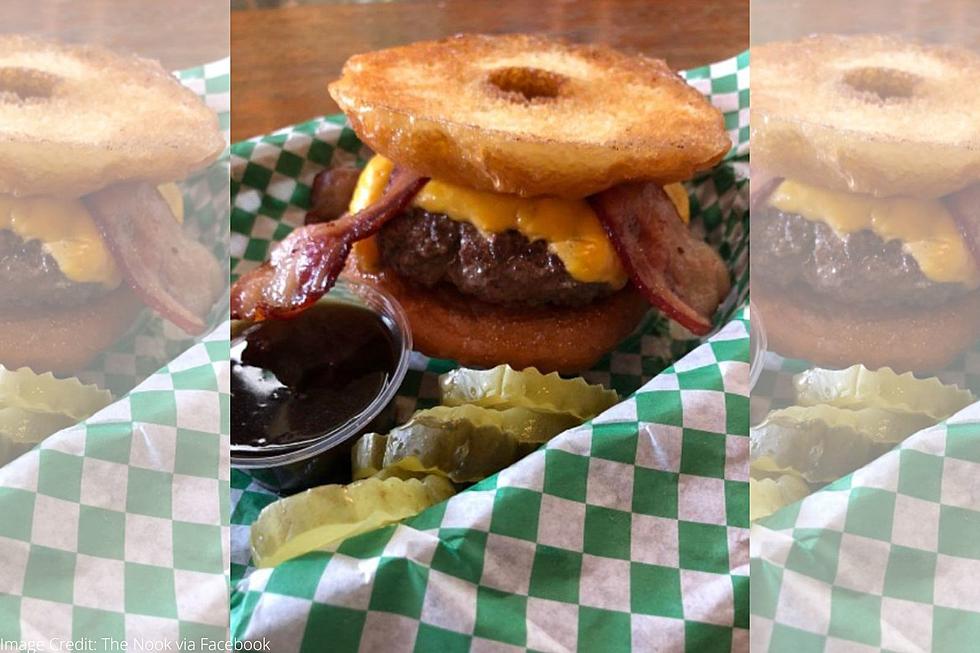 Minnesota Bar Just Unveiled A Fried Donut Burger, And It Looks Good
Image Credit The Nook via Facebook
There are a bunch of great burger places in our area, you've got King's Place, Sasquatch Saloon, and the Crooked Pint to name some, but you'll have to head North to the Twin Cities to give this donut-ground beef concoction a try. The Nook in Saint Paul is rolling out a fried donut burger, complete with cheese and bacon, for sale this weekend, and this burger just looks SO GOOD!
The Nook has dubbed this one the 'Homer Simpson Burger' which features a fried donut cut in half, for the top and bottom bun, and what looks like just cheddar cheese and bacon topping the ground beef patty.
You can check out the video that has accompanied the unveiling of the new burger, through the link, and it features Homer himself.
For those unfamiliar with The Nook, its legend goes back almost a hundred years, and its menu has been one that it is definitely can't miss.
The Nook has been a part of the St. Paul neighborhood scene since 1938. Folklore has that the location was once a horse barn and then a gas station before it was Wally's Nook, The Nook, Mickey's Nook, and finally, Casper's & Runyon's Nook. Freshly made hamburgers, fresh-cut homemade french fries, and a history of great customers are star attractions at the Nook.
So after seeing a picture of it, and knowing a little about what goes on it, are you willing to try and give this burger a shot?
The Ten Commandments Of Top The Tater
'Top The Tater' is a staple for us here in the Midwest. I have never met a person who hasn't loved Top The Tater. However, there are people who don't understand the importance of how to eat it, and how to properly respect the little green container of joy.
Believe It Or Not, This Modern $5 Million Home is For Sale in Bovey, MN
Located between Grand Rapids and Hibbing is this very modern, very expensive, and very stunning home surrounded by beautiful forest and plenty of shoreline to enjoy. All I can say is, WOW!
More From Quick Country 96.5