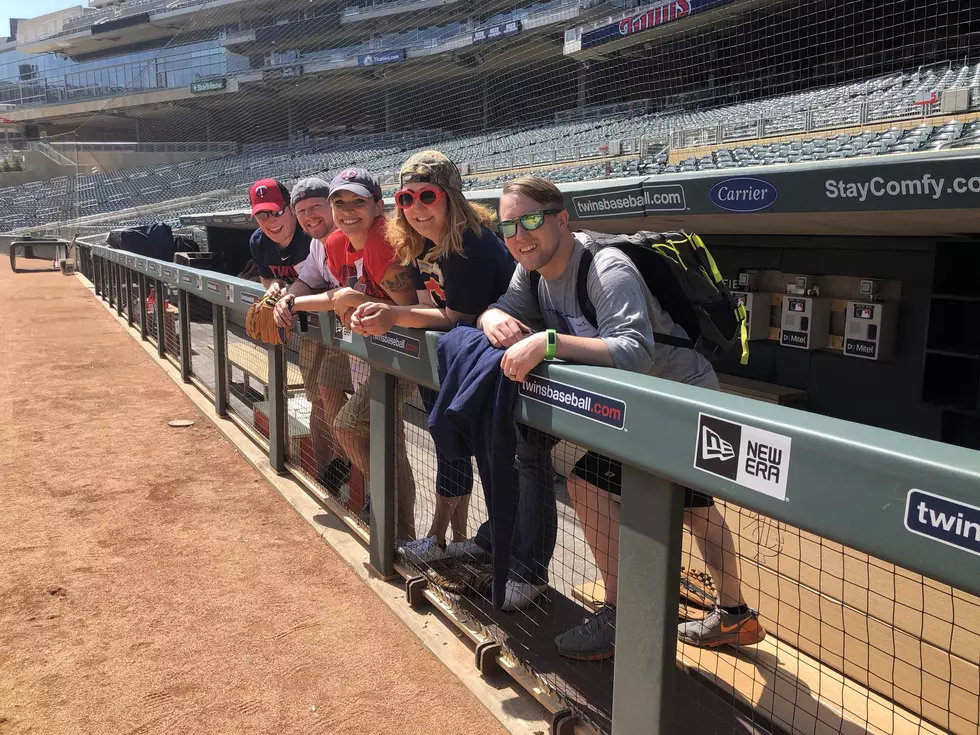 Rochester Radio Stars Take Over Target Field – [PHOTOS]
TSM Rochester
Few things are better during a Minnesota summer than the sound of a wooden bat cracking a baseball on a sunny, seventy-degree day.
We lucky ducks got to be the ones who made those sounds happen! That's right! We hit some baseballs at Target Field - just like the Twins.
Val, Samm, and Scotty from 106.9 KROC and Quick Country 96.5 made the hour and a half drive from Rochester to Minneapolis for Twins Fantasy Camp earlier today. It's a special day that's really a thank you from the Twins to radio for promoting their games and airing them. By the way, if you didn't know already, you can hear Twins games on New Talk 1340 KROC-AM.
First, we got to hit baseballs. Val isn't a good batter (I should've chocked up on the bat!), but Samm and Scotty are. That's one thing we learned today. Our assistant and coach for this was Twins alum Dan Gladden.
Then we took over right field to catch balls other media members were hitting.
...and then we goofed off some more.
Yeah, somehow they weren't sick of us yet.
Perhaps the biggest treat of the day was meeting one of the MLB's best pitchers (he's got the fifth-most career strikeouts (3,701) in Major League Baseball) and Twins announcer Bert Blyleven. Bert was going to show us some pitches, but he ended up telling stories from his pitching days instead. We didn't mind! It was amazing to hear about a wide-eyed 19-year-old making his dreams come true and becoming one of the best.
Twins Fantasty Camp
Before lunch (which was tasty hotdogs and burgers!), we got an exclusive tour from Twins Curator Clyde Doepner. He showed us famous jerseys, the stories behind them, and Twins hitting area inside the park (not on the field).
We cannot thank the Minnesota Twins organization and Andrew Halverson enough for such a great day!
More From Quick Country 96.5