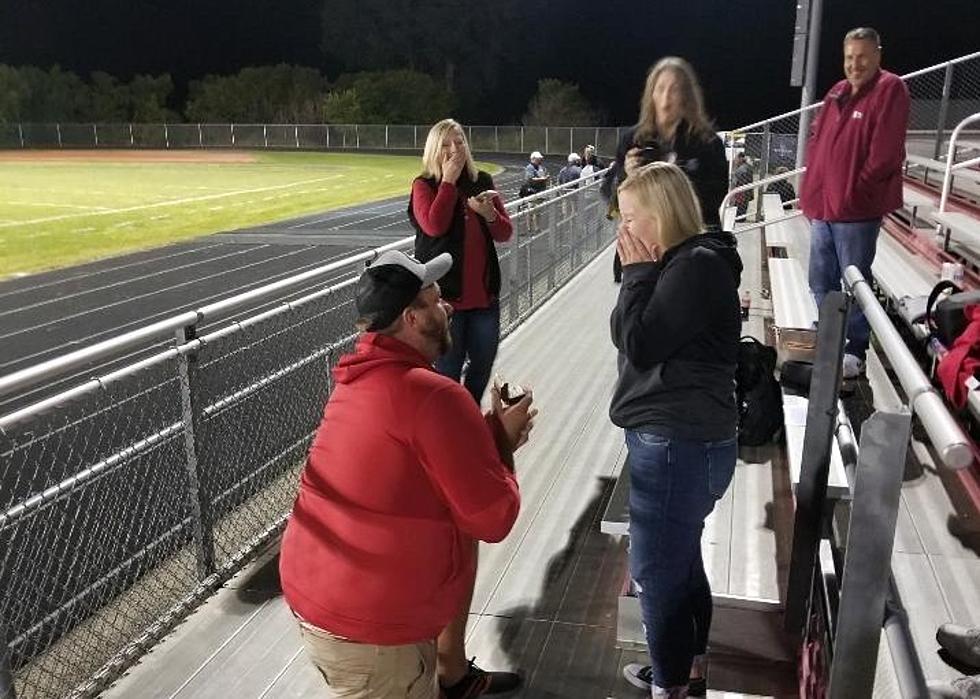 Southern Minnesota Football Coach Pops the Question After Big Game
submitted photo
The biggest play call of the night may have come after the game for New Richland-Hartland-Ellendale-Geneva football coach Marc Kruger. After the Panthers beat Janesville-Waldorf-Pemberton 42-0 to win the Golden Brick traveling trophy, he went into the stands with a gold ring and proposed to his girlfriend Michaela Raney.
Yeah. It was a great night to get the trophy home and I also proposed to my girlfriend.

NRHEG football coach Marc Kruger
Kruger commented on the AM 1390 KRFO Coaches Show Saturday morning, "Football has always been a huge part of my life. So I wanted to tie in the rest of my life into the football game as well. And it just kind of seemed like a perfect time with the rivalry game and all of her family was up for the game."
He said he was feeling cool and calm about popping the question, "I really wasn't all that worked up or nervous about it. Everyone kind of thought I would be."
Kruger says he met with her in the stands after the game, which he does most nights anyway. "Actually most everyone was gone by that time. Some people saw it happen. So they ran in the locker room and the entire team ran back out after. They were there for it."
I asked if he would still have proposed on Friday had the Panthers lost the game. He said he had a Saturday contingency plan, but he felt pretty good that things would work out Friday, as they did.
Marc Kruger on the KRFO Coaches Show
Regarding the game, the Panthers jumped out right away and built a 35-0 lead by halftime. Kruger said they had a nice balance between the run and pass. Defensively, NRHEG did not allow a first down in the first half.
The Panthers (2-1) go to St. Clair/Mankato Loyola on Friday, September 24.
Enter your number to get our free mobile app
You Know You're From the Midwest When...
We asked listeners to complete the sentence: "You know you're from the Midwest when..." and we got some very accurate responses! Here's a look at some of our favorites.
Nine Reasons Why Fall is The Best Season In Minnesota [Gallery]
Fall has arrived in Minnesota, and I am so giddy! Here are nine reasons why fall is like no other in Minnesota.
Myths People in Other States Believe About Minnesota
When you tell someone that lives in another state that you are from Minnesota, have you ever been asked a weird question? Like, "Can you ever get a tan there?". That is one of the many myths that seem to be rolling around in the minds of people from other states. Some of the myths below are actually just shocking.
More From Quick Country 96.5