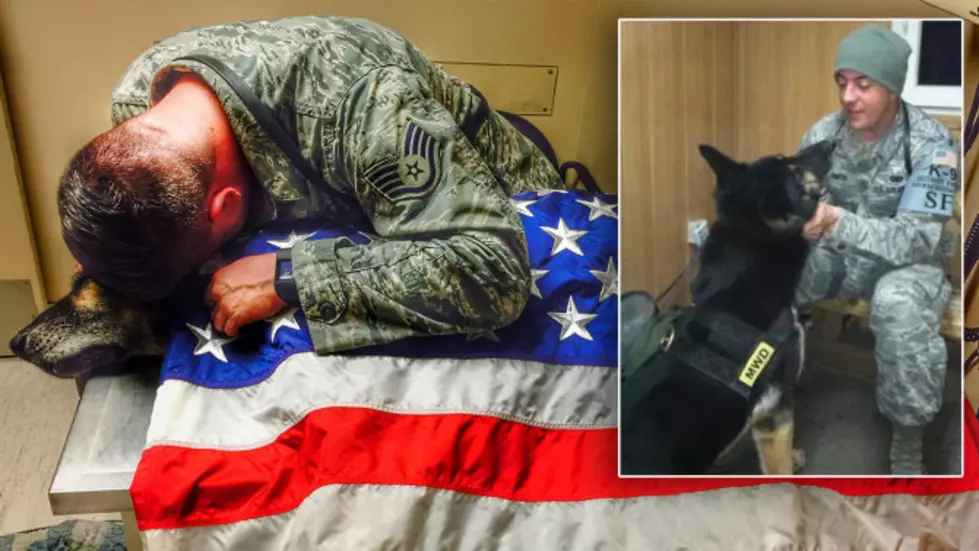 Calling All Canine Lovers – This Video Will Make You Want to Stand and Salute!
photo credit: Kyle Smith
An Air Force Serviceman says goodbye to his fellow Patriot Military Service Dog                - Watch the VIDEO.......It has gone VIRAL!
This video recently surfaced during a story on Inside Edition where they highlighted the passing of an 11-year-old German Shepherd Military Service Dog named 'Bodza'.
The dog owner, Air Force Staff SGT Kyle Smith embraces 'Bodza', the dog he loved and served alongside with in 2012 while deployed to the middle east. Both are shown in the video. As Bodza lay close to death, Staff SGT Smith was able to ask the veterinary staff for a flag so he could give Bodza a proper military send-off. Smith had to make the decision to put the dog down recently after a lengthy spinal ailment.
"I held him in my arms the entire time. I've never cried that much my entire life," confirmed by Smith via a social media message session this past Thurs evening.
Again, Bodza served alongside Smith on his 2012 deployment to Kyrgyzstan. Smith's ranked superiors would one day surprise him with adoption papers when Bodza was officially retired from service. Right then an there, Staff SGT Smith had become Bozda's personal owner. Staff SGT Smith has been active duty Air Force since 2007.
THERE IS MORE...............
I was formally introduced to Kyle Smith on Facebook just a short time ago at a Chris Stapleton dedicated Facebook Community. A Group Moderator, and Facebook friend Misty Scott had made me aware of the video above, along with Kyle Smith's military commitment.
In addition to being a patriot and one of America's finest, Kyle is also a very talented singer and guitarist in his spare time. Watch him here do a cover of the NEW, yet to be released Chris Stapleton song 'Broken Halos'. Kyle, just like me, a huge Chris Stapleton fan. There is speculation that this song may end up on the new, yet untitled Stapleton album due out May 5th, 2017 on Mercury Records.
I'm AMAZED everyday by the cool & interesting people I meet thru the music I know and love. That's why I continue to do what I do!  -Steve Richards ~ Quick Country Weekends
Check out Kyle's cover of 'Broken Halos'
I'm not finished. In addition to all of the above, Kyle is also a hardcore Minnesota Vikings fan, and even co-hosts a regular Podcast with a couple of other Purple Fanatics. You can hear/view the 'Purple People Podcast' right [HERE]