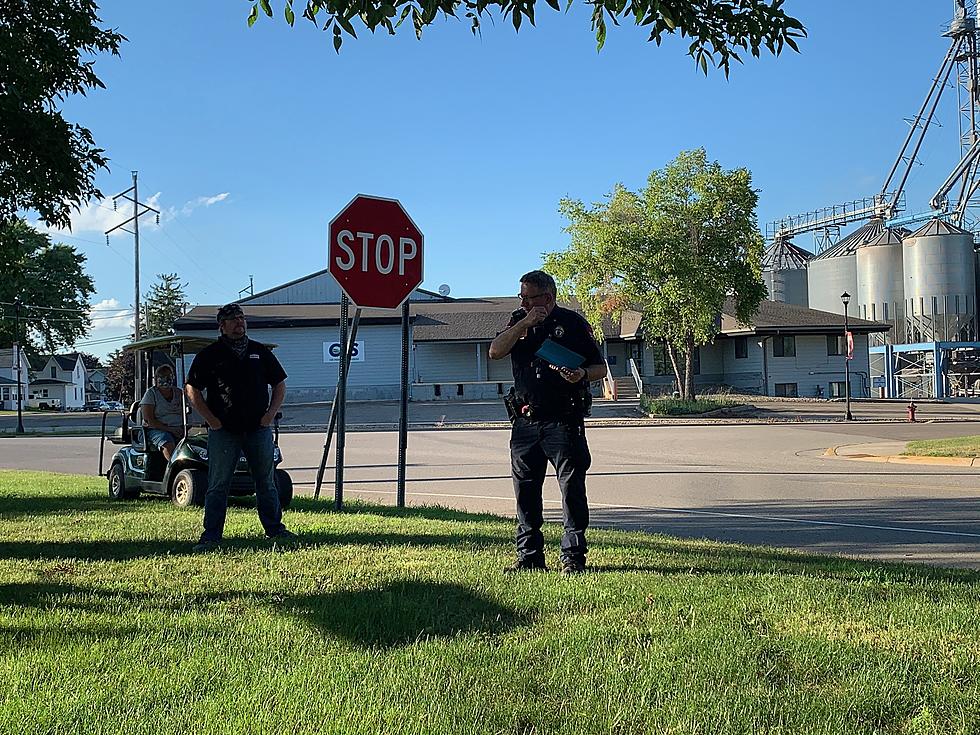 Kenyon Police Chief Welcomes Community Assistance
Kenyon Police Chief Lee Sjolander Conducts Community Meeting. Photo by Gordy Kosfeld
Kenyon Police Chief Lee Sjolander held a community meeting Tuesday night that drew about 100 people.  The meeting was held in a grassy area across the road from the old ambulance garage which Sjolander says will be the police station in about a month.
The area is also at the intersection of Highways 60 and 56 which proved to be busy with truck traffic.  One resident told me following the meeting not to let MnDOT know because they would want to put a roundabout there.
The meeting was scheduled for an hour and lasted just under that amount of time with Sjolander sharing various types of neighborhood watch groups people could have and  taking questions from those gathered.
The Kenyon Police Chief reported, "This meeting was called due to some recent thefts and now the last couple of nights we've had some egging happening where someone feels the need to damage property with eggs.  It was brought up to me to start a neighborhood watch, community watch or whatever you want to call it.  I did some research and was going to print out some handouts when my daughter reminded me to save a tree and told me to just talk about it and see if their interest and then provide materials later if people are interested."
"If you want to do it we are more than happy to help you put something like this together." Sjolander said. "Basically the neighborhood watch can be called a few different things but for simplicity sake that's what we will call it here.  You can do it as large of small as you like."
Sjolander took the opportunity to highlight some things people can do to make their property less of a "target, like having better lighting.  Keeping your bushes down to a certain level, letting your neighbors know when you're gone so they can keep an eye on your property.  Removing items left outside and storing them away.  Things that sound like common sense but in all my years of being here, which is a real long time now I've heard this way more times than I can count."
" 'It's a small town.  I didn't think I needed to do that.'  "Or 'it's a small town I wish I didn't have to do that.'  "Or 'in all the years I've lived here I've never had to do that.'  Things have changed a lot unfortunately.  Our small town has very busy roads that come through it and it's really easy for someone from out of town or someone in town to come and take advantage of us and our good nature.  Our quiet way of life of leaving things laying around."
Sjolander said multiple bike thefts brought concerned citizens to him calling for possible citizen watch groups to be formed.  "Nowadays with the pandemic going on you can't find a bicycle. I've had people tell me if you go to some of the big box stores there's no bicycles anymore because everyone can't go to the mall. they can't get on an airplane and do all these things at the moment so they're getting outside, which I think is a wonderful thing to do, but at the same time it's making bicycles, canoes, kayaks, all these things harder to get."
"Some of these bicycles cost a fortune.  It's real common to have a thousand dollars wrapped up into a bike or fifteen hundred dollars into a bike real quick.  When you leave these items around and they can even be locked and stolen.  It's an easy target."
"In the last 10 days we've had 87 calls for service in Kenyon.  That sounds like a lot and in a way it is." Sjolander said before he explained how their calls are coded.
At one point the Kenyon Police Chief asked for a show of hands of people interested in starting neighborhood watch groups and about 80 percent of the people in attendance raised their arms indicating they would.
"These neighborhood watch groups can be as involved or not as involved as you would like it to be.  I think a program like this has a lot of good valuable insight and you help us solve a lot of stuff.  You just do.  If you see something please say something."
Sjolander told the crowd, "We're stepping up traffic enforcement.  Traffic enforcement is an easy way to identify people and address some issues that are going on.  We've got a couple hot spots in town that are really causing a problem and the neighbors are made.  We're driven by what our public wants for the most part."
He said, "If you have valuables at home.  Document those valuables.  If you come to me and say I had this in my car and it was stolen and it was worth this if I don't have anything to base that on I can't do much with that.  For goodness sake if you have firearms take photos.  Include the serial number so we can enter those.  Everyone has a smartphone nowadays so take that phone and go through your house.  Open cupboards, open closets.  If you have a valuable collection of something, document that."
"If you have a garage with a lot of tools take pictures and make sure you lock it up please.  I live in a home that has a police car parked in front and a pit bull inside and I still lock my house." He added, "Security cameras are a good idea and you can get simple ones with good quality or or as elaborate as you want to get."
KEEP READING: Creative Ways to Bring Joy to Your Neighborhood While Social Distancing
More From Quick Country 96.5